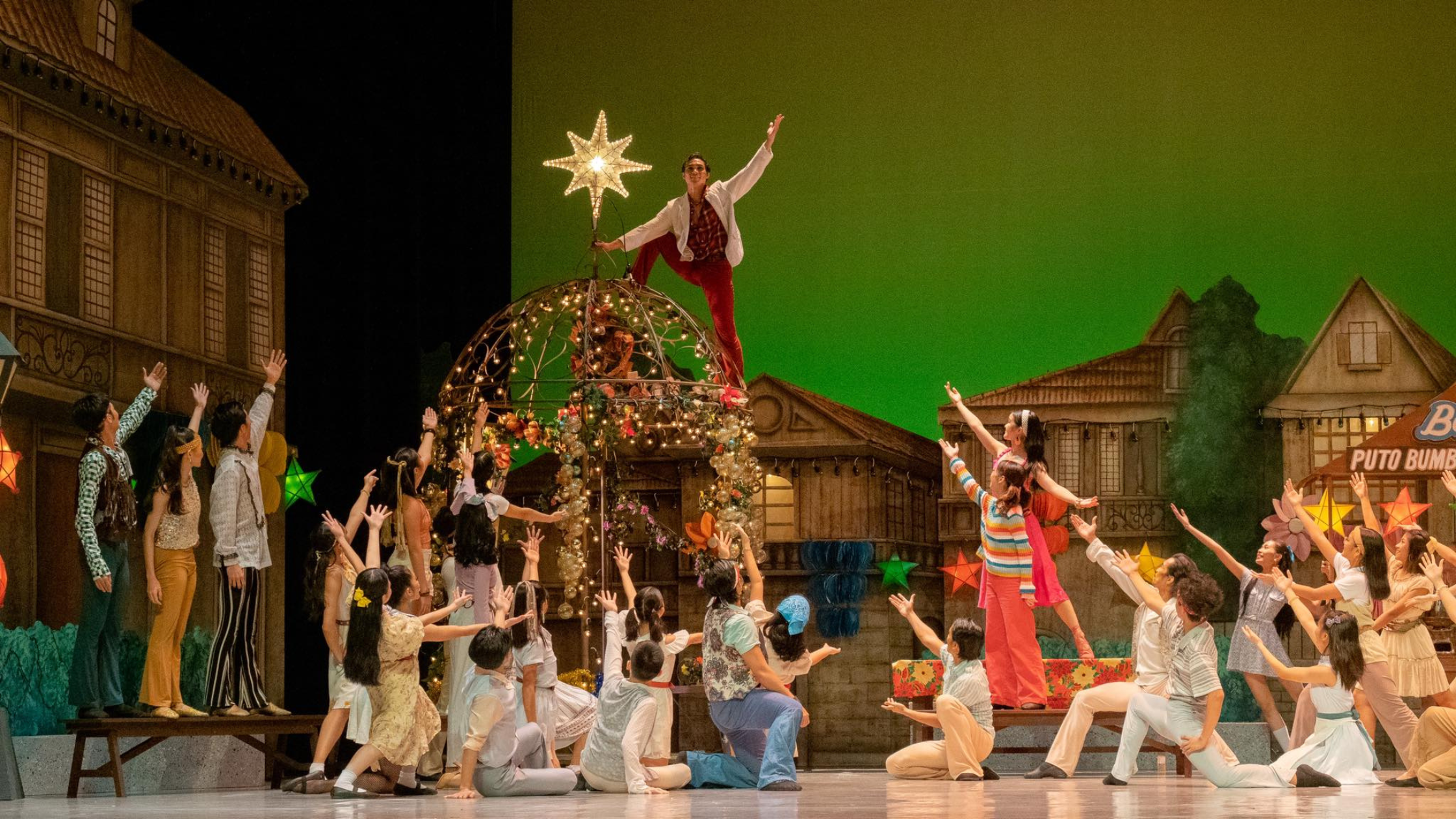 'Puso ng Pasko' Christmas Ballet Returns this December
Puso ng Pasko, the first full-length, all-Filipino Christmas ballet by Alice Reyes Dance Philippines (ARDP), returns for performances at the Metropolitan Theater on December 1-2. The ballet premiered at the CCP in 2022 before moving to the MET in the same month.
Puso ng Pasko is another collaboration between Rama, Hari creators, and National Artists Alice Reyes and Ryan Cayabyab. It features Cayabyab's musical arrangements of Filipino Christmas carols and choreography by a group of rising Filipino choreographers under the mentorship of Alice Reyes. It is contemporary dance fused with influences from traditional Filipino festivals.
The show is directed and choreographed by ARDP Artistic Director, Ronelson Yadao, who teams up with co-choreographers Erl Sorilla, Lester Reguindin, AL Abraham, John Ababon, Danilo Dayo, and Bonnie Guerrero. Also in the creative team are librettist Eljay Castro Deldoc, who worked with Yadao on the script and story with inputs from film director Carlos Siguion-Reyna, who directed the filmed sequences. They are joined by Ricardo Eric Cruz for production design and Barbara Tan-Tiongco for lighting design.
Puso ng Pasko tells the story of Lolo Val, now living abroad in New Jersey, as he recalls to his young granddaughter Angelita, the magical Christmases of his youth in Tres Reyes with his barkada. It features scenes of the Simbang Gabi, eating bibingka and puto bumbong, plazas decorated with big parols, and beautiful Christmas decorations. It also pays homage to the different fiestas across the Philippine islands, including The Belenisimo of Tarlac, The Pahiyas Festival of Lucban, The Higantes Festival of Rizal, Sayaw sa Bangko of Pangasinan, and the Pandang Gitab of Oriental Mindoro, as well as homages to traditions such as the Rigodon de Honor.
PUSO NG PASKO GOES ON TOUR
Following performances at the Metropolitan Theater, Puso ng Pasko goes on a Major Luzon Tour in December 2023. In collaboration with Local Government officials, the production is scheduled to have performances at Angeles City, Pampanga;  Muñoz City,  Nueva Ecija; Tarlac City, Tarlac; and Iligan City, Isabela, followed by performances for the City of Makati and at the Malacañang Palace.
Puso ng Pasko at the Metropolitan Theater is presented by Alice Reyes Dance Philippines, the Cultural Center of the Philippines,  CCP's Professional Artist Support Program (PASP), with the generous support of Birch Tree Adult Boost. It features dance trainees from the School of Alice Reyes Dance Philippines, Philippine High School for the Arts, De La Salle College of Saint Benilde, and other independent performers.
SHOW SCHEDULE:
December 1, 2023 | Friday | 7:30 PM |  Metropolitan Theater*
December 2, 2023 | Saturday | 2:00 PM | Metropolitan Theater*
December 2, 2023 | Saturday | 7:30 PM | Metropolitan Theater*
December 7, 2023 | Thursday | Angeles City, Pampanga
December 13, 2023 | Wednesday | Tarlac City, Tarlac
December 15, 2023 | Friday | Munoz City, Nueva Ecija
December 18, 2023 | Monday | Iligan City, Isabela
METROPOLITAN THEATER TICKET PRICES:
Php 2,000 – Orchestra Center
Php 1,500 – Orchestra Side/Back
Pho 500 – Balcony
You can reserve tickets in advance through +63 977 799 0921/ ardancephilippinesinc@gmail.com until November 13. After November 13, tickets will be available through Ticketworld.
Comments