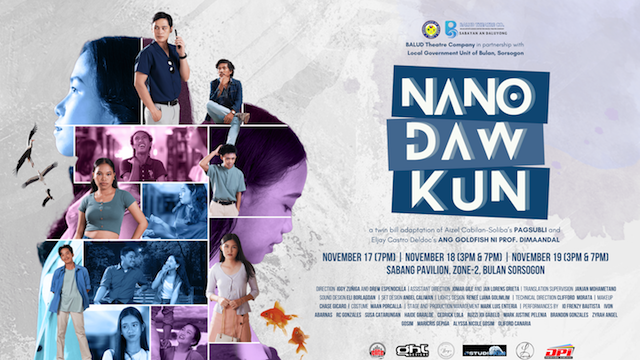 'Nano Daw Kun' Twin Bill of Play Adaptations to be Staged in Bulan, Sorsogon this November
The Bulan Artists' League United for Drama (BALUD) Theatre Company is set to stage its maiden production entitled Nano Daw Kun (What If), a twin bill of Aizel Cabilan-Soliba's Pagsubli and Eljay Castro Deldoc's Ang Goldfish ni Prof. Dimaandal. Both plays were part of CCP's Virgin Labfest.
Nano Daw Kun is a showcase of adapted plays that serves as an amalgamation of Bulan, Sorsogon's artistic potential, interwoven with the intricate tapestry of Bikol's rich culture, including its folk songs, festivities, and more.
Directed by Drew Espenocilla, Pagsubli follows the journey of a young lady in search of her long-lost father before her impending marriage. Ang Goldfish ni Prof. Dimaandal, directed by Iggy Zuñiga, unfolds a farcical and comedic tale centering on the unexpected death of a goldfish, sparking a chain of uproarious confrontations among the characters. 
The cast features Io Frenzy Bautista, Ivon Abarnas, Jesusa Marie Catarungan, RC Gonzales, Haide Garalde, Cedrick Lola, Ruzzi Gabelo, Mark Justine Pelenia, Brandon Gonzales, Zyrah Angel Gosim, Maricris Gepiga, Alyssa Nicole Gosim, and Gliford Gigantone.
The artistic team includes Janjan Mohametano (Translation Supervision), Jan Lorens Grieta and Jomar Gile (Assistant Direction), Angel Caliwan (Set Design), Eli Borlagdan (Sound Design), Reneè Liana Golimlim (Lighting Design), Clifford Morata (Technical Direction), Maan Porcalla (Costume Design), Chase Gicaro (Makeup), and Mark Luis Enteria (Stage and Production Management).
Bulan's theatrical scene has experienced a hiatus for some time, and Nano Daw Kun represents its return to the stage. It aims to create a ripple that will hopefully cascade into significant waves, fueled by the unwavering support of BALUD's immediate community.
The show will run from November 17 to 19 at the Sabang Pavilion in Bulan. For more information and ticket reservations, please visit BALUD Theatre Co's Facebook page or contact 09171787736.
The Bulan Artists' League United for Drama (BALUD) Theatre Company is a passionate and dedicated group of artists committed to promoting the arts and culture of Bulan, Sorsogon, through the powerful medium of theater. BALUD's goal is to celebrate and establish Bikol Bulan's vernacular as a legitimate and vibrant variation of the Bikol language, and Nano Daw Kun represents a significant step towards achieving this mission.
Comments