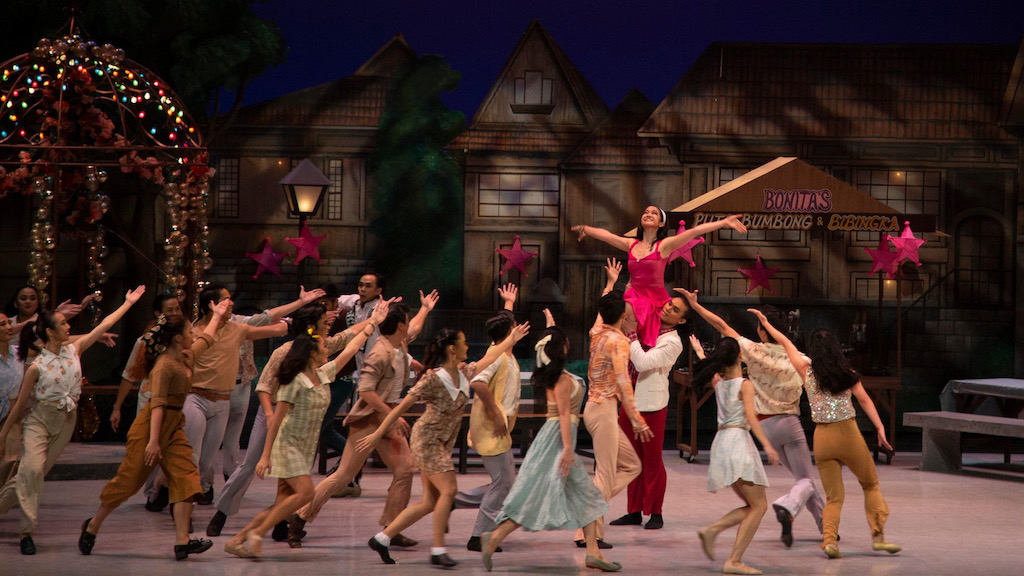 'Puso ng Pasko' Christmas ballet takes the stage this December
The very first all-original Filipino Christmas ballet, Puso ng Pasko, will be dazzling the CCP Main Theater from December 2 to 4.
The show centers on the memories of Lolo Val (played by Audie Gemora), now living abroad in California, who regales his young granddaughter Angelita, with accounts of the magical Christmases of his youth in Tres Reyes with his barkada.
Conceptualized by Alice Reyes Dance Philippines' Artistic Director Ronelson Yadao, with musical arrangements by National Artist for Music Ryan Cayabyab, the show features scenes of the Simbang Gabi, with Bibingka and Puto Bumbong, and plazas decorated with big parols and Christmas decorations. It also brings the audience to different fiestas across the Philippine islands in celebration of Filipino regional festivities.
The show is choreographed by Yadao along with Erl Sorilla, John Ababon, AL Abraham, Dan Dayo, Bonnie Guerrero, and Lester Reguindin. Also in the creative team are Eric Cruz (production design), Barbara Tan-Tiongco (lighting design), Dennis Maristany (Costume Consultant), and Eljay Castro Deldoc, who worked with Yadao on the script and story as co-librettist with inputs from Carlos Siguion-Reyna to match his masterful cinematography for the filmed scenes.
Puso ng Pasko features dancers from multiple generations including students from Alice Reyes Dance Philippines and artists from the CCP Professional Artist Support Program's Regional Dance Training Program, as well as former veteran dance artists.
As previously reported, this will be the final production in the CCP's Dance Series (Live!) which also featured Pulso Pilipinas I, Pulso Pilipinas II: Alay Nina Alice at Agnes, and Premieres and Encores.
Tickets are available through the contacts below.
DECEMBER 2 | 8:00 PM
DECEMBER 3 | 3:00 PM & 8:00 PM*
DECEMBER 4 | 3:00 PM & 8:00 PM
*Sponsored by Rotary Club and UP Delta Lambda Sigma
Bonnie Guerrero
ARDP Ticketing Officer
Viber: 09154122152
CCP Box Office
8832-3704
Comments