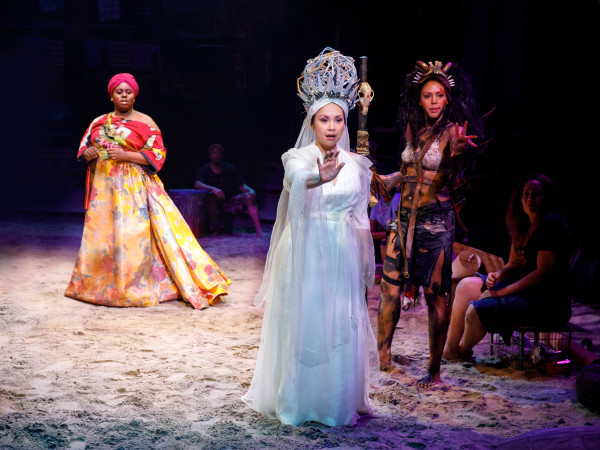 "Once on this Island" with Lea Salonga Gets Rave Reviews on Broadway!
Reviews are in for the current revival of Once on this Island on Broadway!
The musical tells the story of the peasant girl Ti Moune and the challenges she overcomes to prove that love is stronger than death. Tony Award-winner Lea Salonga plays Erzulie, the goddess of love, opposite Hailey Kilgore who plays Ti Moune, Isaac Powell who plays Daniel Beauxhomme, Alex Newell who plays Asaka, Quentin Earl Darrington who plays Agwe, and Merle Dandridge who plays Papa Ge. The last time the show was on Broadway was during its original run from 1990 to 1991. It had a West End production in 1994, where it won the Olivier Award for Best New Musical.
With a book and lyrics by Lynn Ahrens and music by Stephen Flaherty, the 'Once on This Island' revival, directed by Michael Arden and choreographed by Camille A. Brown, began previews on November 9, and has just opened on Broadway as of this writing (December 3) at the Circle in the Square Theater.
The reviews are in and it has received overwhelming praise from critics!
New York Times Co-Chief Theater Critic Jesse Green says:
"More subtly, the actors, of a variety of skin tones, are not obsessively matched to one another or to the colors suggested by the script. Lea Salonga, the Filipina Broadway star, plays Erzulie, the goddess of love; the heroic-voiced Quentin Earl Darrington, as the water god Agwe, is blue. And guess what? It makes no difference. Or, rather, it does, by exemplifying the ludicrousness of such distinctions and underlining the show's bid to be seen as a universal story that every culture enacts and anyone can tell. (Eight performers, called storytellers, have been added to the cast of this revival.) If Mr. Arden's casting choices also take some of the pressure off possible questions of cultural appropriation — he and the show's authors are white — so be it; the larger point is worth making right now."
The raves don't end there! Check out what top global publications and critics have to say about Ms. Salonga and the show:
"(…) all I can say is that after a dismal theatrical fall, in which even the highlights seemed ashen, what a delight it is to enter the world of "Once on This Island." – JESSE GREEN, NEW YORK TIMES
"But 'Once on This Island' is a true ensemble piece, the vocal and narrative duties here being in the capable and morally forceful hands (and mouths) of Merle Dandridge, Quentin Earl Darrington, Alex Newell and even the marquee name Lea Salonga, who is quite happy to fuse her singularity into a very successful and enjoyable whole." – CHRIS JONES, CHICAGO TRIBUNE
"And as the gods, Darrington, Salonga and Newell all are regal in distinctive ways, while Dandridge is devilishly seductive — Death as a feral Victoria's Secret model. But in this superbly balanced ensemble of 20, every last member performs an essential role in telling the tale." –DAVID ROONEY, THE HOLLYWOOD REPORTER
"Salonga is the perfect 'good witch' of Love counterpart to Dandridge's malevolence." –TIM TEEMAN, THE DAILY BEAST
"Of the entire cast, the four actors playing the gods stole the show and certainly gave the best performances. In particular Salonga ('Miss Saigon,' 'Cinderella,' 'Les Miserables') and Newell (of 'Glee' fame) were equally fierce and majestic in their queenly roles." – CHRISTIAN LEWIS, THE HUFFINGTON POST
"A joyful noise thunders through Circle in the Square theater, as Broadway welcomes a smashing revival of Once On This Island. Michael Arden's exuberant staging of this 1990 musical fairy tale set on a Caribbean island conjures a spell that is devastatingly timely yet affectingly timeless in its evocation of how love goes when the indifferent, capricious whims of gods and nature intervene in the deepest yearnings of the human heart." – JEREMY GERARD, DEADLINE
Comments