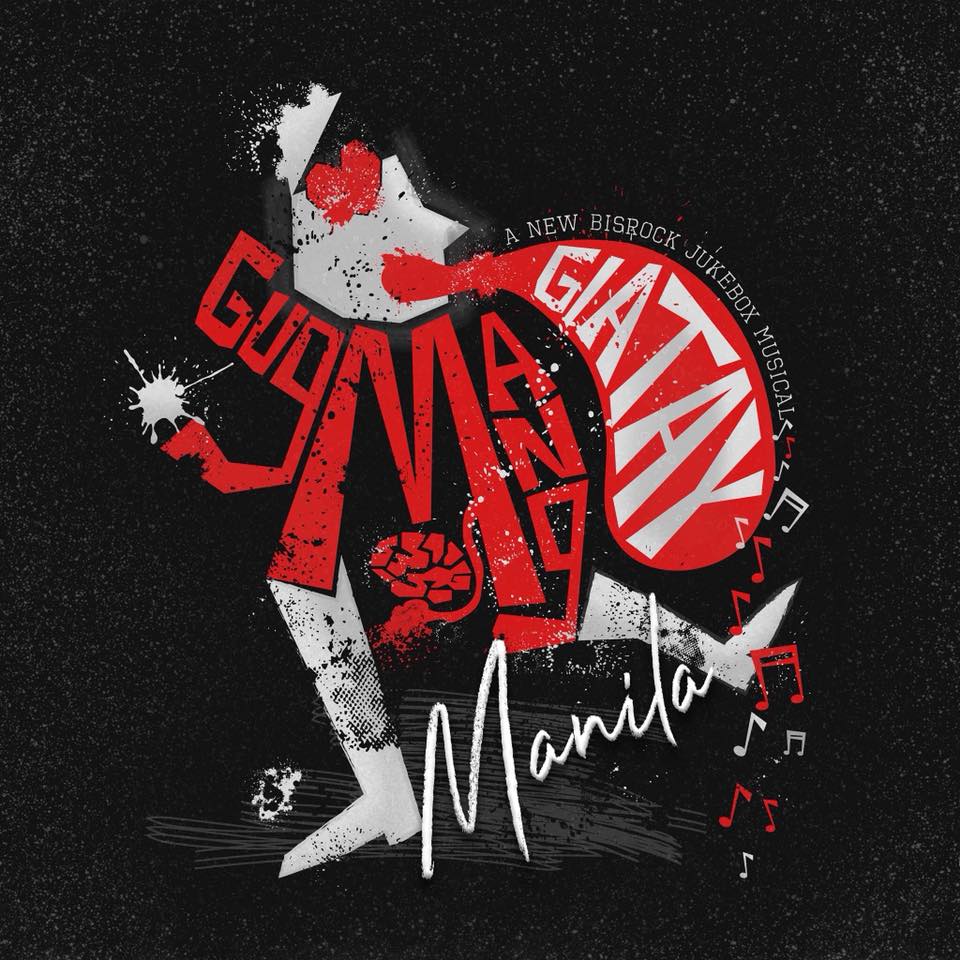 REVIEW: "Gugmang Giatay" looks for love in all the wrong places
There is a number in Bisrock (Bisaya Rock) musical "Gugmang Giatay"–or "Damned Love"–in which the characters sing, "This is a song about nothing". The line encapsulates the show perfectly; it's comedic, but like many other aspects of the musical, it brings nothing real to the table.
The show begins with Inday (Lourdes May Maglinte) speaking out into the darkness. Her first few "hellos" fall on deaf ears, until a voice speaks back: it's Papa Joe, the host of an unnamed fictional radio show, and Inday is calling in. You see, Inday is in a relationship, and to no one's surprise, it's complicated. She's dating Undo (Von Saw), a musician with no real job and questionable talent. The rocky state of their relationship is made apparent right from the start, and the direction it will take is painfully predictable. Her entire arc consists of fending off Undo and falling back in love with him.

Problematic Characters
While the show may start off with Inday, she eventually shares the spotlight with the other characters.
Rihanna (played by Malaya Macaraeg, who giddily screams most of her dialogue), Inday's fellow housekeeper, betrays Inday's trust as she too is in love with Undo. Charing (Joer Ivan Gallur), a confident trans woman, pursues Ben (Jeyve Daño), the call center 'hunk' that all the ladies have a crush on. After suspecting that he might be gay, she pursues him and succeeds by the beginning of the second act. Strangely, when he asks her to leave the boarding house to go on a real date, she becomes doubtful of how people will perceive them. It seems odd that after getting what she wants, the confident and boisterous woman from the first act disappears, only to be replaced by someone who is worried about embarrassing her beau.
Ma'am Helen (Shane Reseroni), the owner of the boarding house where Inday works, doesn't do much until her story – her OFW husband is shoehorned in at the eleventh hour in order to make her relatable. Lola Lucy (an all too campy performance by Shiella Gemperoa) is the crude sari-sari store owner who drinks all day and occasionally gives advice to the broken-hearted souls at the boarding house.
Garish Humor

Being a "Bisrock" musical, the show employs Cebuano humor, and at times, it does so with reckless abandon. For anyone outside of Cebu watching the show, the many references to local hangouts and scenes will fly right over their heads. The comedy is clearly targeted toward Cebuano audiences, and while that works for the town and those who hail from there (this reviewer included), it severely limits the show's reach.
More than half of the show's laughs are aggressively campy and loud; this means a fair amount of shrieks, shouting, and characters laughing at their own quips. The ridiculousness of it all is hard to swallow, and proves overbearing as the show plods along. One wishes for more of the restrained jokes from the show: the ones so confident in their effectiveness that they aren't masked by comedically shrill line delivery and unnecessary camp.
Gugmang Giatay's most blatant misdeed comes in the form of several jabs made at the expense of Inday and Charing. The former is made fun of for being plus sized (comparisons to various pork dishes are drawn), and the latter serves as a punching bag for the other characters' cheap shots at her being transgender.
One-Note and Lackluster

While there is a surprising amount of sad moments in the show, the acting is for the most part, lacking. And while the actors aren't given much to work with, story or character-wise, there is also no elevating what little there is to begin with. As Inday, Lourdes May Maglinte is the show's most effective actress, but she isn't given enough stage time or a character with enough meat.
The leads are flanked by an unnecessary ensemble, whose only purpose is to fill the already cramped stage with background antics that distract from the drama, as well as poorly execute choreography (by movement director and choreographer Vince Gaton) that adds nothing to the numbers in which they're performed. The dance moves employed by Gaton feel like they belong in a cheer routine rather than a musical, as they seem to be devoid of any meaning in relation to the music and lyrics.
Bisaya Hits

All of the songs in the show are pre-existing Bisaya tunes, and includes classics like Liar Evil and Usahay. Their inclusion is all part of a movement that is trying to elevate regional songwriting and usher the music, as well as regional theater into mainstream consciousness. Some of the songs like 'Tsaeh' and 'HAHAHAHasula' are certainly worth listening to on their own, but in the context of the show, where story should take center stage, these songs don't differ much from each other in tone. Yes, the show is about heartbreak, but are four melancholy songs in a row necessary to drive this point home?

The cast is undeniably talented vocally, especially Lourdes May Maglinte and Joer Ivan Gallur, numerous technical problems aside. Von Saw gives the show's weakest and strangest performance with 'Solid Ug Lawas', which has him rocking out while flailing his arms around to the music.

Seemingly aware of the repertoire's lack of variety, Ma'am Helen asks the rest of the characters, "Don't you sing about anything other than love?". No, they don't. And therein lies the problem. The characters aren't fleshed out, and what little motivation and depth they had – like Inday giving up nursing to take care of her family – were given lesser importance and diminished to backstory status. They sing about unrequited love and heartbreak, and nothing else. It must be said that there is certainly nothing wrong with being romantic, but when hopeless romance is all there is, you're left craving something more.

The addition of fluff seems to be a recurring problem in Gugmang Giatay. The final song, "Bisaya Baya Ni, Bay", adds nothing to the story or even the show as a whole, but is performed at the curtain call as a sort of reminder to the audience that they have just seen a Bisaya show. It's an anthem for Visayans, and a declaration that the Bisaya show you've just seen is representative of a new wave of regional productions, but performing the number at the curtain call is nothing more than a self-congratulatory pat on the back.
The Creatives
Edison Jingle Saynes' direction is rather timid for a show with such loud characters. There are too many contradictory moments, and one never knows what the show's true intentions are. For instance, it tries to both promote acceptance and love towards the LGBT community, as well as put it down for the sake of a laugh or two. However, Saynes really doesn't have much wiggle room in terms of message and tone, as the substance in Jude Gitamondoc and Rowell "Medyo Maldito" Ucat's script is few and far between. The set design, which includes the entrance to the boarding house and realistic sari-sari store, is one of the more commendable aspects of the show.
Gugmang Giatay has a fair number of well-sung tunes and classic Bisaya hits, but it's two dimensional characters, one-note performances, thinly written script, and backwards humor make this show damned hard to love.
Comments