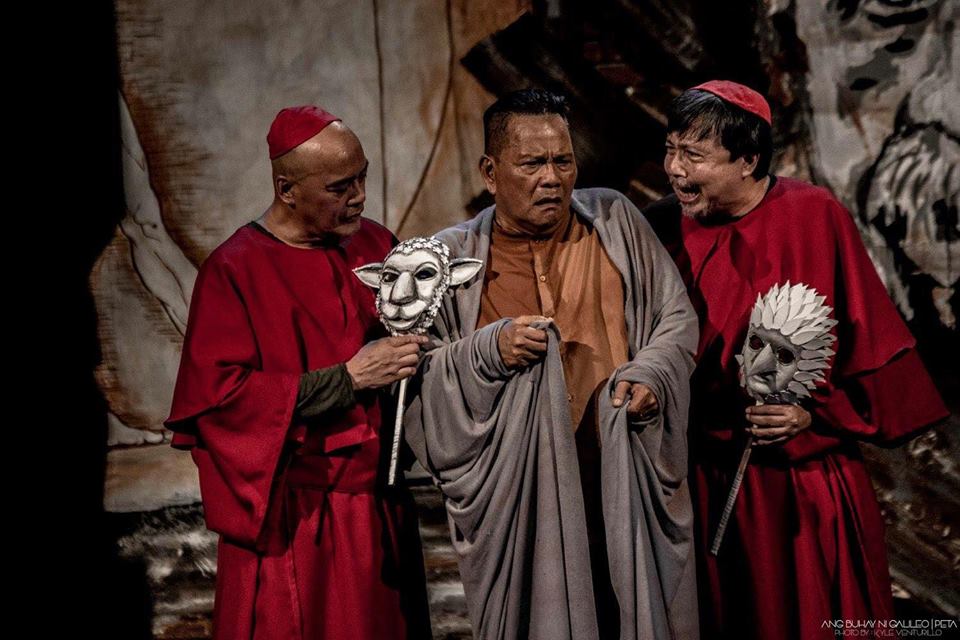 REVIEW: History is cyclical in "Ang Buhay ni Galileo"
It's fascinating to watch "Ang Buhay ni Galileo" in retrospect. It's almost unbelievable that there ever was a time when a simple fact we know to be true–that the Earth revolves around the sun–is something that did not only have to be proven, but fought for to be revealed to the masses.
PETA returns to the open-air Rajah Sulayman Theater in Fort Santiago–their home from 1967 to 2005–to restage Alan Glinoga's translation of Bertolt Brecht's "Life of Galileo". Restaging the material isn't merely a throwback to the company's history. The play serves the same purpose to day as it did in the 80s, with political and religious power reigning supreme, even over knowledge and facts.
Distrust over truths despite overwhelming evidence is not only confined to pre-modern times. We live in turbulent times, where everyone has their pick of facts they can choose to believe, and deem what they don't believe to be "fake news", evidence be damned.
Galileo's experiences as a scientist and scholar in the 16th century is not that much different than his modern day counterparts. With his brilliant mind, he is often at odds with the powerful. The money he receives for his services aren't enough, and when a visiting student tells him of a new invention (the telescope), he presents it as his own invention.
But Galileo's cunning is only a sliver of the greater issue. He improves upon the telescope, and uses it to observe the skies and discovers that that Copernicus was right–the Universe didn't revolve around Earth.
The Rody Vera-directed production does its best to take us on this cerebral adventure into the height of Galileo's fame and influence. Glinoga's translation, though beautiful, might be too difficult to take in considering the scope and detail it presents about history and science. Under the stars, where the performers often had to compete with the elements, it was hard for the audience to keep focus. It would've been challenging even in the best circumstances.
Joel Lamangan reprises his role as Galileo, the same role he played over 30 years previously. His Galileo possesses the amusing arrogance of an older genius. The large cast played a revolving door of different characters, all indistinguishable from each other. Only Gold Villar-Lim (as Galileo's daughter) and Noel Comia Jr. (as Galileo's young student) gave distinct performances.
The set's backdrop featuring other philosophers and scientists is the same design as the one during the 1981 run. Costumes were simple, with the use of color denoting a character's stature or class. The pope is clad in all white, and other religious leaders were in reds. The nobility wore bright colors, and Galileo and his people were in browns and blues. The company refers to the production as "aesthetics of poverty", a return to a time when the company made do with what they had.
It's only fitting that PETA brings back Galileo's story, and does so in their original home. Perhaps so we can be reminded that the knowledge we enjoy is a privilege hard-won by the great thinkers who came before us.
Comments