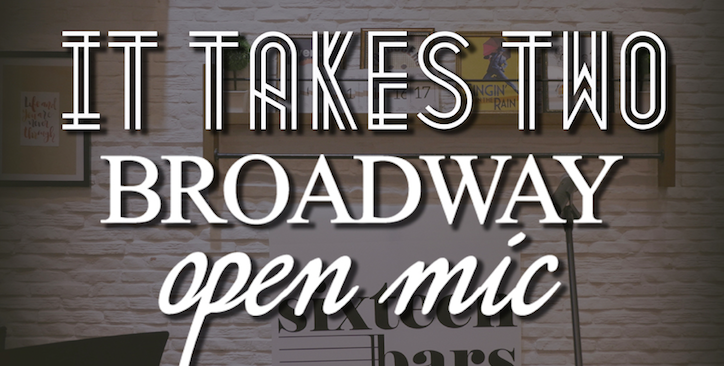 Next Broadway Open Mic Features Musical Theater's Composing Duos
Not everyone's a Stephen Sondheim or a Lin-Manuel Miranda. Sometimes, the act of composing an entire show isn't a feat undertaken alone. Sometimes, "It Takes Two" to create a beautiful, textured score that encompasses all the depth and dimensions of a story that needs to be told.
The title of the thirteenth Broadway Open Mic is inspired by the song of the same name from one of the most popular shows of the Broadway composing tandem of Marc Shaiman and Scott Wittman, ​Hairspray.​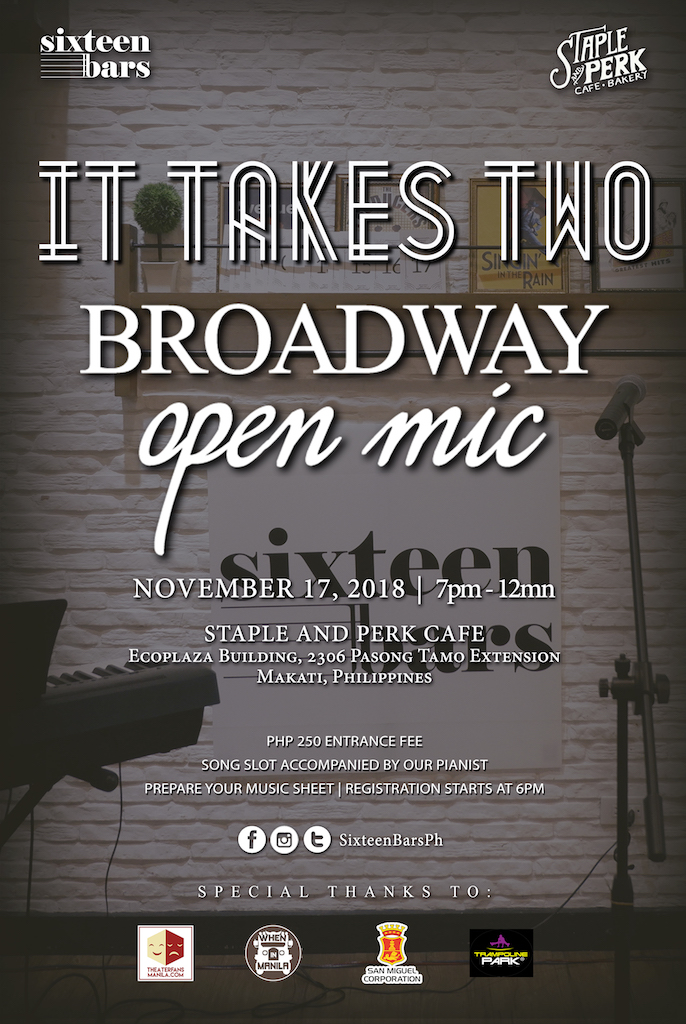 This Broadway Open Mic pays tribute to the musical theatre world's talented twosomes. From Rodgers & Hammerstein (​The Sound of Music​, ​The King and I​), Ahrens & Flaherty (​Once On This Island​, ​Anastasia)​ and Pasek & Paul (​Dear Evan Hansen​, ​The Greatest Showman)​ to up-and-comers like Kooman & Dimond (​Dani Girl)​ , Miller & Tysen (​Fugitive Songs​) and Kerrigan & Lowdermilk (​The Mad Ones​), this Composers' Night features a diverse set of stories and songs for every kind of musical theatre fan. So whether you want to "Cell Block Tango" to the music of Kander & Ebb (​Chicago​, ​Cabaret​) or just silently weep "On [Your] Own" to the heart-wrenching ballads of Boublil & Schönberg (​Les Misérables​, ​Miss Saigon​), you are invited to take the stage.
IT TAKES TWO: Broadway Open Mic will be held on November 17, 2018, at Staple and Perk Café in Ecoplaza Building (2305 Chino Roces Ave., Makati City). Registration opens at 6:00 PM. The event runs from 07:00 PM to 12:00 MN. Entrance fee (including one free drink) is PhP 250, inclusive of one performance slot. Performance slots are given on a first-come, first-serve basis, and will only be reserved ​upon registration at the venue.​
SIXTEEN BARS is a performing arts education company whose goal is to provide the needs of developing theatre practitioners in Metro Manila. Our services mainly consist of masterclasses, workshops, and other activities geared towards artistic training and comprehensive education in music, acting, dance, and writing.
STAPLE AND PERK CAFÉ started out as a commissary supplying breads and pastries to restaurants and hotels in Metro Manila. With the opening of its first 24-hour shop in Ecoplaza Building in Makati, Staple and Perk Café has been serving meals, coffee, breads and pastries to the people of Pasong Tamo Ext. Apart from being a café/bakery, Staple and Perk Café acts as a venue for various art performances and events.
Comments