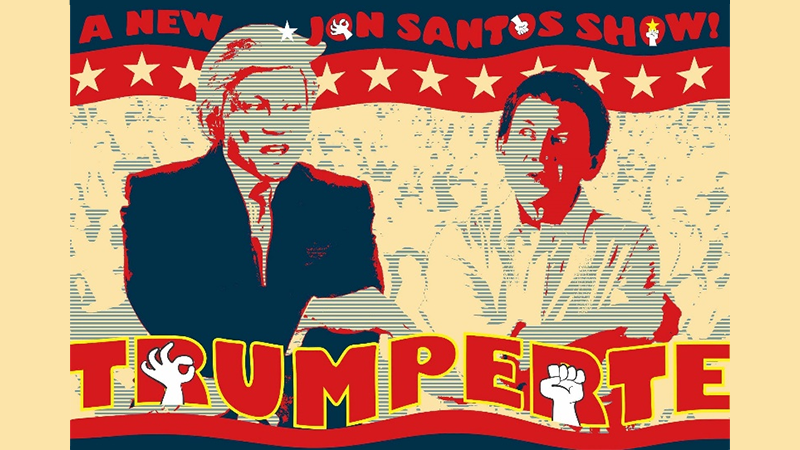 PETA Hosts Jon Santos' Political Comedy Trumperte
In line with their current political campaign entitled "Stage of the Nation", the Philippine Educational Theater Association (PETA) hosts Trumperte, a satirical comedy show featuring Jon Santos.
Trumperte, obviously coined from the names of two world leaders who dominate our news headlines, tackles our divisive politics by using a universal theme — laughter. Jon Santos takes the stage with his hilarious impressions of Rodrigo Duterte, Donald Trump, and a host of other political figures. The show is written by Jon himself along with Enrico Santos and Joel Mercado, and is stage directed by Michael Williams.
The show was first staged in May of this year, and again in September, both at Teatrino in Greenhills. Given the rapid news cycles however, the writers are challenged to keep things fresh and updated. As Jon shared, "Dati diba issue yung mga nag-lleak sa White House? Ngayon wala na yan sa news. Si Kavanaugh na, yung Supreme Court nila. So sometimes that's three pages of your script — gone." But it's a welcome challenge to keep the show sharp, witty and relevant.
Jon Santos also has no qualms about diving into social and political commentary. As he said during the Stage of the Nation launch, "Napaka-encouraging that we all laugh at the same places. There's hope na alam pa rin natin ang tama at mali. Nakaka-encourage na they [audience] support live comedy as a form of healing. And they dress up, they buy a ticket, and they brave the traffic to bond with other human beings."
Trumperte will be having a very limited two night run on October 26 and 27, 2018, 8:00 pm at the PETA Theater Center. Tickets are available here.
Comments