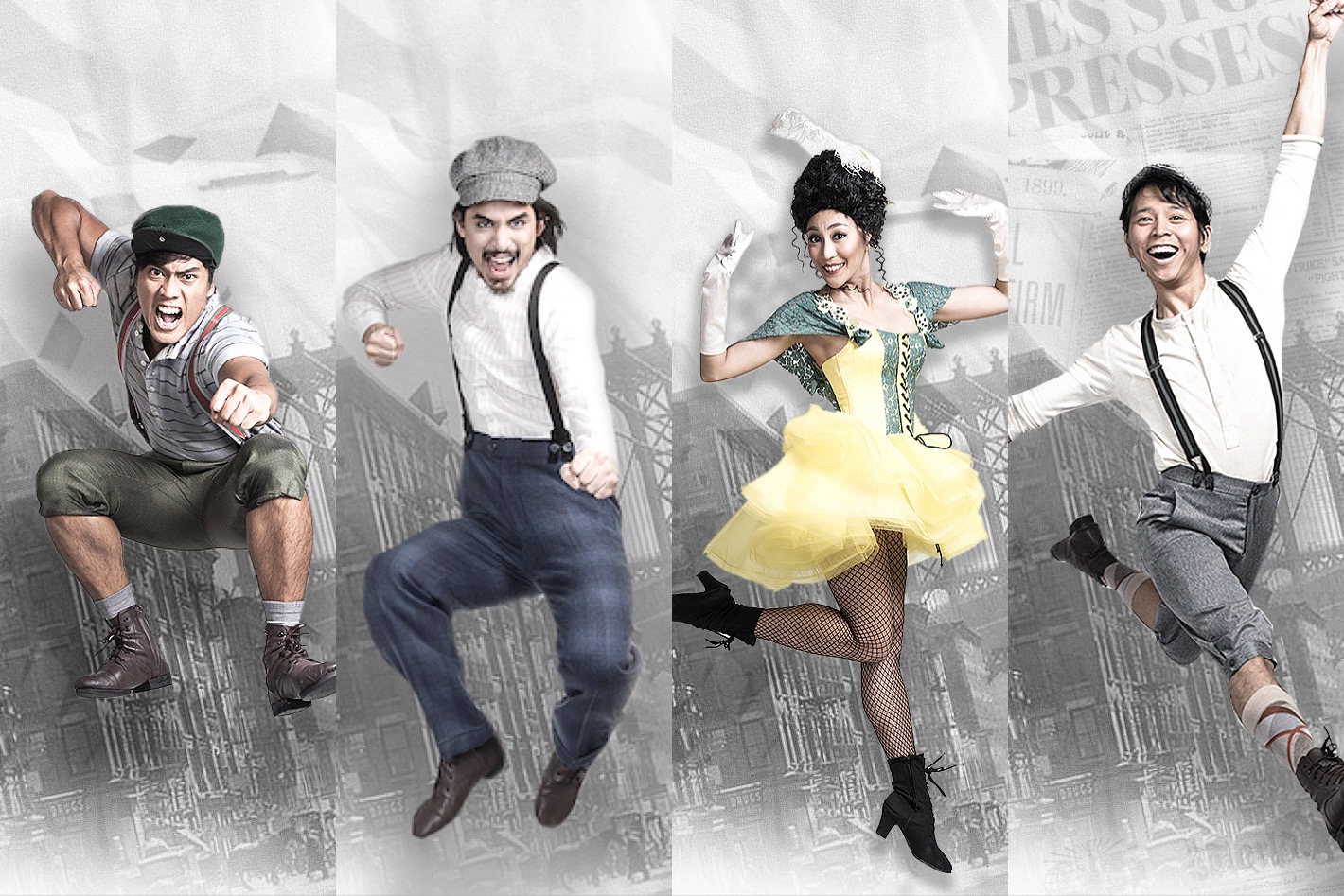 Newsies 'Training Ground': Grooming New Triple Threats
Choreographer PJ Rebullida has a lot resting on his shoulders.
Fansies and theater fans know that choreography plays a big part in what makes dance musical Newsies, well, Newsies. In fact, according to director Robbie Guevara, it's 95% of the show. To pull it off, 9 Works Theatrical (9WT) needed 29 triple threats. 4 women and 25 men, to be exact. It didn't help that triple threats are hard to come by.
With this in mind, the cast and creative team went to work setting up what they call "Training Ground" last March. It's a six-hour, five-days-a-week intensive, training successful audition passers in ballet, jazz, tap, singing, acting, scene work, and everything else that would help them do the show.
Training Ground is no joke. "We're not making it easy for them," says Rebullida. "We're raising the bar. My goal is that everyone does a double pirouette, our taps clean."
The cast is composed of performers coming from different disciplines, with varying degrees of dancing skills. Each has their own expertise and weaknesses. Theater actor Jef Flores—mostly known for acting in musicals and straight plays—shares, "Everything in my life has seem to set me up to kind of, to not be a natural at ballet, so training ground has been eye-opening to me because I have a duty in training ground to keep up and excel. This isn't a musical to kind of like straddle through. This is a musical for people to enter and be brilliant."
Trained dancers in the cast don't have it easy, either. Ballet Philippines soloist and choreographer Ronelson Yadao had different unfamiliar skills to overcome. "I've trained my body with ballet and contemporary dance— every part of my muscle, except one: my tongue." Not only do cast members have to dance, sing, and act, they must do so with a New Yorker accent, but it's a skills test that Yadao welcomes, "It's very challenging but it's a good challenge for me."
(WATCH: Newsies Cast Performs Powerful Medley)
For Philippine Ballet Theater (PBT) soloist Ian Ocampo, it's about fulfilling a childhood dream: "Since I was 13, I've been dancing ballet. I'm 25 now, so it's been 12 years. Moving to theater, it made me feel uncomfortable at first but I really wanted to do this because since I was a kid, I've been really interested in singing and also acting."
Even for performers with experience in both dance and musical theater, Newsies is no walk in the park. "Ballet is fine, hip-hop is not." says Joni Galeste who, apart from being a PBT soloist like Yadao, has been in previous musicals like 9WT's La Cage aux Folles and A Christmas Carol. "With ballet, you're always so pulled up. I've been doing it since I was 7 and something like hip-hop is the total opposite of ballet. It's just really difficult. And it makes you appreciate other kinds of dance forms better."
Having cast members with different different dancing fortes is a boon according to Galeste, "You see people who are experts at hip-hop, experts at jazz, experts at tap. It's amazing and you wanna be like them."
Newsies audiences will be the first to witness the debut of these newly-minted triple threats. The show opens July 7 at the Globe Iconic Store. Find out more about Training Ground here.
You can buy tickets HERE.
Comments