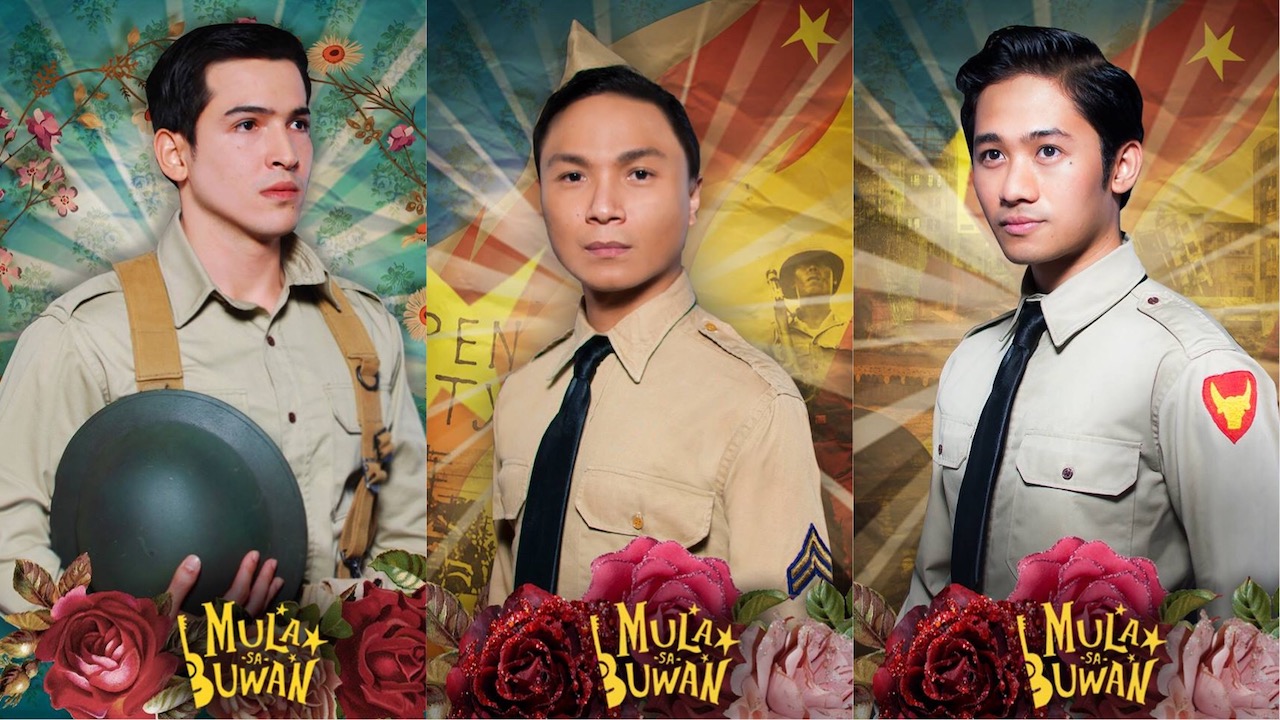 New Cast Announced for 'Mula sa Buwan' Rerun
Almost two years ago, Mula sa Buwan, the original Filipino musical written by director Pat Valera (concept, book, and lyrics) and William Manzano (lyrics and music), officially opened to the public at the Henry Lee Irwin Theater of the Ateneo de Manila University. Based on the story of 'Cyrano de Bergerac', Mula sa Buwan is about the love story between Cyrano, Roxane, and Christian set in 1940's Manila.
This November 9-25, 2018, the show is coming back for a limited sixteen show run at the brand new 800-seater theater of the Hyundai Hall, Arete in the Ateneo de Manila University. Three new leads and three returning cast members will be alternating for the roles of Cyrano, Roxane, and Christian.
CYRANO
Nicco Manalo and Boo Gabunada reprise their roles as the debonair yet long-nosed poet-cadet Cyrano. Manalo has most recently been seen in as Willy in Dekada '70, while Gabunada has most recently been seen as Emman in Ang Huling El Bimbo.
CHRISTIAN
Edward Benosa reprises his role as the endearingly foolish and handsome Christian. For this run, he will be alternating with actor and musical director Myke Salomon. Salomon has most recently been seen as Kenny in Rak of Aegis and Heck in A Game of Trolls. He has recently served as musical director for a number of big jukebox musicals such as Rak of Aegis, Ang Huling El Bimbo, Dirty Old Musical, 3 Stars and a Sun, and Ako si Josephine.
ROXANE

Roxane will be played by two new leads. First of two is Gab Pangilinan, a musical theater actress who most recently starred as Daisy Hilton in Side Show. She has also played a number of ensemble roles in shows such as Rak of Aegis, Tagutaguan Nasaan Ang Buwan?, 3 Stars and a Sun, Chitty Chitty Bang Bang, and Godspell, among many others over the past few years.
Cris Go will be alternating with Pangilinan for the coveted role. She was last seen in The Philippine Opera Company's Young Artists Series productions: Black Box Affair (as Susanna), Elite (as Susanna), The Mikado (as Pitti-Sing), The Opera Playlist (as Lucy & Delilah), Harana and Ang Bagong Harana. She is also a member of the classical-crossover group, The Opera Belles.
Also joining the cast are Phi Palmos and Ronah Rostata as ROSANNA, Jon Abella and Iggi Siasoco as TATO, Gel Basa and Francelle Fetalvero as GABRIEL, and MC dela Cruz as MAXIMO.
Matthew Chang, Ralph Oliva, Nico Dans, Luis Padilla, Tope Kliatchko, Victoria Mina, Jasmine Balunes, Ali Santos, Michael Fernandez, Larissa Sinchioco, Harly Daria, Miah Canton, Ashe Uy, and Daniel Wesley complete the cast.
You can check out www.mulasabuwan.ph for tickets and other details.
Comments