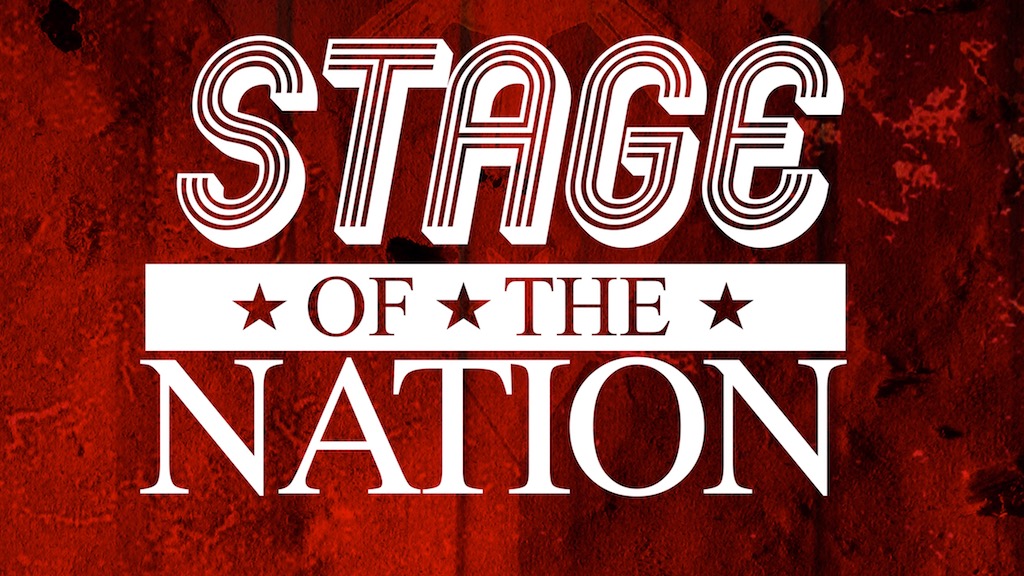 PETA Launches "Stage of the Nation" Campaign
The Philippine Educational Theater Association (PETA), launches "Stage of the Nation" — a creative campaign that tackles the country's current political and social climate. For the next 9 months, PETA will make use of their extensive arts experience to mount wide-ranging productions: from musicals, film screenings, comedy shows, spoken word shows, and education programs.
PETA has historically been at the forefront of using the power of the arts to help shape and understand the current discourse, and the present is no different. PETA believes that "given the political, economic, and social challenges that have divided our country, PETA has dedicated all its performances, programs, activities, and workshops to break barriers between creed, colors, labels, and stereotypes, and to move audiences to reflect, think, speak."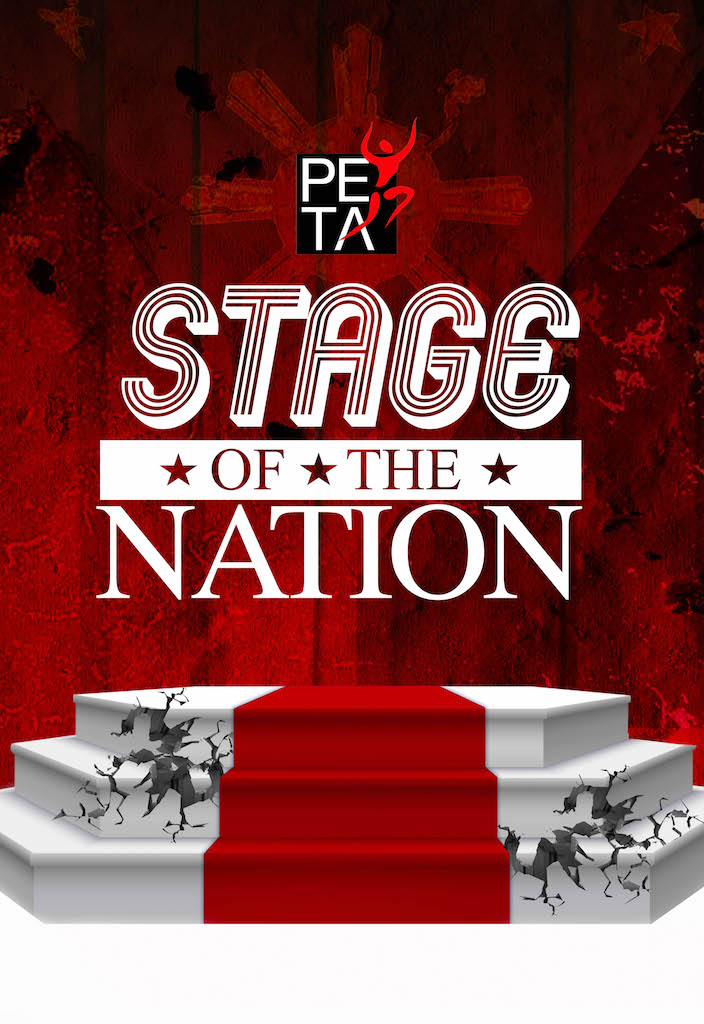 PETA's artistic director, Maribel Legarda, describes the campaign as "thoughtful entertainment". She adds, "A lot of the chosen productions will talk about the themes of truth, historical revisionism, human rights and EJK, martial law, the election, and people's participation."
One of the goals of "Stage of the Nation" is to inspire face-to-face conversation and discussion, instead of just going back to our corners on social media. Thus, all shows will hold debriefing sessions after the performances, to give audiences space to reflect and react to the art presented to them.
Beng Cabangon, PETA's executive director, also shares, "The arts, especially theater, can tell stories, make us understand history and our past. It can communicate and educate, bring people together, inspire, and heal."
"Stage of the Nation" will run from September 2018 to June 2019. The performances and activities are as follows: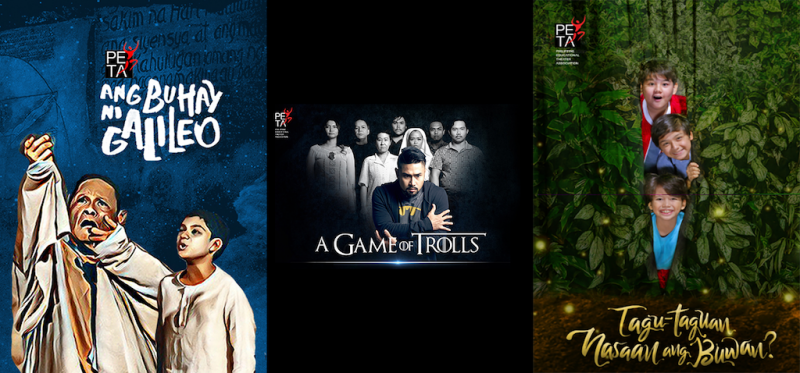 Sept 28 – Oct 7, 2018
The story of 16th century scientist, Galileo Galilei, embodies the illuminating and forceful arguments of religion and science.
REVIEW: History is cyclical in "Ang Buhay ni Galileo"
You can buy tickets HERE.
A Game of Trolls
Oct 13-14 and Oct 20-21, 2018
PETA's original martial law musical for millennials. Through music and humor, the show tackles various topics such as historical revisionism, false heroes, fake news, apathy, and misinformation.
REVIEW: "A Game of Trolls" is Essential Viewing
You can buy tickets HERE.
Trumperte
Oct 26-27, 2018
Jon Santos' original satirical live comedy show which spoofs Donald Trump, Rodrigo Duterte, and other political figures.
You can buy tickets HERE.
Arts Education Matters: A Theater Program on Creativity and Innovation
Nov 9-15, 2018
A 3-year program that aims to tap 6-8 universities all over the country to help develop young people's thinking towards innovative thinking and problem solving. This program hopes to engage young people in important social concerns to help them become informed, responsible, and proactive citizens. The project directly targets students to become cultural creatives as well as basic education teachers as innovators in classroom education.
Tagu-Taguan, Nasaan ang Buwan?
Nov 14-29, 2018
PETA's newest children' musical production tells the story of a young boy who embarks on a magical adventure to find the imprisoned characters of stories in a dark realm of fear and forgetfulness. As he goes deeper into his quest, he discovers the power of imagination and creativity and deepens his understanding of love, friendship and courage.
REVIEW: The ordinary is extraordinary in PETA's "Tagu-taguan Nasaan Ang Buwan?"
Buklod (Album Launch)
Nov 17, 2018
Noel Cabangon, Romeo Dongeto and Rene Boncocan are back together as Buklod, one of the most popular protest music groups in the 80's and 90's. Buklod is launching a new 10-song album called "3 Dekada: Ang Muling Pag-awit", with three originals from each member plus a refreshed version their 1991 single "Tatsulok".
Rehearsing Democracy & Resiliency: Human Rights Education and Advocacy in the Arts
January 2018 – June 2019
PETA will be working with some of the most vulnerable communities affected by the War on Drugs, such as urban poor communities in the cities of Caloocan, Malabon, Navotas, and Manila. PETA hopes to be able to assist these communities in finding ways for them towards recovery and rehabilitation.
Charot
Feb 1 – Mar 17, 2019
PETA's newest musical will present Philippine current events for the freak show that it is, imagining a new future under the new charter and its consequences. It will showcase how ridiculous we have allowed our country to be, and how more hilarious it will become.
Human Rights Film Festival
Feb 27, Mar 16, 13, 20, 2019
A series of film screenings featuring the works of Chito Roño, Chuck Escasa, and more, to be held every Wednesday at the PETA Roofdeck.
Manila Improv Festival 2019
Mar 27-31, 2019
Third World Improv and PETA present the Manila Improv Festival 2019. Created by Silly People's Improv Theater (SPIT), MIF 2019 will feature improv acts from all over the globe.
Words Anonymous Anniversary Show
Apr 27, 2019
Words Anonymous is a group popularly known for spoken word performances. Apart from their romance-filled poetry, they also tackle a variety of important themes such as human rights, mental health, equality, LGBTQ issues, women empowerment, and other topics.
Kundiman Party
May 24-26, May 31, June 1-2, 2019
Dulaang UP comes to the PETA stage with their much acclaimed production, exploring how different generations can use art as a unifier in this current tumultuous climate.
REVIEW: Protest isn't passé in 'The Kundiman Party'
Comments