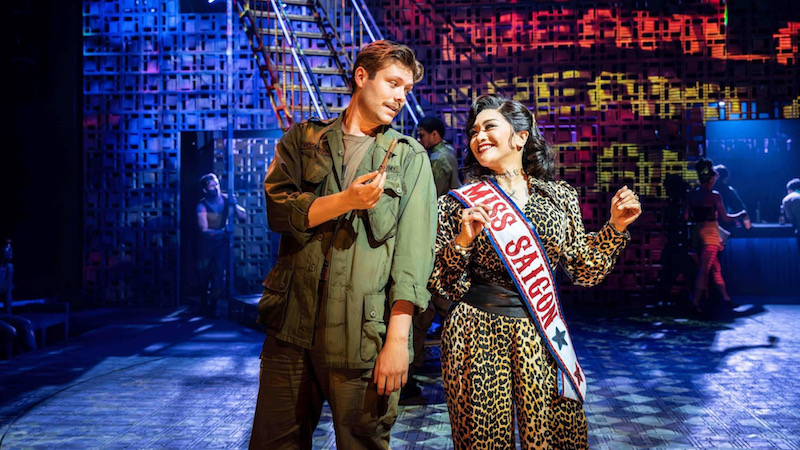 'Miss Saigon' with Joanna Ampil as The Engineer Opens in the UK
The Sheffield Theatres reimagined production of Miss Saigon, with Joanna Ampil starring as The Engineer, has just opened in the UK.
Ampil is joined by Desmonda Cathabel as Mimi and Alternate Kim, Aynrand Ferrer as Gigi, Shanay Holmes as Ellen, Jessica Lee as Kim and Alternate Mimi, Ethan Le Phong as Thuy, Christian Maynard as Chris, Emily Ooi as Yvonne and Understudy Gigi, Shane O'Riordan as John, Ericka Posadas as Fifi and Understudy The Engineer.
Making up the ensemble and GIs are Adam Colbeck-Dunn as GI and Understudy John, Andrew Davison as GI and Ensemble, Oscar Kong as Ensemble, Abel Law as Ensemble, Lavinia Mai as Ensemble, Patrick Munday as Ensemble and Understudy Thuy, Rachel Jayne Picar as Ensemble, Aharon Rayner as GI and Understudy Chris, Ernest Stroud as GI and Ensemble, Rumi Sutton as Ensemble and Understudy Ellen, Callum Tempest as GI and Ensemble, Danny Whelan as GI and Ensemble, Riley Woodford as GI and Ensemble, and Iverson Yabut as Ensemble.
Miss Saigon has music by Claude-Michel Schönberg and Lyrics by Richard Maltby Jnr and Alain Boublil, adapted from Original French Text by Alain Boublil with additional lyrics by Michael Mahler and orchestrations by William David Brohn. Originally produced on the stage by Cameron Mackintosh This first non-replica regional production of the musical is by special arrangement with Cameron Mackintosh, Boublil and Schönberg.
The full creative team includes directors Robert Hastie and Anthony Lau, designer Ben Stones, choreographer Jade Hackett, lighting designer Jessica Hung Han Yun, sound designer Mike Walker, video and animation designer Andrzej Goulding, musical director Chris Poon, orchestral manager David Gallagher, casting director Stuart Burt CDG, children's casting director Sarah De Souza, intimacy coordinator and fight director Haruka Kuroda, wigs, hair and make-up designer Sam Cox, associate director Lexine Lee, associate choreographer Nicola Mac, assistant musical director Matthew Jackson, music assistant Tom Crathorne, and counselling psychologist Jane Titterton.
Ampil has previously starred as Kim at the Theatre Royal Drury Lane in London's West End, at the original Australian production, at the original U.K. and Ireland Tour, and at the 10th Anniversary Performance.
Set in the last days of the Vietnam War in 1975, the story follows Vietnamese bargirl Kim who meets American GI Chris at the infamous Dreamland night club. In one fateful night their lives become entwined forever. Forced apart as Saigon falls, the lovers embark on a journey across continents to find their way back to each other.
The show will run at the Crucible Theatre in the UK until August 19, 2023. You can book tickets here.
Comments