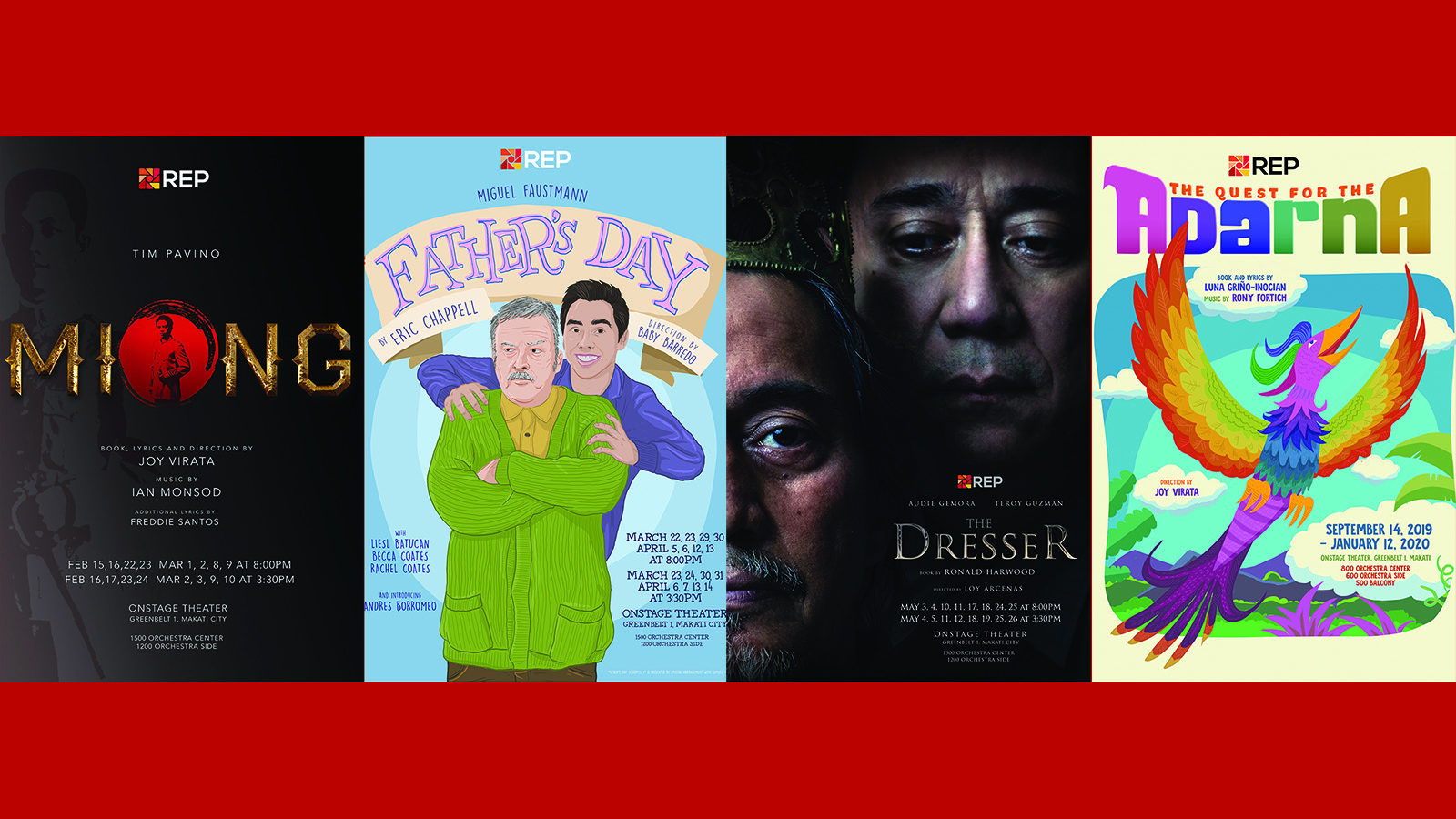 'Miong', 'Ibong Adarna', for REP's 82nd Season
Repertory Philippines gears up for its 82nd season with four new productions set to hit the stage in 2019. The new season will feature two new original musicals as well as two foreign adaptations of straight plays.
Repertory also announced a new partnership with cable company Cignal. Cignal will be documenting live shows for possible broadcasts in the future, especially to locations who have limited access to theater.
For the first time in its history, REP will be producing two original musicals, both rooted in Filipino history and folklore. The company is also excited to shine the spotlight on new up-and-coming talents who will be headlining some lead roles:
MIONG
An original musical about the life of Emilio Aguinaldo, the Philippines' first president. The show coincides with Aguinaldo's sesquicentennial (150th) birth anniversary. Directed by Rep veteran Joy Virata, Miong stars actor-musician Tim Pavino in the titular role. He is joined by Noel Rayos, Cara Barredo, Meynard Peñalosa, and Elver Esquivel. Miong's script and lyrics are written by director Joy Virata, with additional lyrics contributed by Freddie Santos. Music is by Ian Monsod while Ejay Yatco serves as musical director. The show will run from February 15 to March 10, 2019.
FATHER'S DAY
A comedic play by playwright Eric Chappell, starring Rep veteran Miguel Faustmann and newcomer Andres Borromeo. Father's Day explores the awkward and uneasy reunion between a divorced man and his estranged son, as well as with his other estranged family members. Baby Barredo returns to the directorial chair for this production. Faustmann and Borromeo are joined by Liesl Batucan, Becca Coates, and Rachel Coates. Father's Day will run from March 22 to April 14, 2019.
THE DRESSER
A British drama set in the war torn 1940's written by Ronald Harwood. The production is theater mirroring itself, with Teroy Guzman playing a brilliant but tormented thespian, and Audie Gemora playing his loyal dresser Norman. Joining the cast are Tami Monsod, Jeremy Domingo, Robbie Guevara, and Justine Narciso. Loy Arcenas, best known for directing the movie adaptation of the musical Ang Larawan, will be debuting as director for Repertory. The Dresser will run from May 3 to May 26, 2019.
THE QUEST FOR THE ADARNA
Rounding out the season is another Rep original musical aimed for its younger fan base. The production will be an English adaptation of the well-known Filipino folklore, and is written by Luna Griño-Inocian with music by Rony Fortich. Joy Virata will be back at the director's helm. The Quest for the Adarna will run from September 14,2019 to January 12, 2020.
Comments