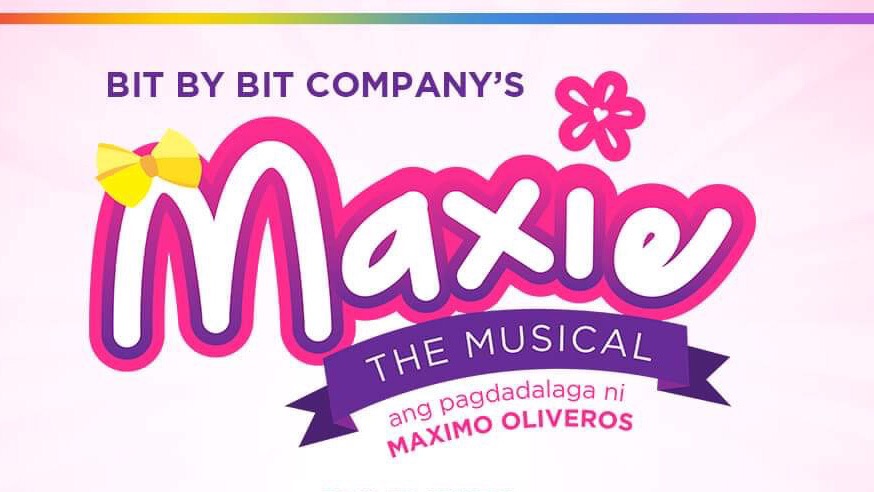 "Maxie the Musical" Returns in July 2020
Bit by Bit Company brings back "Maxie the Musical", the musical adaptation of Michiko Yamamoto's screenplay, Ang Pagdadalaga ni Maximo Oliveros. It is set to return on July 2020 at the Hyundai Hall, Arete in Ateneo de Manila University.
"Maxie the Musical" was first staged in 2013 at the PETA Theater Center starring Jayvhot Galang as Maxie and Jojo Riguerra as Victor. Maxie is an effeminate and adolescent boy who is deeply loyal to his family of petty thieves. His world revolves around taking care of his father Paco and his two brothers Bogs and Boy. When Maxie meets a young, handsome, and idealistic policeman Victor, the two quickly form a friendship. Maxie begins to realize that he can have a better life, which soon incurs the ire and disapproval of his family. Torn between his emerging affection for Victor and unquestioning devotion to his father and brothers, "Maxie The Musical" is a tale of lost innocence and redemption amidst poverty and corruption. 
The screenplay was first made into a film and produced by ufo Pictures in 2005 for Cinemalaya. It was the Philippines' official entry to the 2007 Academy Awards and has won numerous other awards, including 2005 Best Film from the Asian Festival of First Films, 2005 Best Picture from the Toronto Imagine Native Film Festival, 2005 Golden Zenith Award for Best Picture from the Montreal World Film Festival, 2006 Best Picture from the Gawad Urian, 2006 Teddy Award and Glass Bear Special Mention from the Berlin International Film Festival, and the 2007 Independent Spirit Award from the IFC Spirit Awards.
The company is holding open auditions from September 30-October 1. Interested participants can find the requirements as well as the available roles below.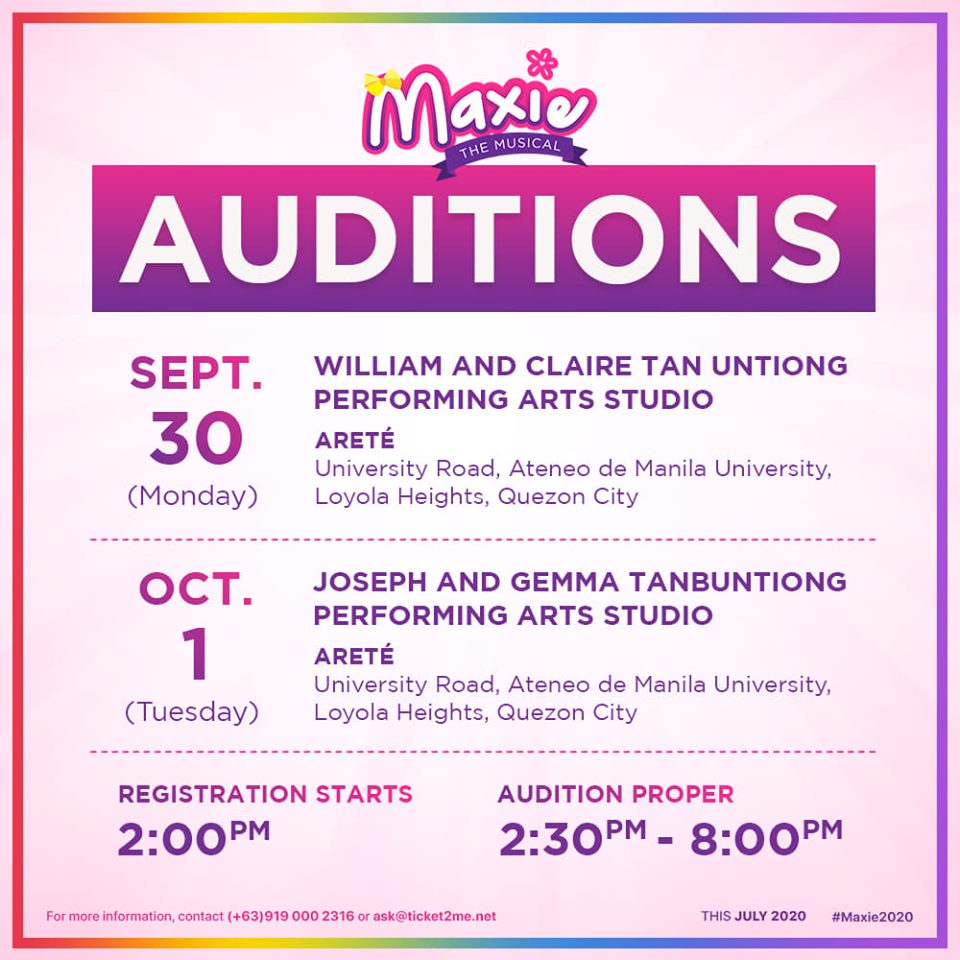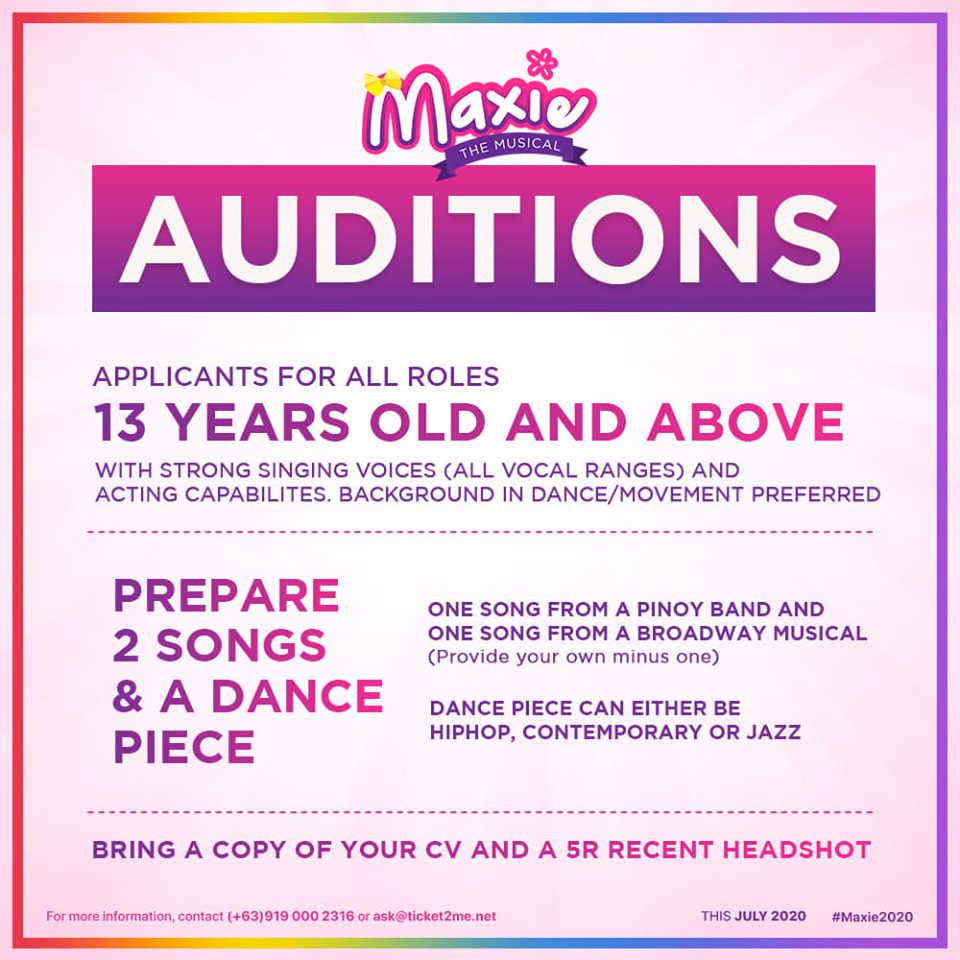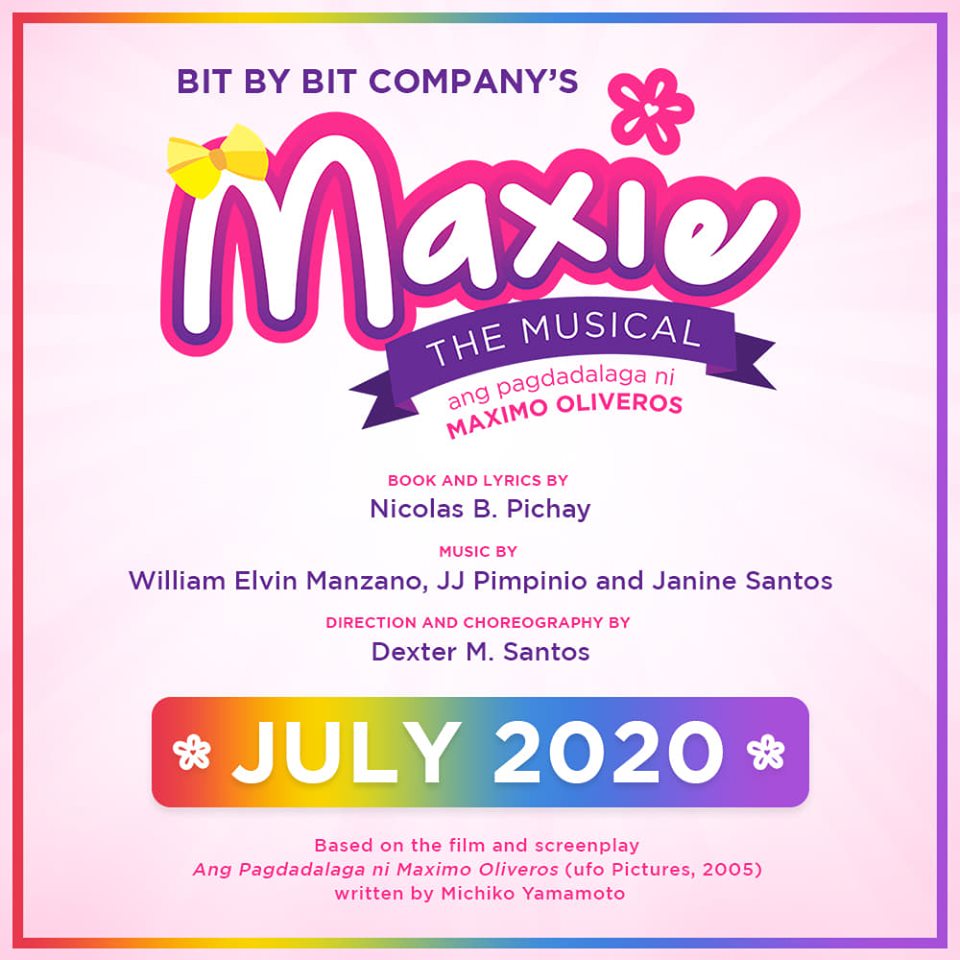 1. MAXIE- Must look 13 -15 years of age. Must be androgynous; able to pass off as both male and female. Has a strong soprano voice. Must be able to dance. If auditioning for this role please prepare a Filipino song and/or Broadway song that showcases vocal range.
2. VICTOR- Police officer, object of Maxie's puppy love, affection. Must look like he's in his mid to late 20s. Strong tenor voice.
3. PACO- 40's to early 50's Petty crime lord. Maxie's father.
4. BOY- Late 20s. Maxie's brother. Eldest of the siblings.
5. BOGS- Early 20s. Maxie's brother.
6. NAR- Maxie's friend. Oldest in their barkada.
7 MONIQUE- Maxie's friend. Only biological girl in their barkada.
8. LESLIE- Maxie's friend. Youngest in their barkada.
9. CHIEF DOMINGUEZ- 40's to early 50's, Victor's boss
"Maxie the Musical" is written by Nicolas B. Pichay (book and lyrics), with music by William Manzano, JJ Pimpinio, and Janine Santos, and direction and choreography by Dexter M. Santos.
For more information, contact +63 919 000 2316 or ask@ticket2me.net. You can also check out https://www.instagram.com/maxiemusical/ or https://twitter.com/MaxieTheMusical. 
Comments