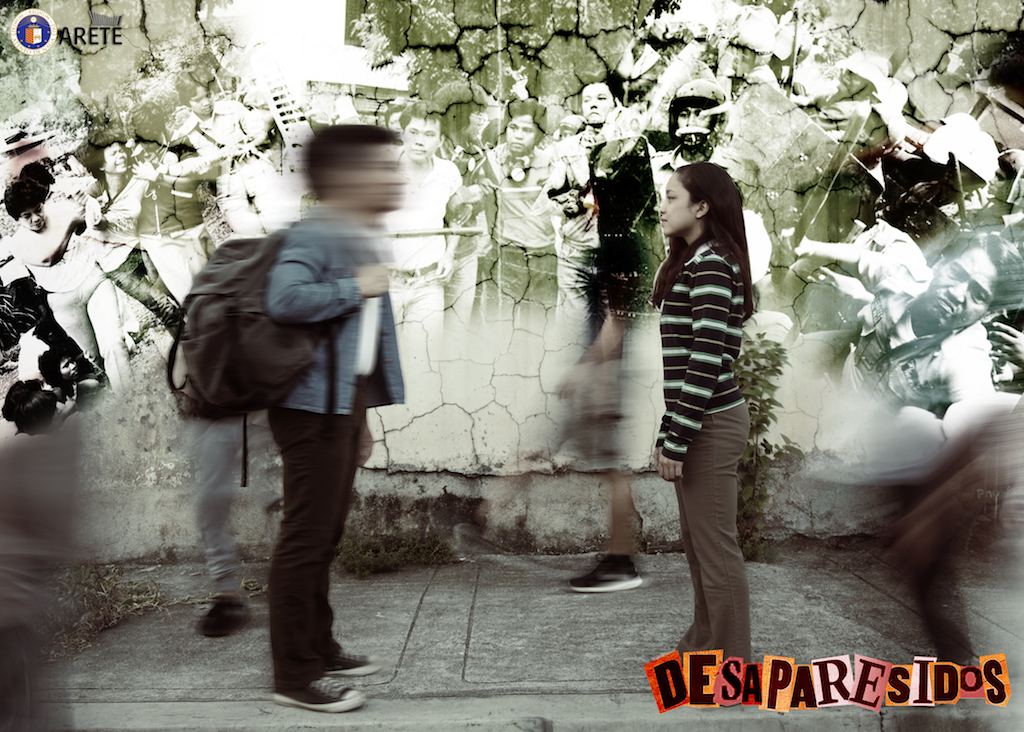 Lualhati Bautista's 'Desaparesidos' Comes to the Areté Stage this August
Adapted from Lualhati Bautista's novel of the same name, 'Desaparesidos' will be staged at The Doreen Black Box, Areté of Ateneo de Manila University from August 17- September 2.
More than just a story of committed comrades fighting against the repression and brutality of Martial Law, Lualhati Bautista's novel, "Desaparesidos" is about individuals struggling to regain their lost humanity, their sense of family, their very souls. What was the price that these fighters had to pay?  What personal pains outweighed even the most brutal of physical tortures?
Bautista's novel, a contemporary classic of Philippine Literature, is now a straight play, written and directed by Guelan Varela-Luarca. It seems right that a material about a crucial period of our history should have a history of its own. The original production, first staged by Varela-Luarca for Ateneo ENTABLADO, gained the recognition of critics and audiences in 2016. The Philippine Daily Inquirer lauded it as the Best Original Filipino Full-length Play that year.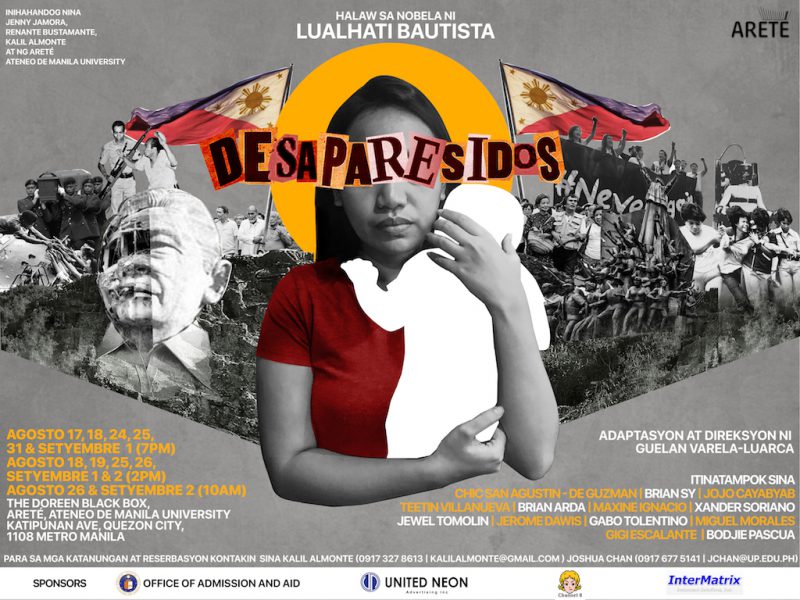 The show follows the lives of Anna and Roy, two rebels fighting the injustices of Martial Law. Though they manage to survive the atrocities of the heinous regime, they find that negotiating for a normal family life post the 1986 Revolution is just as hard a battle to fight. As they search for Anna's daughter from a first marriage, they must contend with the daughter that they estranged during their years in the NPA. And though they helped liberate the nation, they must find their way through the guilt for those they lost and betrayed, lest they lose their own souls forever.
Late last year, theater actors and friends Jenny Jamora, Kalil Almonte and Renante Bustamante decided that the time was right for a revival. After obtaining the support of Ateneo's new "creative hub", the Areté, and talking to both Lualhati Bautista and Guelan Varela-Luarca, rehearsals and workshops began for the new production. Jenny sums up the mission that fired their passion project (and turned them from actors to producers) when she says, "We can't mis-remember our history".
"Desaparesidos" is more than just a restaging or a revival of the 2016 production. Varela-Luarca has re-tooled his original text through constant workshops with a cast as equally committed to the mission, as well as the text of the novel.  
"Now, more than ever, students and young Filipinos need to see this play," says Kalil. " With so much misinformation about the dark period of our history, a work like 'Desaparesidos' can help change the way we think about the struggle we still face today. We have even formulated study guides for students and teachers so that they can analyze and discuss the play further.  After every show, there will also be talk-backs with actual survivors of Martial Law atrocities. We really want to do all we can to help in changing the perceptions of what transpired then."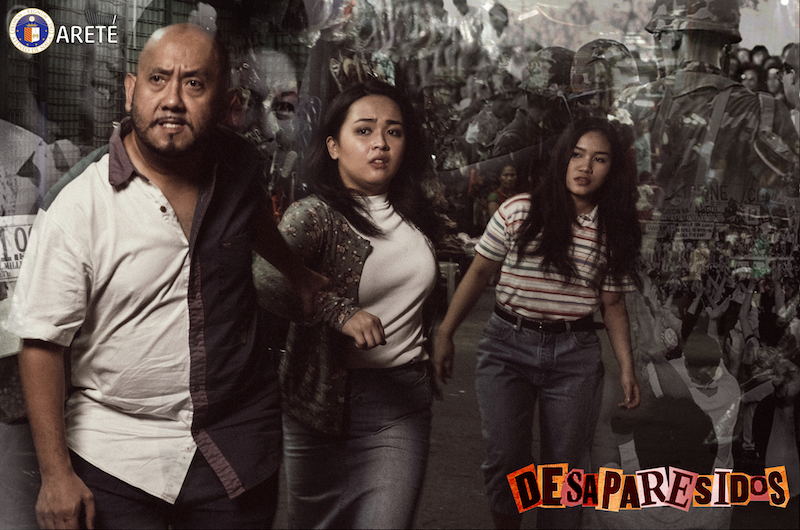 The cast includes Chic San Agustin-De Guzman (Anna), Brian Sy (Roy and other roles), Teetin Villanueva (Karla and other roles), Brian Arda (Jinky and other roles), Bodjie Pascua (Mang Manuel, Sgt. Reyes and other roles), Gigi Escalante (Aling Anchay, Ka Laura and other roles), Jerome Dawis (Lito, Emman and other roles), Jewel Tomolin (Lorena and other roles), Maxine Ignacio (Malaya and other roles), Jojo Cayabyab (Sundalo, kasama sa Kilusan, NGO worker and other roles), Gabo Tolentino (kasama sa Kilusan, Sundalo, NGO worker and other roles), Xander Soriano (Sundalo, kasama sa Kilusan, NGO worker and other roles), and Miguel Morales (kasama sa Kilusan, Sundalo, NGO worker and other roles).
'Desaparesidos' is adapted and directed by Guelan Varela- Luarca. The rest of the creative team includes Joel Saracho (Dramaturgy), Jomelle Era (Choreography), Charles Yee (Set Design), D Villanueva Cortezano (Technical Direction and Lights Design), Arvy Dimaculangan (Sound Design), Rowel Pasion (Costume Design), Steven Tansiongco (Video and Graphics Design), and Josel James Favia Fetalino (Photography).
For ticket reservations, show buying, and sponsorships, contact Camille Guevara (0917 823 9531).
Comments