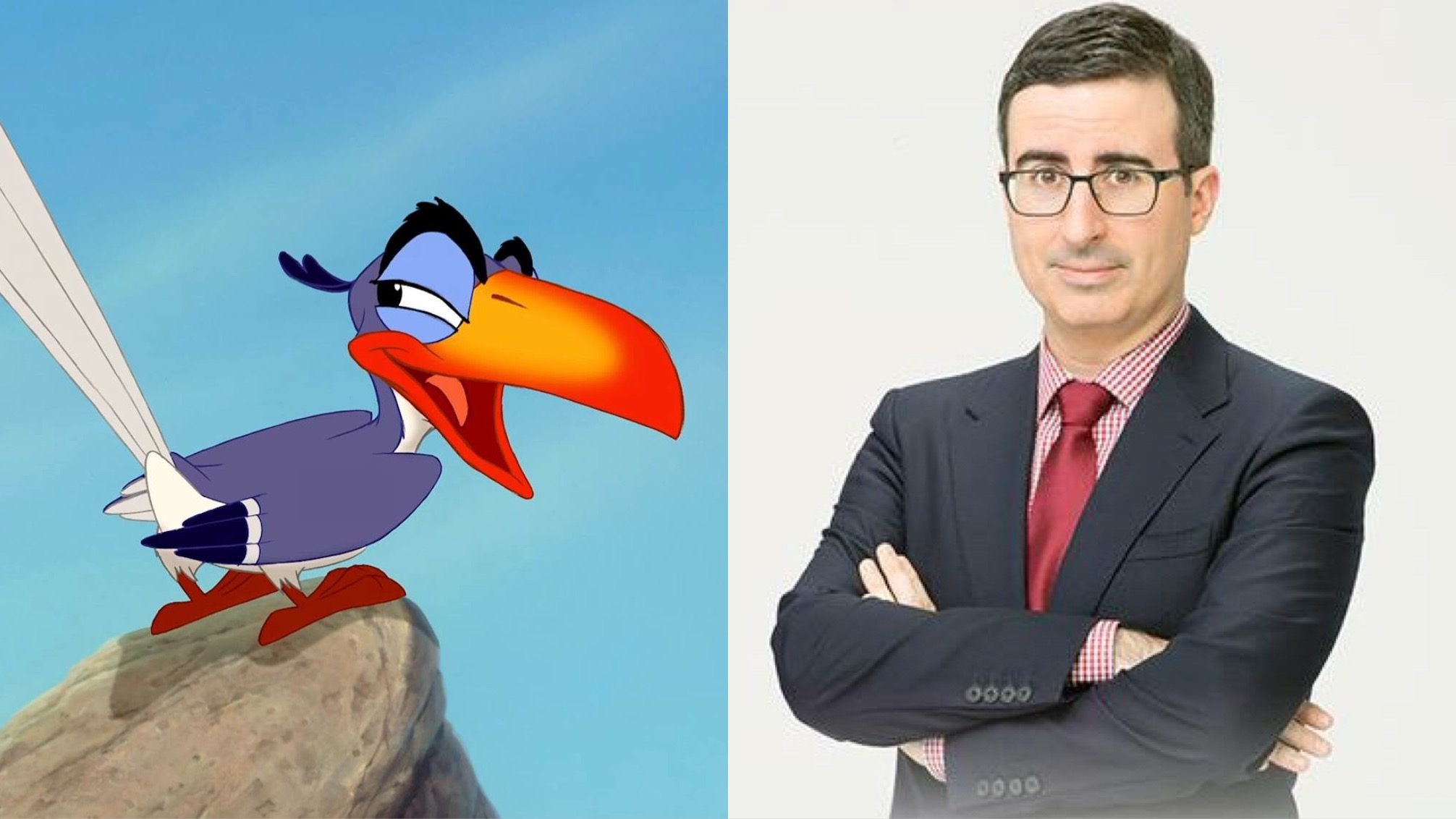 News Roundup: John Oliver Joins 'Lion King' Live Action Movie, And More!
John Oliver in Lion King!
John Oliver, known for being the host of Last Week Tonight, is the newest addition to the cast of the live-action reboot of the 1994 Disney film The Lion King, sources told The Wrap.
Oliver will soon lend his voice to the red-billed hornbill Zazu, majordomo to Mufasa, Scar, and eventually, Simba. This isn't John Oliver's first foray into voice acting; he was last seen (or heard) as Vanity Smurf in Sony Pictures' The Smurfs and The Smurfs 2.
Earlier reports have confirmed Donald Glover as Simba, Seth Rogen as Pumbaa, and Billy Eichner as Timon. James Earl Jones will reprise his role as Mufasa, the first-ever to do so for a Disney live-action remake. While still unofficial, sources have told Variety that Beyonce is director Jon Favreau's top pick to take on the role of Nala.
Favreau, who previously directed the 2016 live-action hit The Jungle Book, will helm the 2019 remake, together with producer Jeffrey Silver.
The Lion King is set to premiere on July 19, 2019, as revealed by Favreau in his Twitter account.
??! pic.twitter.com/A8razyqtK8

— Jon Favreau (@Jon_Favreau) April 25, 2017
Jonathan Groff Stars In A New Musical…Podcast!
Groff fans rejoice!
The new three-act musical, 36 Questions, stars the Hamilton actor alongside Jessie Shelton as they try to patch up their marriage on the rocks with the help of the titular questionnaire.
The said set of questions was the subject of a 1997 study by Dr. Arthur Aron and his colleagues designed to boost intimacy between strangers; it was then made viral by the 2015 New York Times Article by Mandy Lee Catron, To Fall In Love With Anyone, Do This.
Skip Bronkie and Zack Akers, producers of the musical, had conceived the project back in 2015 but had to put it off to record Limetown, the highly-acclaimed narrative podcast, in 2016. "Our feeling was, let's try something else. Let's do something that people aren't doing right now," Akers tells The Hollywood Reporter, on starting 36 Questions. They then approached composer Ellen Winter and musician Chris Littler who eventually wrote, composed and directed the musical podcast.
On recording a musical in an entirely new medium for him, Groff tells Entertainment Weekly, "the vocal performance gets to be extremely intimate, which will hopefully be an intimate experience for people when they have our voices in their ears."
The first of three acts of 36 Questions is available now on their website, or on iTunes, Google Play or Stitcher. The next act will drop two weeks from now, on July 24.
Cirque du Soleil Acquires Blue Man Group
World-renowned entertainment company Cirque du Soleil announced the acquisition of Blue Man Productions, best known for the phenomenal Blue Man Group show. Cirque had just recently concluded their Asian debut of Toruk in Manila from June 23rd to July 2nd. The Blue Man show had also just toured to Manila last September for a limited two-week stint.
The said acquisition will significantly broaden Cirque's audience—six resident productions established across the United States and Germany, as well as a North American and a World Tour. In line with Cirque's future plans of expanding and diversifying their show offerings, The Blue Man group is definitely an additional asset for Cirque du Soleil's creative team because of their musical prowess and unrivaled creativity and originality.
"We want to broaden our horizons, develop new forms of entertainment, reach out to new audiences and expand our own creative capabilities," said Daniel Lamarre, President and CEO of Cirque du Soleil. "Today, we are taking a decisive step towards materializing these ambitions".
In the same press release, Blue Man Group co-founder Chris Wink stated, "Only a global creative powerhouse like Cirque du Soleil could help us achieve our vision. Their commitment to artistic quality and originality is unparalleled and their creative resources are vast. It is an honor to join forces with their organization."
This isn't Cirque's first move towards their vision of expanding outside the circus arts that they're known for. Their first Broadway musical offering, Paramour, premiered May of last year.
Comments