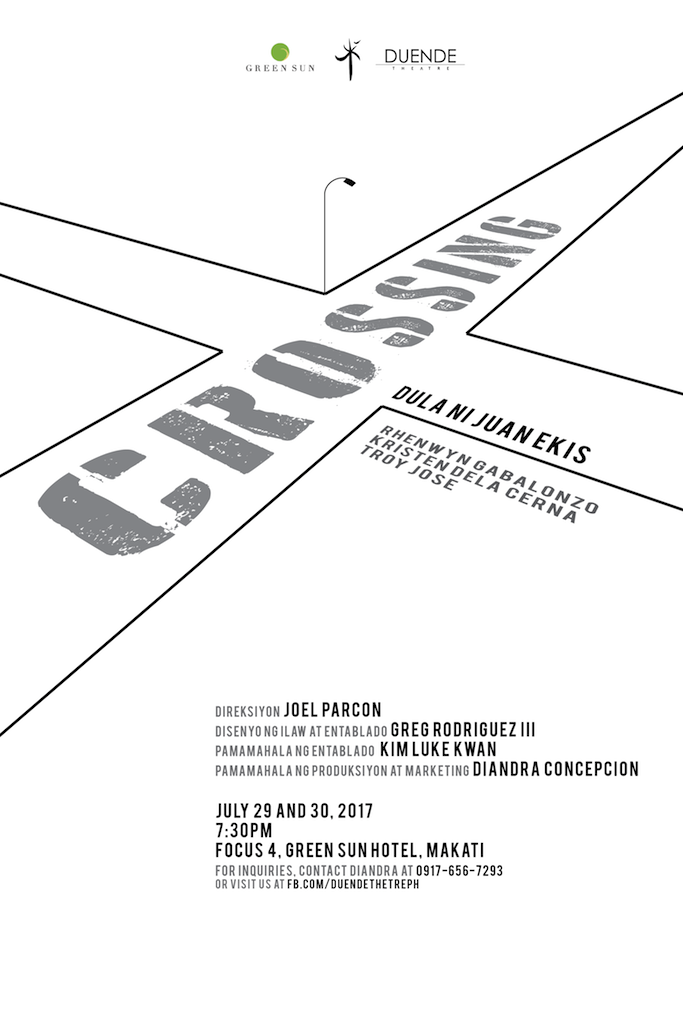 Duende Theatre Stages Juan Ekis' 'Crossing'
DUENDE THEATRE
Duende Theatre is staging a brand new play written by the two-time Palanca Award winning writer, Juan Ekis.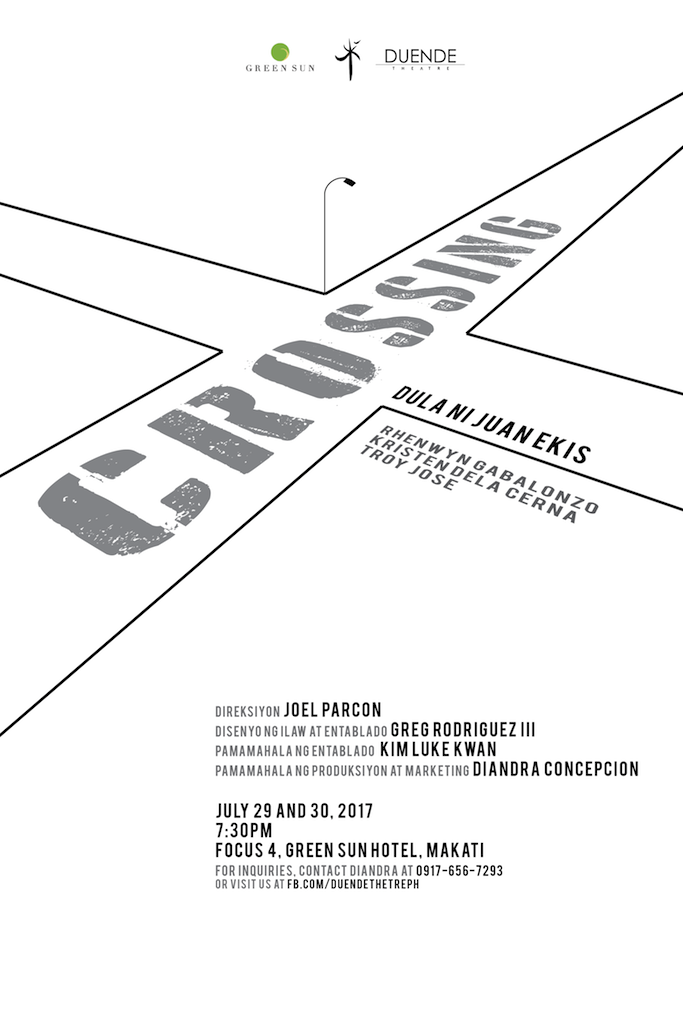 Coffee shops for Kapeng Barako Club: Samahan ng mga Bitter, and hotel rooms for 20 Questions. These are just a few of the unexpected places that Duende Theatre has brought to artistic life with their unique brand of performance. Site-specific and intimate theater is their forte. It is theater created for specific non-theater sites, but their work expands this definition in new and original ways. With their moveable feasts, the uniqueness of an environment are essential parts of the fun, thought-provoking performances that they create in locations throughout Manila.
CROSSING
Takipsilim. Bukang-liwayway. Hatinggabi.
The past and the future meet in the present. Their paths meet along a short strip of pavement, as told through three separate stories surrounding six characters and their circumsataces.
Cami, a young girl contemplating her immediate future, meets Serapio, a wise old beggar living in his past.
Grace, a worldly GRO tired of the life she's been dealt, is confronted by Migs, a desperate youth brought to the brink by his uncertain future.
And Ian, a young man with a bright future, runs into Rusty, an old friend from his past.
Six characters. Three stories. One play.
Crossing by Juan Ekis.
Show Details
Catch actors Rhenwyn Gabalonzo, Kristen dela Cerna, and Troy Jose in CROSSING at Green Sun Hotel, located at 2285 Chino Roces Avennue Extension, Makati City, Metro Manila.
Showdates:
July 29, 2017 (Saturday) – 7:30 pm
July 30, 2017 (Sunday) – 7:30 pm
For reservations and inquiries, contact 0917 656 7293 or visit facebook.com/duendetheatreph
CROSSING is co-presented by Green Sun Hotel, Makati.
For more details about what's happening in the Manila theater scene, please view our Theater Calendar.
Comments