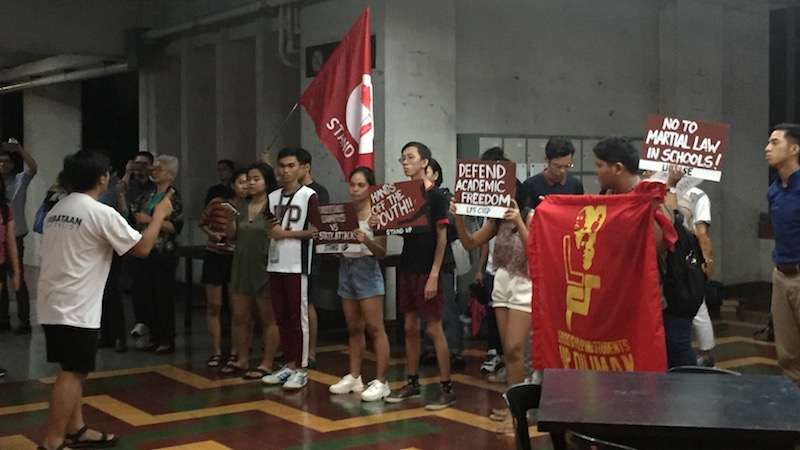 Irene Marcos-Araneta's Presence During a Dulaang UP Show Causes Uproar
Last Friday, September 5, during opening night of the adaptation of Federico Garcia Lorca's The House of Bernarda Alba at the Palma Hall in UP, Irene Marcos-Araneta, a daughter of dictator Ferdinand Marcos was in attendance.
Her presence caused an uproar, with student activists assembling to protest Marcos-Araneta's attendance during the show's intermission. Totel De Jesus of ABS-CBN captured the show's director Alexander Cortez, addressing the protesters to "spare the theater" and later on, "respect the theater".
Watch the exchange below:
Dulaang UP issued an official statement via their social media profiles, apologizing for the presence of the late dictator's daughter, as well as "the disruptions during and after the performance".
Official Statement on the Attendance of Irene Marcos Araneta pic.twitter.com/BJGoDuPPz4

— Dulaang UP (@Official_DUP) September 8, 2019
The company also said that they "will be more discerning in its actions in the future", and that they are, "one with the community in its protest against human rights abuses."
Irene Marcos-Araneta is credited in the show's souvenir program under its Acknowledgments section, where directors are allowed to mention people they want to thank personally.
Current artistic director Banaue Miclat-Janssen has since clarified via a personal statement on Facebook that the show is not funded by Marcos-Araneta, attending the gala night by purchasing her own ticket to the show.
This is not the first time she attended one of Alexander Cortez's shows. On albums from Dulaang UP's Facebook page, she was pictured with the director during the gala night of The Dressing Room in 2016 as well as the gala night of Angry Christ in 2017.
Both shows were staged in the Wilfrido Ma. Guerrero Theater. The theater's lobby features a mural by the University of the Philippines Artists' Circle (UPAC) Fraternity. Entitled "Isandaang Taon sa Bukang-Liwayway", featuring significant scenes of revolutions in the country, including the People Power Revolution.
Alexander Cortez was Artistic Director of Dulaang UP for eight years. He stepped down in 2015 and was replaced by Dexter Santos.
Comments