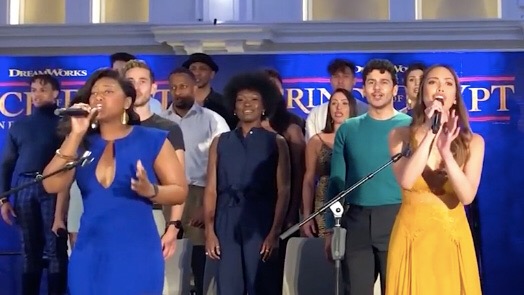 WATCH: "The Prince of Egypt" West End Cast Sings "When You Believe"
The West End cast of "The Prince of Egypt" gives us a first look of the upcoming musical.
The cast features Luke Brady as Moses, Liam Tamne as Ramses, Alexia Khadime as Miriam, and Filipino homegrown theater artist and original West End Hamilton cast member Christine Allado as Tzipporah. The musical will include 5 songs from the original 1998 animated feature (written by Stephen Schwartz), including "Deliver Us", "All I Ever Wanted", and the Academy Award-winning song "When You Believe", popularized by Whitney Houston and Mariah Carey. The production will also include 10 new songs also written by Schwartz.
"The Prince of Egypt" is directed by Scott Schwartz, with a book written by Philip LeZebnik and choreography by Sean Cheesman. It is produced by DreamWorks Theatricals, Michael McCabe, and Neil Laidlaw.
The musical will officially open on February 25, 2020, with previews beginning on February 5, 2020, at the Dominion Theatre of the West End, running for a limited 32-week engagement.
You can watch the cast, together with Schwartz, sing a few songs from the musical in the video by London Theatre Direct below.
You can buy tickets to the West End musical HERE.
Comments