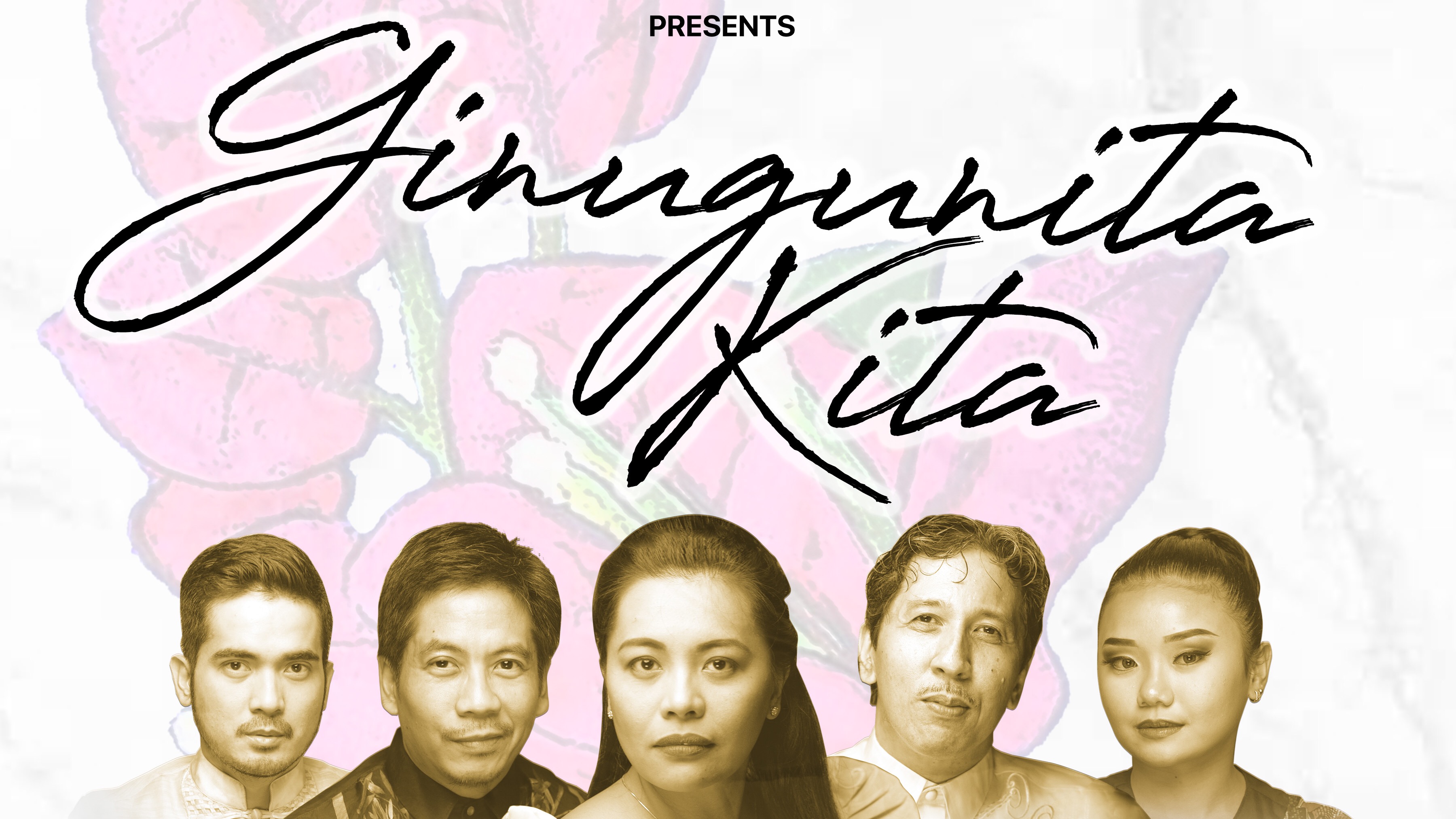 'Ginugunita Kita' Performance Art Featuring Maningning Miclat's Poems Set for September
'Ginugunita Kita', a performance art featuring Maningning Miclat's poems and an all original music composed by Jesse Lucas, is set to be staged on September 26, 6pm at the newly-opened FEU Auditorium.
Maningning Miclat was a poet, fictionist and essayist in English, Filipino and Chinese as well as a painter in Western and Chinese genre. A Bachelor of Fine Arts graduate in UP Diliman, she was a fellow of the U.P. National Writer's Workshop, Silliman Writer's Workshop and Rio Alma Poetry Clinic. Her Chinese poems made her one of the top-rated women poets in Chinese in the world.
The eleven poems by Maningning Miclat are in her trilingual book of poetry, "Voice from the Underworld" (Anvil Publishing – 2000). The book was a National Book Award finalist for poetry in 2001.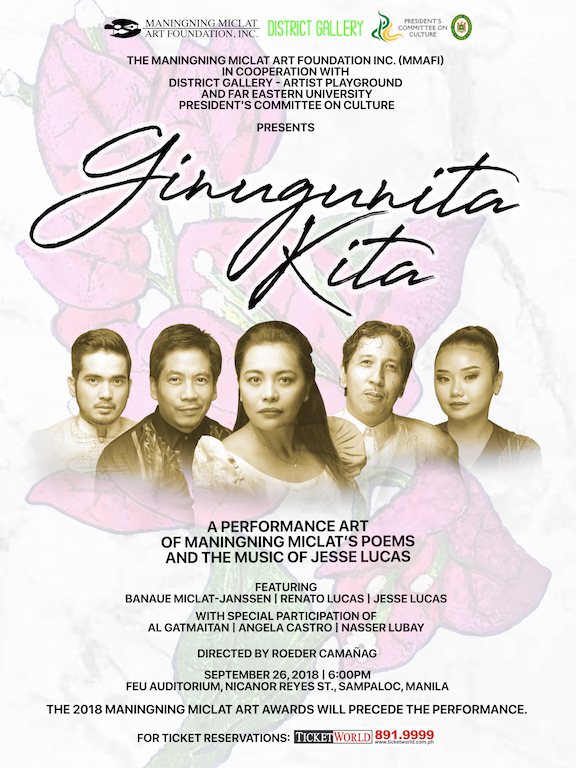 The title of the poems are: Ginugunita Kita, Tawag, Anino, Panibugho, DUET (nina Rizal at Bracken), Kulay sa Bagyo, Ang Naliligaw, Shi Bu Shi, A Stare, Verse # 2, and To Catch a Second and Turn it to Forever.
With Ryan Cayabyab and Chino Toledo as mentors, Jesse Lucas won awards from FAMAS which catapulted him to the Hall of Fame, and from the Gawad Urian, Young Critics Circle, Gawad Tanglaw and Aliw. In 2005, he won an award from the Screamfest International Film Festival in Los Angeles, USA. CCP's Tanghalang Pilipino, Dulaang UP, Dramatis Personae, Gantimpala Theater Foundation, Ballet Philippines and the Philippine Ballet Theater have adapted his music.
According to Lucas, inspiration came easily to him after reading "Voice from the Underworld." "The poems of Maningning Miclat are almost melodious that I can hear the music through the poetic images", said Lucas. "It spoke and at the same time sang to me poignant thoughts about life, pain and love…. the experience in writing the music was really meditative and cathartic at the same time. It feels like I have discovered a new language, a language that speaks directly to the soul. These are the foundation of Ginugunita Kita's music."
Directed by film and theater actor Roeder Camaňag, the performance will feature soloist Banaue Miclat-Janssen and master cellist Renato Lucas, together with singer Al Gatmaitan and Angela Castro of the FEU Dance Company, with live interactive visual art of Nasser Lubay.
Banaue Miclat-Janssen sings the opera, acts and dances on stage and hones young artists as professor of theatre arts at UP Diliman's Department of Speech Communication and Theatre Arts. She obtained her Master of Fine Arts from Brooklyn College of the City University of New York and her Bachelor of Arts from UP Diliman. In New York, she attended voice lessons from Evelyn Mandac, Robert Carpenter, and CUNY's Judylee Vivier. She had a stint at the Metropolitan Opera in such productions as Salome, Faust, La Boheme, Don Carlo, I Puritani and La Traviata, among others. She has performed at the CCP, UP Abelardo Hall, UP Theater and Ateneo de Manila University. At present, she is the Artistic Director of Dulaang UP and the Executive Director of the Maningning Miclat Art Foundation.
Renato Lucas is one of the finest cellists in the country. His schools included UP Diliman College of Music, San Francisco Conservatory of Music (USA), Royal Northern College of Music (England), Hochschule fur Musik Detmold (Germany), and Universitaet der Kunst Berlin (Germany). He has been the principal soloist of the Philippine Philharmonic Orchestra for three decades. He has performed as soloist with the Manila Symphony Orchestra, Manila Chamber Orchestra, and UST Symphony Orchestra, as well as the CCP's Filipino Artist Series, Pundaquit Arts Festival, Las Piňas Bamboo Organ Festival, and the Maningning Poetry Awards.
Al Gatmaitan is an opera singer, theater actor, and three-time Aliw Awardee for Best Performer of the Year. He can also be seen on film, television, and online advertisements.
Angela Castro is one of the principal dancers of the FEU Dance Company headed by Edward Malagkit. Her performance has brought her to various competitions that the FEU has joined in and outside the country.
"Ginugunita Kita is all about poetry and the creation of emotive response", says director Roeder Camaňag. "From the poetry of the life of a poet to the poetry of interpreting the poems of someone you love and the poetry of putting the right music to amplify the auditory experience of powerful images embedded in a poem."
'Ginugunita Kita' had its gala world premiere at the Aldaba Hall, University Theater, U.P. Diliman QC in May 2015. It was also performed at the CCP Tanghalang Aurelio V. Tolentino in September 2015 to coincide with the 2015 (7th) Poetry Awards of the Maningning Miclat Art Foundations.
The show garnered the 2015 Aliw Awards for Best Performance in a New Concept Production for Banaue Miclat-Janssen. It was nominated in the same category – Best Director for Roeder Camañag.
Ginugunita Kita is presented in cooperation with Frontrow Entertainment, and Ruben & Elizabeth Vedar.
You can buy tickets HERE.
Comments