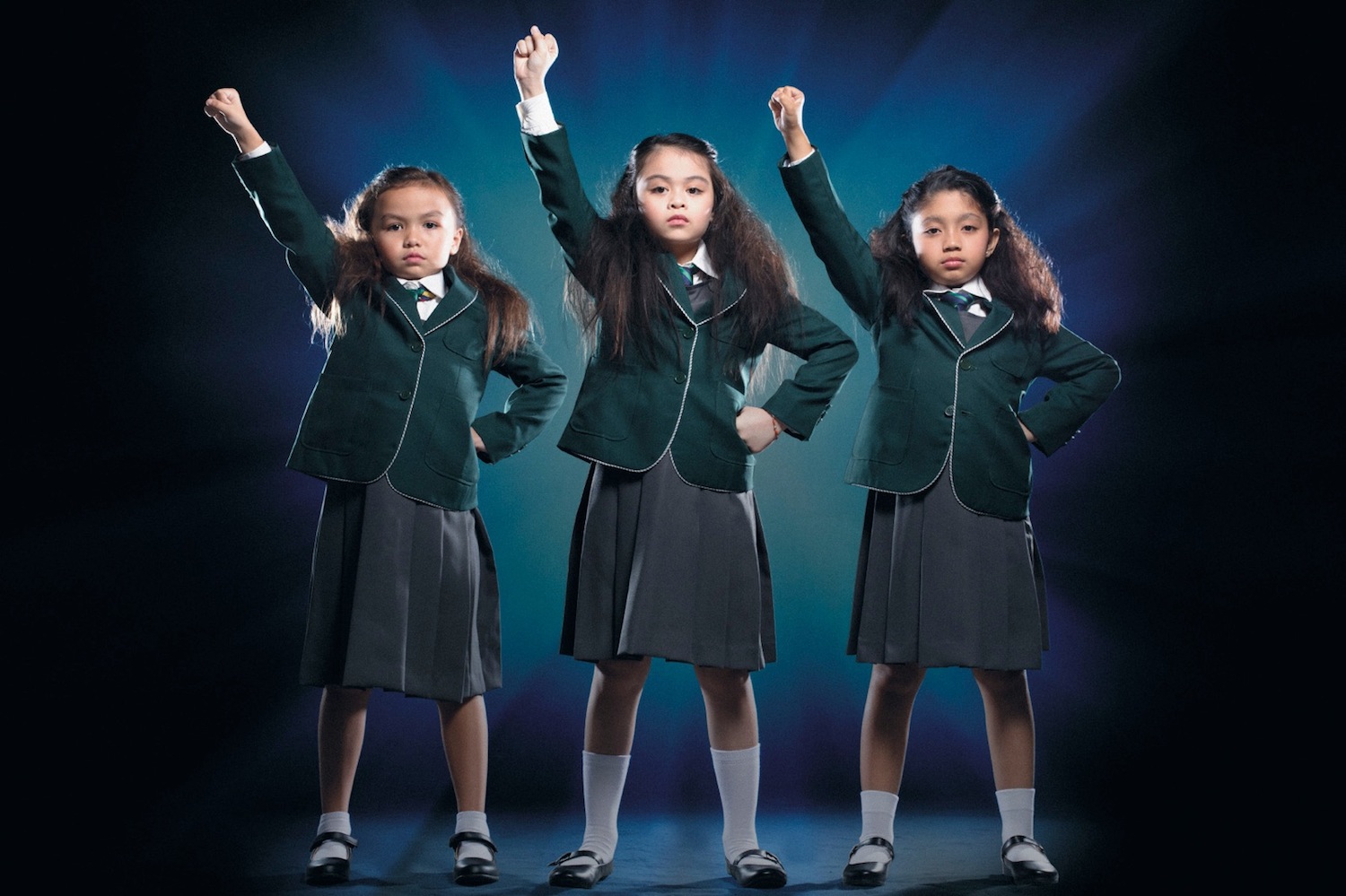 Full Cast of Matilda Announced!
Atlantis Theatrical Entertainment Group is excited to announce the full cast for the internationally acclaimed musical, Matilda. Composed of some of the finest musical theatre talents of the country, the cast is deep into rehearsals gearing up for a November 10th Opening Night.
Playing the title role are three of theater's up-and-coming stars: Telesa Marie "Esang" De Torres, whose most notable works include ABS-CBN's The Voice, and the Les Miserables Asian tour, Uma Naomi Martin, who has made her theater debut in A Little Princess, and Felicity Kyle Napuli, who has been recognized as Outstanding Child Performer at the Gawad Musika Awards. They are accompanied by a team of incredible performers who will appear as Matilda's wacky and charming classmates, namely Gabrielle Aerin Ong and Maria Ericka Peralejo as Lavander; Denise Fidel Arteta and Chi Chi Tan as Amanda; Nicole Chien and Ella Gonzalez as Alice; Alba Berenguer-Testa and Chantel Marie Guinid as Hortensia; Josh Nubla and Miguel Suarez as Bruce; Rhythm Alexander and Ian Albert Magallona as Eric; Gabo Tiongson and Pablo Miguel Palacpac as Nigel; and John Joseph Miraflores and Teddy Velasco as Tommy.
But it would not be a Matilda story if not for the adults who give these kids many a reason to be naughty. Due to give some show-stopping performances are Jamie Wilson as Miss Trunchbull; Cris Villonco as Miss Honey; Joaquin Valdes as Mr. Wormwood; Carla Guevara-Laforteza as Mrs. Wormwood; Emeline Celis-Guinid as Mrs. Phelps; Nel Gomez as Michael Wormwood; Bibo Reyes as Rudolpho; and to complete an electrifying ensemble are Steven Conde, Tim Pavino, Rhenwyn Gabalonzo, Teetin Villanueva, Gerhard Krystoffer, Alex Reyes, Jim Andrew Ferrer, Gabby Padilla and Mica Fajardo.
Jamie as the terrifying Miss Trunchbull has 37 years of experience as an actor to back him up. He has made the theater his home since the age of seven, appearing in numerous critically acclaimed productions such as Pippin, Almost Maine, Jersey Boys: The Story Of Frankie Valli; The Four Seasons, and Run For Your Wife. A fellow veteran to accompany him is Cris, who most recently won her 5th acting award at the Philstage Gawad Buhay Awards, making her the most-awarded actor since the ceremonies began in 2008. Her most recent award was for playing Marianne in Red Turnip Theater's production of Constellations in 2016. She was most recently seen playing Alison Bechdel in Atlantis' staging of Fun Home.
Joaquin has been performing in the theater since he was a child. He has most recently been seen on stage as the leading man in PETA's Ako si Josephine, as Spike in REP's Vanya, Sonia, Masha, and Spike, and as Jamie Wellerstein in The Last 5 Years. He was last seen on the Atlantis stage playing Melchior in the company's production of Spring Awakening in 2009. Now, he returns to Atlantis as Mr. Wormwood. Playing his wife, Mrs. Wormwood is Carla, a Miss Saigon alumni who has performed with Atlantis in many productions including Nine, The Addams Family, Saturday Night Fever, and Avenue Q. Not to be outdone is Emeline Celis-Guinid who will be Mrs. Phelps, Emeline has started performing at 7 years old and has been seen in Atlantis musicals such as Rock of Ages, The Bridges of Madison County, Jersey Boys, and Saturday Night Fever.
Nel, who will be playing Michael Wormwood, has been acting for 10 years. He was most recently seen in two of this year's most critically-acclaimed shows, Dulaang UP's The Angry Christ and Atlantis Theatrical's Kinky Boots. Bibo, who will be playing Rudolpho, started his acting venture with The Ateneo Blue Repertory. He was last seen as Dr. Jason Posner in Twin Bill Theater's Wit, Sir Bedevere in Upstart Productions' Spamalot, and as Bob Crowe in Atlantis' Jersey Boys. The rest of the energetic ensemble consists of many of the country's most dynamic performers.
Together, they help tell the story of Matilda and her friends– a group of children who are determined to fight against the injustices of childhood, and are inspired to start a revolution that will change their destinies forever.
MATILDA is directed by Bobby Garcia, Choreography by Cecile Martinez, Lighting Design by Driscoll Otto, Musical Direction by Farley Asuncion, Set Design by Faust Peneyra, Costume Design by Raven Ong, Sound Design by Kevin Heard, Vocal Coaching by ManMan Angsico, Assistant Direction by Steven Conde, Assistant Choreography by Jim Ferrer, and Assistant Vocal Coaching by Rhenwyn Gabalonzo.
Presented by Promil together with Metrobank Card Corporation, Matilda The Musical will make its Philippine debut at the Meralco Theater, Ortigas Center, Pasig City from the 10th of November to the 10th of December this year. Shows will be scheduled on Fridays at 8:00 p.m., Saturdays at 2:00 and 8:00 p.m., and Sundays at 2:00 p.m and 8:00pm. The show is recommended for children aged 7 and above (children under the age of 4 will not be permitted inside the theater).
You can buy tickets HERE.
Comments