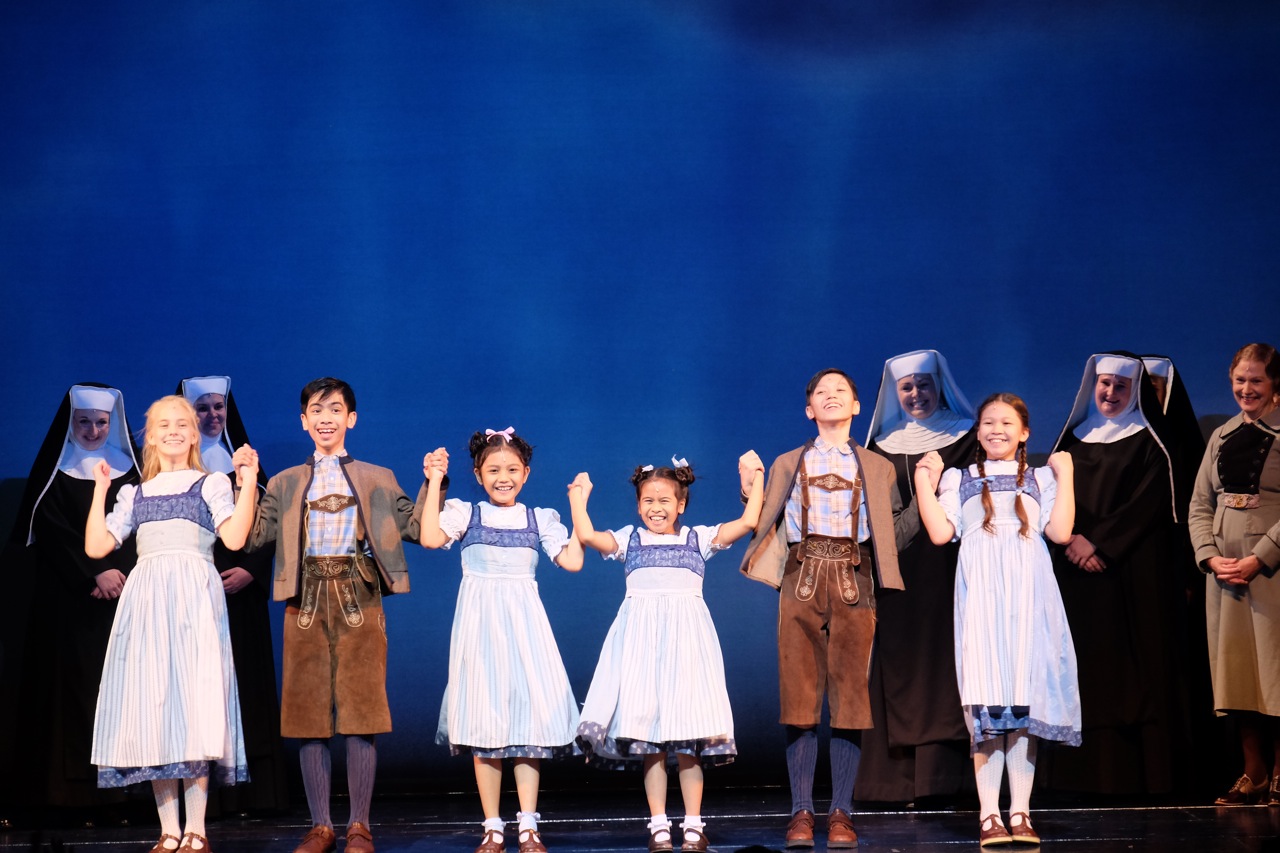 REVIEW: Remembering blissful childhood and harrowing history in 'The Sound of Music'
"It's quite different after you're grown up, isn't it?" Maria says dreamily of dancing. A besotted Captain Von Trapp insists kissing is very different, too. Much like dancing, or kissing, or love, the experience of watching The Sound of Music is quite different after you've grown up.
This isn't to say that the current production of the Rogers and Hammerstein classic now showing at The Theatre at Solaire is much changed from the 1965 film (or whichever incarnation any chronic theater enthusiast has inevitably seen). It's still the same story of a well-meaning postulant falling in love with a family who desperately needed a mother. In this version—like all other versions—the hills are still alive, the nuns still ask themselves how to solve a problem like Maria, and the kids still say goodnight in the most saccharine way.
What did change, are the times.
This production conflates nostalgia and the material's core politics to create a fresh and arresting take on an old favorite.
Maria (Carmen Pretorius) sports a pixie haircut and twirls atop Salzburg mountains. She's sent away to become a governess to aristocratic, sheltered children whose frequent mischief were solved by teaching them how to sing. This London production famously features local kids as the younger Von Trapps (during Gala Night: Kyle Rafanan as Friedrich, Quinn O'Hara as Louisa, Tory Cortez as Kurt, Rayne Cortez as Brigitta, Princess Rabara as Marta, and Alysha Africa as Gretl). Their bright-eyed, eager performances buoys a first act that teeters just on the edge of too predictable. It's The Sound of Music that we know and love, with new faces singing old songs from our childhood.
The second act pivots almost immediately into something quite unexpected.
The love story between Maria and Captain Von Trapp (Nicholas Maude)—usually a central plot—progresses in this production at such a rapid pace, it's enough to give any audience member whiplash. The Captain becomes engaged to the Baroness (Haylea Heins), breaks up with her, realizes his feelings for Maria, proposes, and gets married, with barely a breath in between. It's as though the show wanted to get the romance out of the way to give ample time for its raison d'etre; this is a story of defiance, conviction, and survival.
The politics of the piece—oblique in the first act— is brought to the forefront and with it, Captain Von Trapp. He refuses to support the Third Reich, and his fiancee, the very modern Baroness and their friend, Max Detweiler (Jonathan Taylor) try to talk sense into him in one of the show's most stunning (yet least known) numbers, "No Way to Stop It".
"A crazy planet full of crazy people," she sings, "there's no way to stop it," goading him to relent, "not even if you tried." Written in 1959, the song hits 2017 with relevance anew. Troubling, when you realize what the indifference they're singing about would eventually lead to.
In this same scene, the Captain and the Baroness mutually decide to end their engagement over a difference in political beliefs and one is left to wonder: is the musical ahead of its time, or is today's society regressing to re-learn that divisive politics will (and at times, should) affect personal relationships?
This political shift makes the story of Maria and the Von Trapps mere preamble to the story of the widowed Captain who is no stranger to devastating loss, has everything to lose, yet risks it all in refusal to support a nightmarish regime. He is forced to take up a post fighting for the Third Reich, and his family uses an upcoming performance at a music festival to stall his would-be capture.
Throughout the second act, the Nazi imagery trickles, coming to a head at the festival where we see a completely conquered Austria. This scene is the show's highlight and also its most disturbing. The stage is bathed in blood red banners emblazoned in huge swastikas that feels inherently graphic, it's almost like a physical assault. The Von Trapps sing their iconic songs, but they're singing for their lives now. We are made the festival's audience, and when Detweiler breaks the fourth wall to encourage claps and cheers, we almost feel complicit.
The Von Trapps escape and go into hiding and the musical effectively breezes through the urgency and the totalitarianism of the time. Not even Church is sanctuary anymore; even the rich and illustrious are literally running for the hills. With the casting of Filipino children, it only makes The Sound of Musical's political resonance all the more eerie—the horrors of the past could be our future.
As a family musical, this Sound of Music is a lot of what you remember. As a political commentary, it's a lot of what you won't soon forget.
You can buy tickets HERE.
Comments