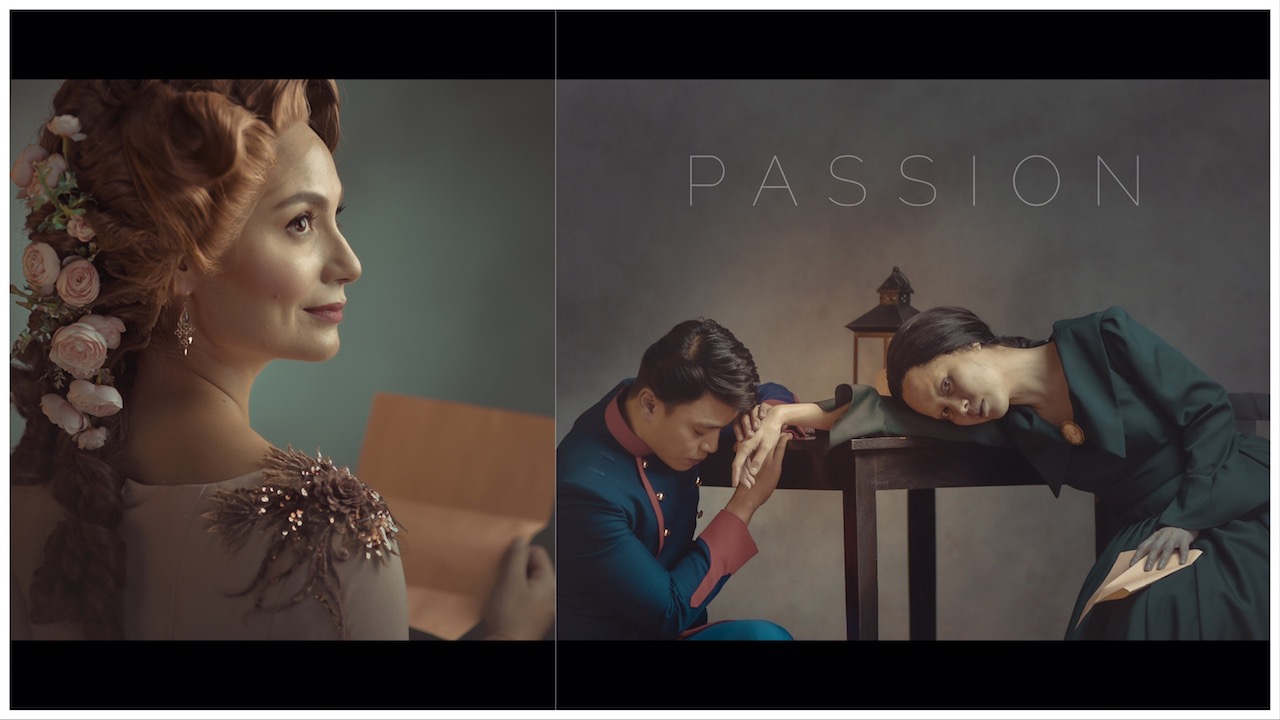 FIRST LOOK: "Passion" Leads Sing "Loving You", "No One Has Ever Loved Me"
The Philippine Opera Company, headed by Artistic Director Karla Gutierrez, is set to stage Stephen Sondheim's "Passion" this September. 
"We've been wanting to do Passion for several years already and it's very apt to do this on our 20th year," says Gutierrez.
Based on the 1981 Italian film "Passione d'amore", "Passion" focuses on the love triangle involving a handsome young soldier named Giorgio, a beautiful married woman named Clara, and a sickly woman named Fosca, set in 1863 war-torn Italy. The music and lyrics are written by Stephen Sondheim, with a book by James Lapine.
Robbie Guevara is directing the show, with Daniel serving as musical director and conductor. Guevara mentions that the show will have a 16-piece live orchestra every night, as originally written by Sondheim. 
"Our orchestra is complete. We did not take out any instrumentalist. It was written for 16 pieces and we have all 16 pieces."
Guevara was in the cast when "Passion" was first staged by Repertory Philippines in 1996. When he first read the script, he realized that it was one of Sondheim's most beautiful operettas. 
"When Sondheim saw the movie 'Passione d'amore', he wanted to convert it to a musical," shares Guevarra. "James Lapine, his collaborator, who eventually directed the production, told him, 'That's a storyline that you cannot do as a musical. It has to be an opera.' So [Sondheim] had to marry both by doing what becomes an operetta." 
The cast is led by Vien King, who plays Giorgio, Jasmine Fitzgerald, who plays Clara, and Shiela Valderrama-Martinez, who plays Fosca. King mentions that this is his first romantic lead role. As for Valderrama-Martinez, she's happy to play a character that people don't normally expect her to play. 
"[Fosca] is one of my dream roles. In my 25 years in performing, I'm usually typecast as the ingénue or the princess, or something similar," she shares. "I kind of fought back. I always auditioned for certain things that would not make me do that kind of role because that's how people see me. So when I auditioned for this one, people thought I was going to play Clara because I had the vocal type for it and I had the look for it."
"I am so thankful and so excited when they told me that I could play Fosca because she's an alto," adds Valderrama-Martinez. "Not many people hear me sing chesty, low notes but I actually have it. They just don't ever hear me sing it." 
They are joined by supporting cast members which include Lorenz Martinez (Doctor Tambourri), Raul Montesa (Colonel Ricci), and Noel Rayos (Lieutenant. Toraso).
The ensemble also includes Jonel Mojica (Major Rizzolli), Vyen Villanueva (Fosca's Father),
Lorenzo Mendoza (Private Augenti), Jos Jalbuena (Ludovic), Timothy Racho (Sgt. Lombardi), Joshua Cheng (Lt. Barri), Lorraine Lisen (Mistress) and Jasmin Salvo (Fosca's Mother).
Gutierrez and Guevara are joined by Daniel Bartolome (Musical Director and Conductor), Jason Tecson (Set Designer), Shakira Villa Sykes (Lighting Director), Zenaida Gutierrez (Costume Designer), Venger Marquez (Vocal Coach), Myrene Santos (Hair and Make-Up Designer), Sunshine Domine (Production Manager), Benjor Catindig (Graphic Designer) and Jojit Lorenzo (Photographer).
 "Passion" will run from September 14-29 at the Carlos P. Romulo Auditorium of RCBC Plaza. You can watch Shiela Valderrama-Martinez and Vien King perform "Loving You" and "No One Has Ever Loved Me" in the video below.
You can buy tickets HERE.
Comments