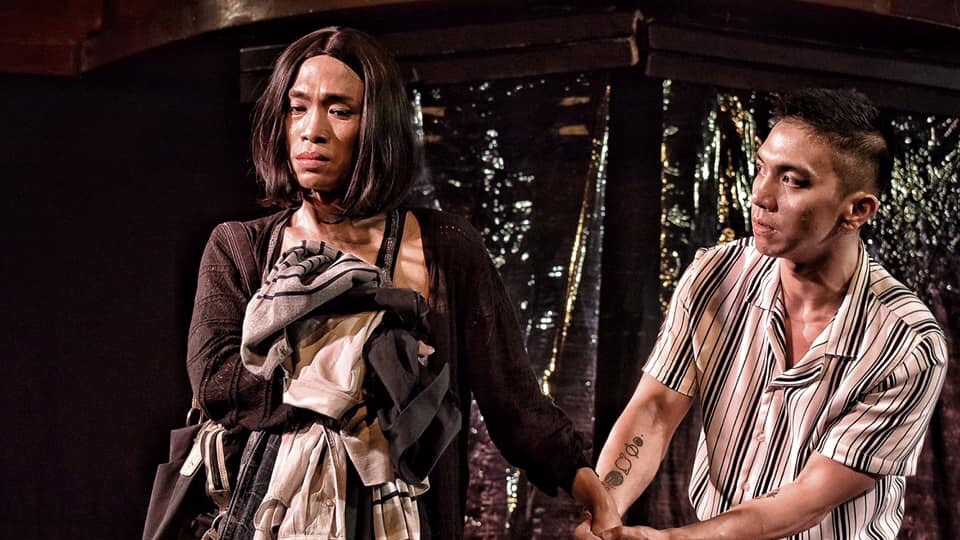 REVIEW: In "Laro", sex is a dangerous game
There's a seedy allure in this staging of Floy Quintos's "Laro". Turning Arts Above into a blackbox, with its mood lighting (Miggy Panganiban is lighting designer), the black and white dice set pieces (Io Balanon is set designer), the assortment of pop songs and classical music that transition each vignette (Arvy Dimaculangan is sound designer), director John Mark Yap leans into the sex, the titillation, the sensuality of this adaptation of Arthur Schnitzler's "La Ronde".
It is Pride Month, and a show that boldly exhibits men having sex with other men, is its own proof that this city of ours, with all its socio-political ills, has Pride, and freedom. The themes within Quintos's "Laro", however, seem to be the very opposite of pride. It's in the underground. A barter system of bodies that happen in the night, in dark or empty spaces, to be kept secret from heteronormative society. It's violent and sad and sometimes unsettling. It is, however, never happy.
Told in interlocking stories where one actor appears in two consecutive scenes, we see how sex is negotiated or forced or won from one scene to another, in changing sexual dynamics across men of different ages, classes, even sexual identities.
The quality of it, the effectivity and lasting impression of it depend on the performances more than anything else. It's a large ensemble of 10 actors and each of them are given their moment to make what they will of Quintos's words, and each of them carry this out with varying intensity and aplomb.
The third scene was perhaps its strongest, with Gio Gahol playing the "Manggagamit" joining Phi Palmos's "Drag Queen" character in an unnerving scene at a mall. Gahol as an uninterested straight-passing man is leery of being seen with his transgender partner. Laro, already clearly a dangerous 'game' at this point, is also disheartening and now, finally, realistic.
Unfolding like a tight one-act, there was a lot to unpack in that little exchange: the homophobia, the abuse of the well-meaning drag queen, the toxic masculinity, and even the toxicity of patriarchy that breeds characters like this "Manggagamit" to be hateful and abusive. There's a simmer of menace in how Gahol snipes at every little overture Palmos gives him, and in turn Palmos, too, steps up to the plate and lays bare the tragedy of someone in her circumstance.
It's always apparent that there's an emotional cost to using sex and sexuality in Laro, and it hits home with Jay Gonzaga's "Modelo" character. Playing the 'beautiful dummy' archetype, he reveals a disarming innocence under his physical perfection as well as a genuine clamour to be seen as someone with worth. Andre Miguel's "Call Boy" in his later scene with Vincent DeJesus's "Pilantropo" is where he really shines, portraying a charm that gives De Jesus something to work with. De Jesus, too, as a cynical and successful gay man was compelling to watch in his scenes.
Paul Jake Paule's staginess as "Pulis" didn't have the grit nor intensity of what it ought to mean for a cop in this climate to be in the closet, and let alone soliciting men on the street. MC Dela Cruz as the "Kalaguyo" was bug-eyed and terribly melodramatic, which was a shame as he was given some of the show's most searing dialogues about how he ought to behave as a gay man newly-minted into a social class.
JM Cabling's movement design is explicit and Yap does let them go on for longer than they're necessary, and even ends the show in a convergence of bodies that's frankly a little hard to take in if you're sitting so close to the stage. "Laro" leaves you wondering whether it's actually indicting (or even celebrating) sex as a game, or if it's actually just a sex play.
Tickets: 

Php 500.00 - Php 600.00


Show Dates: June 1 '19, June 2 '19, June 8 '19, June 9 '19
Venue: Arts Above, 112 West Ave, Quezon City, Metro Manila
Running Time: approx. 2 hours and 20 minutes (w/ a 10-minute intermission)
Credits: 

Floy Quintos (playwright), John Mark Yap (director), JM Cabling (movement design), Io Balanon (set design), Nicolo Perez (costume design), Miggy Panganiban (lighting design), Arvy Dimaculangan (sound design)


Cast: 

André Miguel, Paul Jake Paule, and Phi Palmos, Gio Gahol, Mike Liwag, MC Dela Cruz, Al Gatmaitan, Victor Sy, Ross Pesigan, Jon Abella, Vincent Pajara, Jonathan Ivan Rivera, Jay Gonzaga, Vincent A. DeJesus, Aaron Dioquino, Dan Sheneill Solis, Robert Macaraeg, Christian Silang


Company: 

Artist Playground




Comments