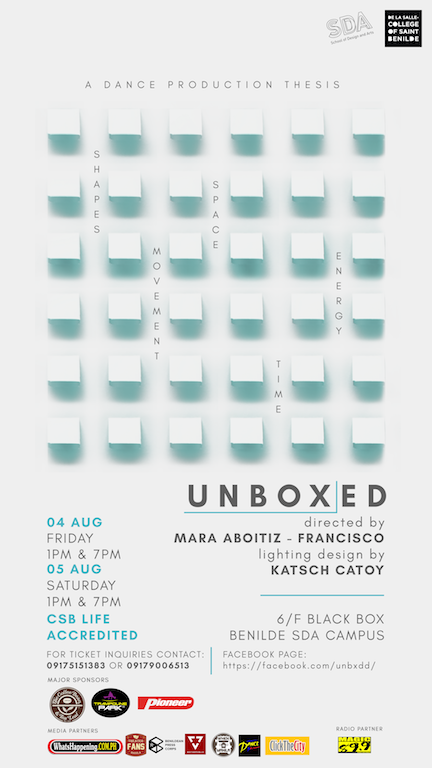 Enter a Choreographer's Mind in 'Unboxed' Dance Thesis
A choreographer builds a dance using these five key elements: body shapes, movement, space, time, and energy. Enter a choreographer's mind as she unboxes her creative juices in sharing these five elements with you. UNBOXED gives the audience the opportunity to gain insight as to how dancers must adapt to a given performance space as they perform next to you. The audience will be able to see how something, which more often than not is scholarly described, will be presented visually through movement.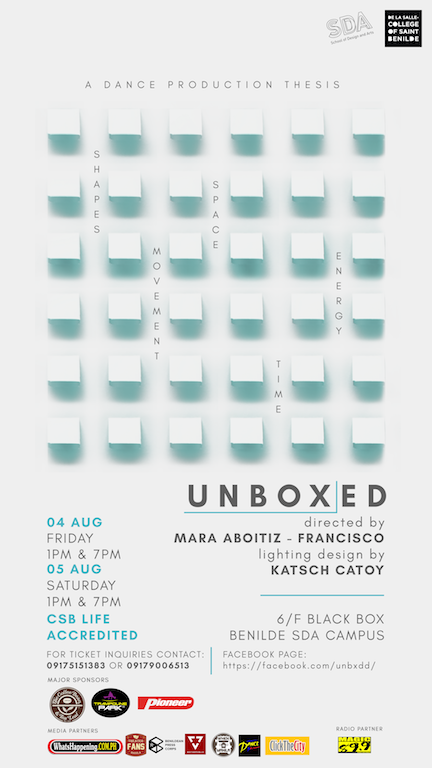 UNBOXED is a dance production thesis under the DLS-CSB Bachelor of Performing Arts — Dance program, directed by Mara Aboitiz-Francisco. Its performers include Mara Aboitiz-Francisco, Olivia Bugayong, Martha Lelis, Jireh Cariaso, and Kul Dela Torre. Its production team is made up of mostly students majoring in different courses related to their assigned tasks, alongside seasoned professionals such as Katsch Catoy.
Show Details
The show will run on August 4, 2017 (Friday) – August 5, 2017 (Saturday), 1PM and 7PM at the 6/F Black Box Theater in Benilde's School of Design and Arts building. Tickets are priced at Php 150.00 each and can be purchased by contacting 09175151383 / 09179006513 or by messaging our Facebook page. For updates, you may visit us at: fb.com/unbxdd
Performers and Creative Team
MARA ABOITIZ – FRANCISCO is currently a student under the De La Salle-College of St. Benilde— Bachelor of Performing Arts – Dance Program. She started her dance training at age 3 in 1997 under Perry Sevidal, whom she owes most of her dance knowledge to. It was through Perry Sevidal Ballet that doors were opened for her as she was able to train and take master classes from numerous notable dancers. In 2015, she made the decision to expand her knowledge in dance as she spent three months taking classes in the Alvin Ailey School and Steps on Broadway in New York City. Given the opportunities to train with various choreographers and teachers, Mara has learned to apply the different skills in her dance technique.
OLIVIA BUGAYONG is a full scholar at the De La Salle-College of St. Benilde taking up Bachelor of Performing Arts – Dance, and is a member of the Saint Benilde Romançon Dance Company (SBRDC). She started her classical ballet training at 3 years old, at the Vella C. Damian School of Ballet, Inc where she learned the Australian Conservatoire of Ballet Syllabus under the tutelage of Ms. Vella C. Damian herself. In 2016, she joined the Hong Kong Challenge Cup Dance Competition and the Philippine Dance Cup wherein she won Gold and 6th place respectively. In February 27, 2017, Olivia received an award from the National Commission for Culture and the Arts's "Ani ng Dangal", "Para sa kanyang pagtatamo ng pinakamataas na antas ng kanyang kahusayang panning at pagbibigay ng karangalan sa ating bansa." Alongside her recognition, she was casted to perform the role of Black Swan in Christine Crame's contemporary choreography of Swan Lake with SBRDC. Olivia was also recently invited to be part of the International Film Director, Brillante Mendoza's short film, "Ang Pagtatapos", aired on TV5 last April 22, 2017.
JIREH CARIASO started dancing at a very young age as she was convinced to attend dance workshops at the age of 4 when she was enrolled at Saint Paul College Ilocos Sur. In 2008, her formal schooling in ballet began under an Australian Conservatoire of Ballet Syllabus trained instructor. Having been awarded as First Honor in an ACB exam, she was inspired to pursue her dance training. She was awarded 6th place (Solo Classical Ballet Category) during the first Phil. Dance Cup held at Meralco Theater in 2012. Jireh is currently a scholar at De La Salle College of St. Benilde – Bachelor of Performing Arts – Dance, and a member of Saint Benilde Romancon Dance Company.
INA MEDINA graduated Magna Cum Laude from the University of the Philippines, Diliman in June 2017 with a BS in Business Economics, all while continuing her dance training with Perry Sevidal Ballet. She began her formal ballet training at age 7 under the tutelage and guidance of Perry Sevidal. With the school, she has had the opportunity to dance various classical and modern roles, and works by Judell De Guzman-Sicam, Ernest Mandap, and Gerardo Francisco. Ina is very grateful for the opportunities and experiences she has gained from notable choreographers, dancers, and teachers while dancing with Perry Sevidal Ballet. As such, she is eager to expand and build upon what she has learned and is thrilled to join this production.
KUL DELA TORRE pursues his passion for dance at the De La Salle – College of St. Benilde – taking up Bachelor in Performing Arts Major in Dance. He is currently a member and a full scholar of the school's Pep Squad, where he now competes yearly in the NCAA Cheerleading competition and in the NCC last March 2017. Together with Tanghalang Pilipino Actor's Company, he was part of the cast in the 3rd re-run of Nicanor Tiongson's "Mabining Mandirigma". Kul is also a former scholar of Douglas Nierras Powerdance under the tutelage of none other than Mr. Douglas Nierras himself. He is now preparing to compete in the upcoming Hong Kong Challenge Cup Dance Competition in July.
KATSCH CATOY was deputy director of the Theater Operations Department of the Cultural Center of the Philippines (CCP) for 17 years until 1994. He also became theater director of the University of the East Theater. Through the Philippine Educational Theater Association (PETA), the German Section of the International Theater Institute and Goethe Institut-Manila, he did apprentice work in Germany in 1976. In New York City, he also apprenticed at the La Mama ETC through a grant from the JDR 3rd Fund-Asian Cultural Council in 1977.
His designology includes works for major Philippine dance companies and has taken him to Asia, Europe, North and South America. It includes major musicals produced in the 1990-1994 seasons of Repertory Philippines such as Les Miserables, My Fair Lady, Camelot, Evita and several others. He was nominated for best lighting in the Rep's Osage county. He was Ballet Philippine's resident lighting designer from 1979-88 and briefly from 2008-09. He is presently committed to developmental work with specific dance schools and with progressive cultural groups.
Among his directorial experiences are Si Rizal@Concordia for the Dulaang Concordia which he co-wrote with Virgilio A. Catoy II, The Tao, a solo performance by Marge Enriquez as well as "Unang Alay" and "Bodong" for PETA during the martial law years.
He lit Agnes Locsin's Sayaw, Sabel after having won the 2009 Gawad Buhay for Outstanding Lighting Design for Ballet Philippines' Neo-Filipino and La Revolucion Filipina. Chris Millado's "Maliw," "Karnabal," "Mabining Mandirigma" were projects done for Tanghalang Pilipino.
For more details about what's happening in the Manila theater scene, please view our Theater Calendar.
Comments