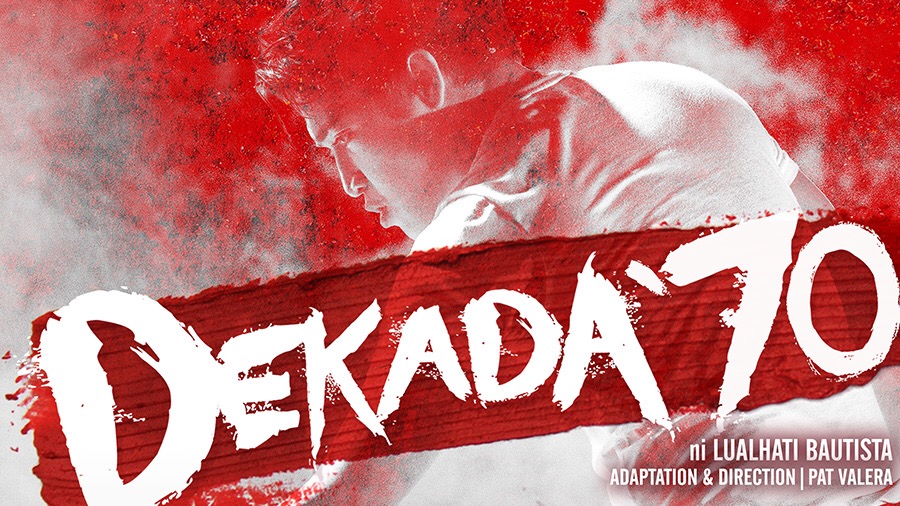 "Dekada '70" Musical Set for a Limited Run this September
Black Box Productions is adapting Lualhati Bautista's "Dekada '70" to the stage for a limited run this September 7-11 at The Doreen Black Box, Areté, Ateneo de Manila University, Quezon City.
Lualhati Torres Bautista is one of the foremost Filipino female novelists in the history of contemporary Philippine literature. She became known for her honest realism, courageous exploration of Philippine women's issues, and compelling female protagonists who confront difficult situations at home and in the workplace. She garnered several Palanca Awards (1980, 1983 and 1984) for her novels "'GAPÔ", "Dekada '70" and "Bata, Bata… Pa'no Ka Ginawa?", which exposed injustices and chronicled women's activism during the Marcos era. Her screen adaptation of "Dekada '70" became the Philippines' entry to the foreign language category of the Oscar awards in 2003.
Now adapted to a musical, "Dekada '70", with adaptation, dramaturgy, and direction by Pat Valera, music and lyrics by Valera and Matthew Chang, and orchestrations by Dana Marquez, is the story of a family caught in the middle of the tumultuous decade of the 1970s. It details how a middle-class family struggled and faced the changes that empowered Filipinos to rise against the Marcos government. These events happened after the bombing of Plaza Miranda, the suspension of the writ of habeas corpus, the proclamation of martial law, and the random arrests of political prisoners. The oppressive nature of the Marcos regime, which made the people become more radical, were all witnessed by the female protagonist, Amanda Bartolome, the mother of five boys.
The musical was first staged under U.P. Dulaang Laboratoryo last June 9-12, 2018. You can watch videos from that run below.
Pat Valera is a dramaturg, playwright, and director for the stage. His works include Dulaang UP's Orosman at Zafira (Dramaturgy; Asst. Direction), Hinabing Pakpak ng Ating Mga Anak (Dramaturgy; Asst. Direction), Ang Kiri (Dramaturgy; Additional Text), Lulu (Devise), Ang Muntik Nang Di Mapigilang Paghahari ni Aruro Ui (Adaptation), and Bagong Cristo (Dramaturgy), UPPT's Dead Stars 1929 & Sepang Loca (Dramaturgy; Asst. Direction), U.P. Dulaang Laboratoryo's ART (Adaptation; Direction),Cloud Tectonics (Direction), PULSES (Playwright; Direction) and Matyag (Translation); Dulaang ROC 's Hacienda Animal (Adaptation; Direction), Hoy Boyet, Tinatawag Ka Na, Hatinggabi Na'y Gising Ka Pa Pala (Direction), Sa Kaharian Ng Araw (Direction), and Moses, Moses (Direction); Ateneo Fine Art's Zoo Story (Translation; Direction) and Taong Grasa (Direction); Music Artes' Madama Butterfly and Virgin Labfest's Mga Lobo Tulad ng Buwan (Playwright; Direction).
In 2016, he won the Palanca award for his one-act play Gawani's First Dance. Last February 2017, together with Black Box Productions, he staged his play Mula Sa Buwan–a musical adaptation of Edmond Rostand's Cyrano de Bergerac set in World War II Philippines.
Other members of Dekada '70's creative team include Ohm David (Stage Design), Meliton Roxas (Lighting Design), Jomelle Era (Movement Design), Hershee Tantiado (Costume Design), Eman and Pete Lacaba (Additional Text), Joy Cerro and Nicco Manalo (Assistant Direction), and D Cortezano (Technical Direction).
Featured in the cast are Stella Canete-Mendoza, Juliene Mendoza, Jon Abella, Vien King, Esteban Fulay Jr., Iggi Siasoco, Abe Autea, Nicco Manalo, Gel Basa, Victoria Mina, and Matel Patayon.
The ensemble includes Phi Palmos, Tope Kliatchko, Dren Alcain, Rona Angeles, Jasmine Balunes, Roman Loreto, Laverne Perucho, Mikaela Regis, Joy Cerro, Buch Dacanay, Johnny Maglinao, Kennan Tapang, and Justin Villas.
Black Box Productions is the production unit of Black Box Collab, Inc. Apart from Dekada '70, the company is also producing Mula sa Buwan this November 2018.
Prices are at P450 for students, P800 for general audience, and P1000 for the gala.
Sept. 7 – FRIDAY                    7:30 PM
Sept. 8 – SATURDAY               2:00PM
Sept. 8 – SATURDAY (GALA) 7:30 PM
Sept. 9 – SUNDAY                   2:00 PM
Sept. 9 – SUNDAY                   7:30 PM
Sept. 10 – MONDAY                7:30 PM
Sept. 11 – TUESDAY               7:30 PM
You can get tickets through ticket2me.net.
Comments