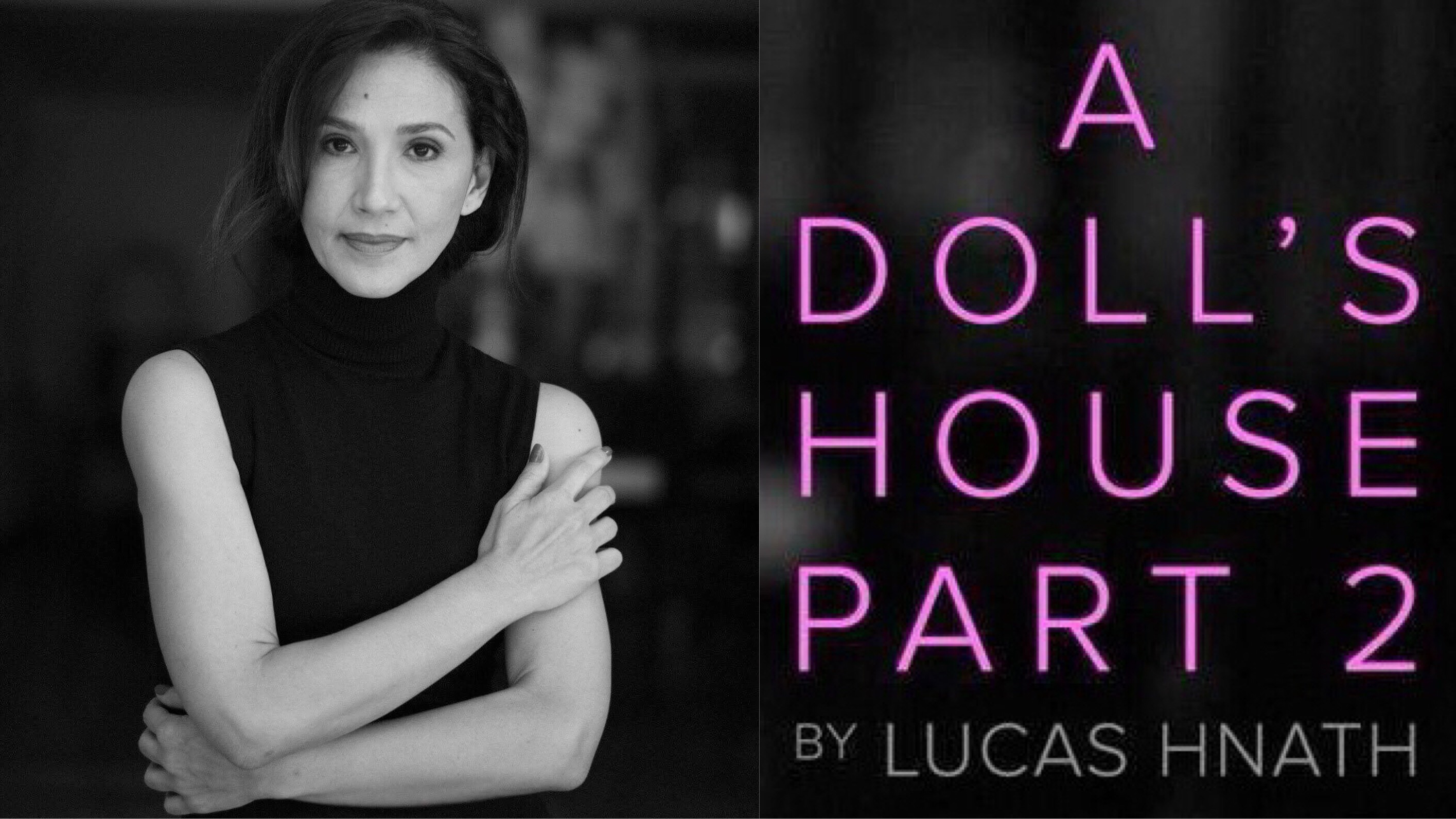 'A Doll's House, Part 2' Launches Red Turnip Theater's Fifth Season
After a year-long hiatus, Red Turnip Theater is back!
Devoted to its vision of "championing the straight play",  the company launches its Fifth Season with Lucas Hnath's contemporary dramedy, ' A Doll's House, Part 2.'
'A Doll's House, Part 2' is an imagined take on what would have happened to Ibsen's protagonist, Nora, fifteen years after leaving her husband and children at the end of his original 'A Doll's House'. Nora is now a famous feminist author and returns home to confront her (possible) ex-husband, her daughter and all the complications that have resurfaced upon her return. For ninety minutes, the play takes on questions about marriage, commitment, family and what it truly means to be a "woman living in a man's world". Both funny and touching at the same time, the play has been a critical and awards darling since its Broadway premier last 2017.
The production marks a couple of firsts for Red Turnip Theater.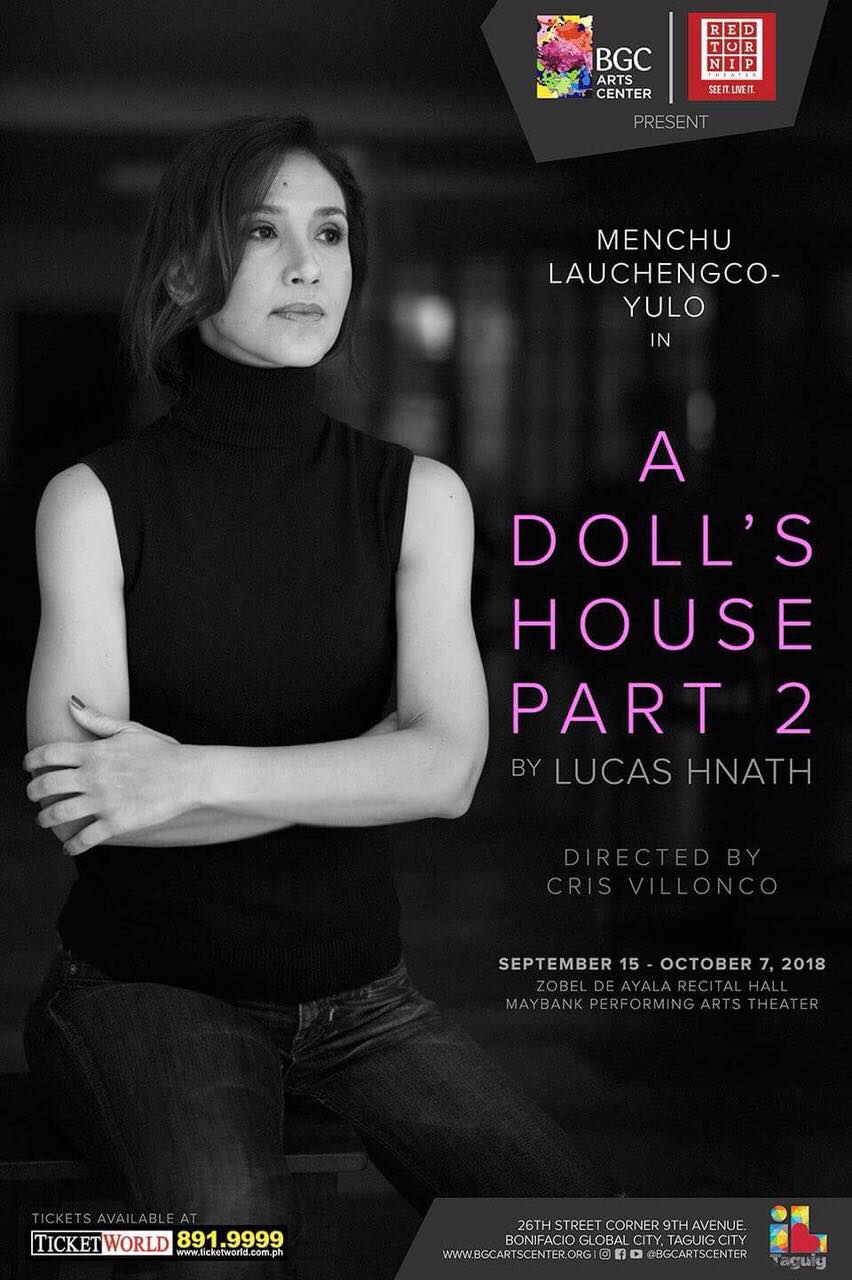 Menchu Lauchengco-Yulo, fondly called "The First Lady of Philippine Musical Theater" makes her Red Turnip debut as main protagonist Nora. Lauchengco-Yulo's long list of leading lady roles includes award-winning turns in "Next to Normal", "Annie" and "Sweeney Todd". She has also garnered raves for her directorial turns in "West Side Story", "Little Women", "Jekyll and Hyde" and is the Associate Artistic Director for Full House Company of Resorts World Manila. In 'A Doll's House, Part 2', she leads the powerhouse cast that features Carlitos Siguion-Reyna, Sheila Francisco and Rachel Coates.
Carlitos Siguion-Reyna is best known for directing the classic films "Ikaw Pa Lang ang Minahal", "Hihintayin Kita sa Langit", "Ligaya ang Itawag Mo sa Akin" and "Inagaw Mo ang Lahat sa Akin", and stage productions such as Tanghalang Pilipino's "Walang Sugat" and "Pangarap sa Isang Gabi Gitnang Tag-araw (A Midsummer Night's Dream)". He makes a welcome return to the stage as Nora's husband, Torvald.
After doing an acclaimed featured role in Red Turnip's "Rabbit Hole", Sheila Francisco returns to the Red Turnip stage as Anne Marie, Nora's ex-housekeeper and confidante. Francisco is famously known for being the first Filipino to perform in the National Theater after bagging the role of Bloody Mary in the West End Revival (and subsequent tour) of "South Pacific". She caps an already strong year after her performances as Annie Canon in Rep's "Silent Sky" and as Tiya Dely in the ongoing blockbuster musical "Ang Huling El Bimbo" for Resorts World Manila. Promising up-and-comer
Rachel Coates rounds out the cast as Nora's daughter, Emmy. She was last seen in Upstart Production's hit comedy "Spamalot".
'A Doll's House Part 2' also marks the directorial debut of Red Turnip co-founder Cris Villonco. A leading lady in her own right, Villonco has bagged multiple awards and recognition for her performances on stage and on film. She holds the distinction of having the most number of Gawad Buhay awards for any actor, bagging five for her performances in "Hamlet", "D' Wonder Twins of Boac", "Noli Me Tangere", "Bituing Walang Ningning" and Red Turnip Theater's "Constellations".
"It's something new and exciting," says Villonco. "It's daunting to jump right in and get things going. All I know is that I've got four directors behind me who are cheering me on and will help me in this crazy process called directing."
Other members of the creative team include Joey Mendoza (Set Design), GA Fallarme (Projections), and John Batalla (Lighting Design and Technical Direction).
The company is also excited to be moving into a new space with this new production. 'A Doll's House, Part 2' will premiere at the 70-seater Zobel De Ayala Recital Hal of the Maybank Performing Arts Theater.
"The BGC Arts Center has been passionately trying to integrate the arts into the Fort's vibrant night life," says Red Turnip co-founder Jenny Jamora. It was really fortuitous that we were preparing for our fifth season when they reached out to us. We're really looking forward to seeing our regulars again, but we're also psyched to have members of the Fort community experience Red Turnip for the first time."
Founded by actors Ana Abad Santos, Topper Fabregas, Jenny Jamora, Cris Villonco and Rem Zamora in 2013, Red Turnip Theater is now celebrating five years of critically-acclaimed productions.
'A Doll's House, Part 2' runs weekends from September 15 – October 7, 2018 at the Zobel De Ayala Recital Hall, Maybank Performing Arts Theater, BGC Arts Center.
You can buy tickets HERE.
Comments