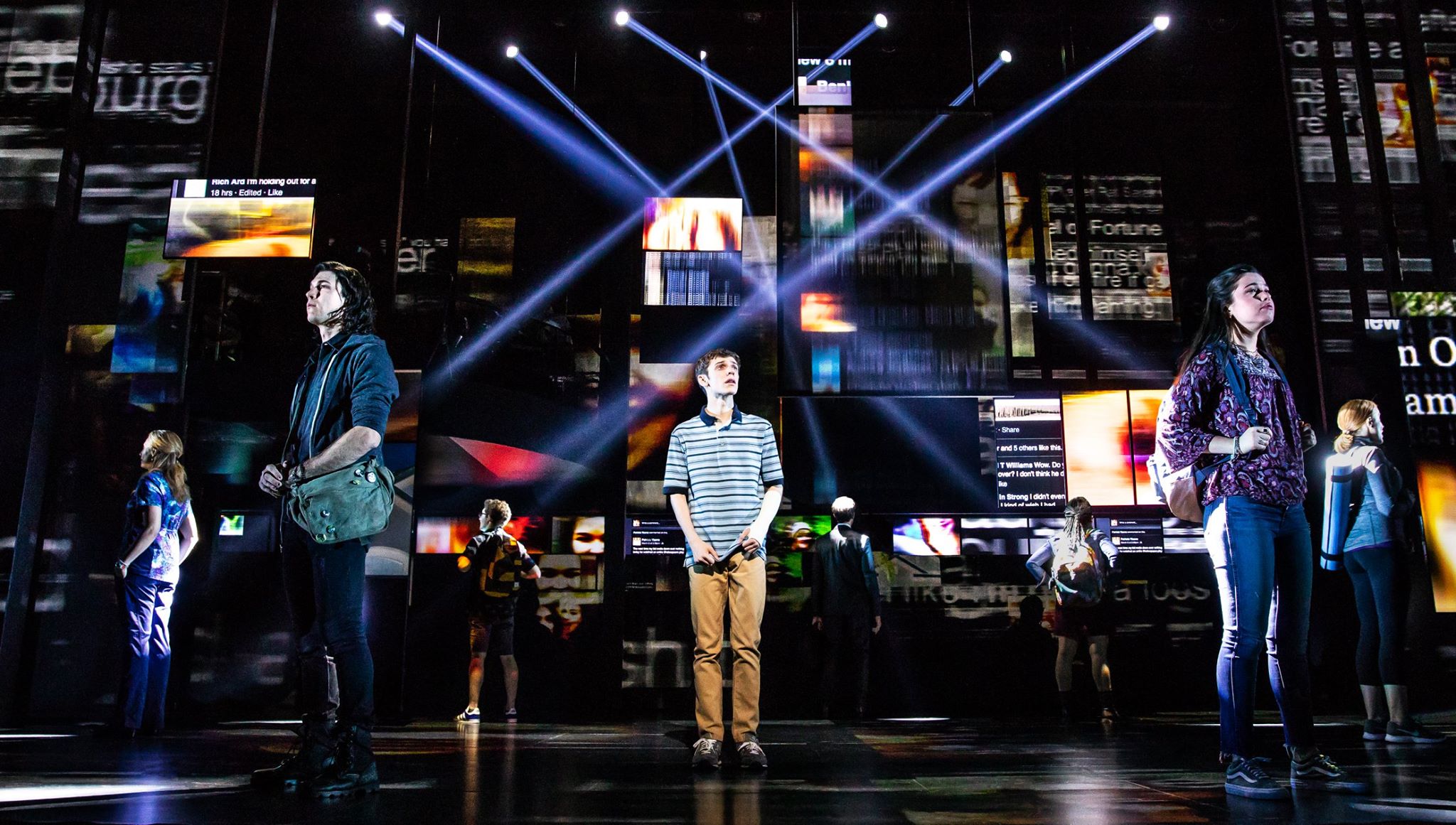 Dear Evan Hansen Deluxe Album Featuring Bonus Tracks Released
Just yesterday, Atlantis Records released Dear Evan Hansen's Deluxe Album featuring 6 new tracks from the show– 5 performed by the current Broadway company, and one performed by Katy Perry.
The show held a listening party on YouTube yesterday to launch the album worldwide. Composers and lyricists Benj Pasek and Justin Paul, and musical orchestrator Alex Lacamoire, gave commentary on the new songs as they were being released.
The album features the songs 'Obvious' by Taylor Trensch (Evan Hansen), 'Hiding in Your Hands' by Mallory Bechtel (Zoe Murphy), 'Part of Me' by the August 2018 Broadway Cast, 'In the Bedroom Down the Hall' by Rachel Bay Jones (Heidi Hansen) and Jennifer Laura Thompson (Cynthia Murphy), an acoustic version of 'Disappear' by Taylor Trensch (Evan Hansen) and Alex Boniello (Connor Murphy), and a new rendition of 'Waving Through a Window' by Katy Perry.
The title for the unreleased bonus track 'Obvious' was "ripped from a scene that Steven [Levenson, book writer] wrote early on in the process," shares Pasek. "When Evan was telling Zoe what Connor liked about her, he said her positive qualities were 'obvious' and we really sparked to that idea. It was obvious what was special about her, and probably obvious that he had been harbouring all of these passionate feelings for so long."
For the bonus track 'Hiding in Your Hands', Pasek shares, "Before writing 'Requiem', we created this tune, in which Zoe describes her home life. Though she might be a total mess and not know the proper chords to play, as long as she smiles, no one will be able to tell her." Justin Paul adds, "We always loved the simplicity of this chorus, but there's a reason the song didn't ultimately make it into the show. 'Requiem' delves much more deeply into Zoe's relationship with her brother."
For the demo 'In the Bedroom Down the Hall', Pasek shares that "This is the first 'mom' song we ever wrote for the show, all the way back in 2011. Originally it started with just Heidi's section. But then we started on Cynthia, packing up Connor's things in this room." Paul adds, "As the show evolved, we kept finding that spending substantial musical time with Cynthia, as desperately as we wanted to, kept us from emotionally moving forward."
For the bonus track 'Part of Me', it was initially written as "…the end of Act One number, pre-'You Will be Found,'" shares Paul. "As you listen through, track how similar the structure is to 'You Will be Found.' We pretty much hit all the same beats, just replaced all of the music and almost every word!" Lacamoire adds, "'Part of Me' may have been cut from the show, but this texture made its way into 'You Will be Found.'"
For Katy Perry's version of 'Waving Through a Window', she shares, "On April 29, 2017, I went and saw Dear Evan Hansen on Broadway, and was emotionally transformed forever. When my friends Benj Pasek and Justin Paul came to me and asked if I would like to re-record this song, not only to help launch the National Tour, but to continue the conversation on mental health and all its complexities, I jumped right in."
She adds, "In my own life, I've struggled with depression, and like so many, always feeling alone in the battle of wanting to belong."
Justin Paul also mentions, "We knew that she felt a special connection to the show, and it was a crazy honor that she said 'yes' to covering this song. So thrilled for you to hear all that she brought to it."
A book by Steven Levenson, Benj Pasek, and Justin Paul entitled 'Dear Evan Hansen: Through the Window' is also available for purchase.
According to Amazon, "The book-produced by Melcher Media, the team behind Hamilton, Wicked, Rent, and many more-tells the story of the musical from its conception nearly a decade ago to the Broadway stage. From developing the idea to writing the show, composing, casting, and rehearsals, DEAR EVAN HANSEN appeals to fans far and wide offering them the opportunity to continuously revisit the show, and for those who haven't seen the musical, reading the book will make them feel like they have."
"Filled with interviews with the cast and crew, original behind-the-scenes photography, a deeper look into Evan's fictional world and the visual world of the show, unreleased lyrics, and of course the libretto, as well as reflections on the creators own formative memories from their adolescence as it relates to the show's themes, and important examinations of how we present ourselves online and mental health, DEAR EVAN HANSEN is a beautifully produced, thoughtful, and uplifting book."
You can listen to the entire album on Spotify here!
Comments