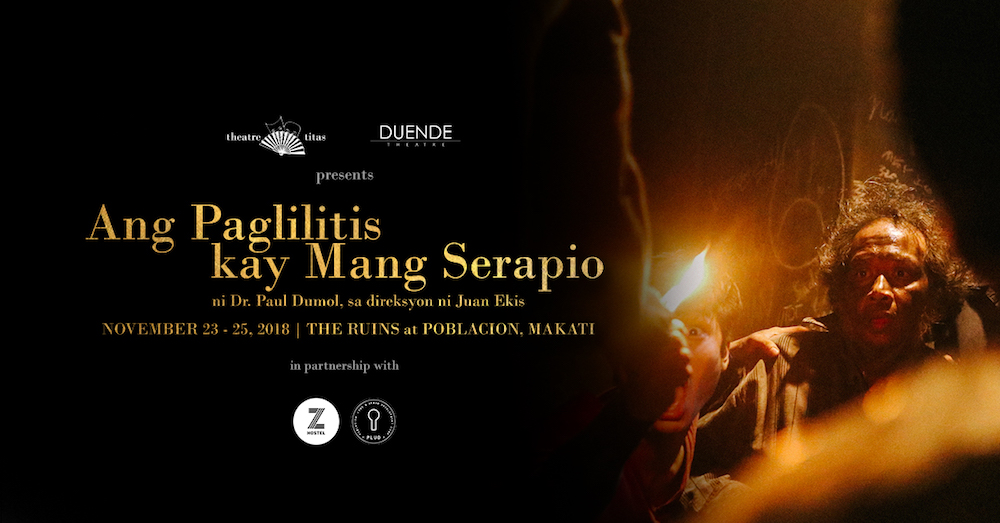 'Ang Paglilitis kay Mang Serapio' Returns for Limited Engagement this November
Following its initial run last September, Theatre Titas and Duende Theatre, in partnership with Z Hostel and PLUD, brings back Paul Dumol's 'Ang Paglilitis kay Mang Serapio' for one weekend only this November.
Since its inception 50 years ago, Paul Dumol's gripping and dark masterpiece remains relevant and has been studied and staged by schools and theatre organizations alike. The cast of the previous run will reprise their respective roles this November, with Jacques Borlaza returning as the titular Mang Serapio. Lian Silverio and Ronilo Balbieran will alternate as Unang
Tagapagtanong, and Andrea Fe returns to the role of Ikalawang Tagapagtanong. Japoy Eusebio will preside over the titular trial once more as Hukom.
Returning to the federaçion are Jigs Sumera, Siel Cleigh Evangelista, Seleen Simora, Roznel Destajo, Alyana Dalisay, John Mari Bonifacio, Angelo Galang, and Mil Prado.
The show will run at The Ruins at Poblacion from November 23- 25, 2018, with performances at 8pm on all dates and 3pm matinées on Saturday and Sunday.
Tickets are available through Ticket2Me.
For student rates, you contact Theatre Titas at theatretitasph@gmail.com or message them through Facebook.
Walk-ins will be entertained, but are subject to seat availability.
Comments