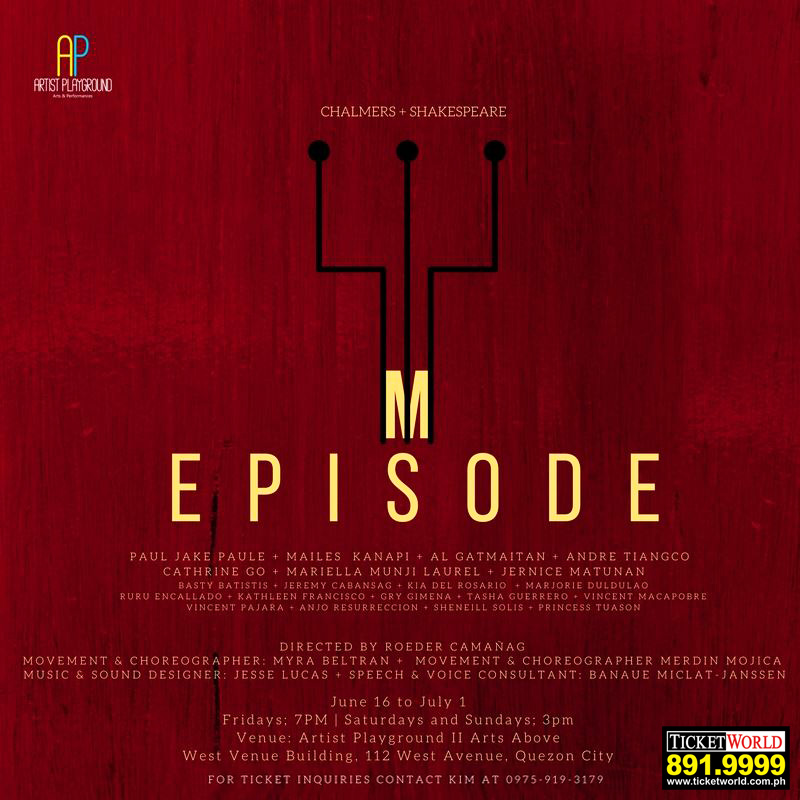 Artist Playground Stages Back-to Back Macbeth Play 'M Episode'
Artist Playground proudly presents a breakthrough rare theatrical treat with 'M EPISODE' — a two-in-one experience about Macbeth, one of the most famous tragic characters during the Renaissance period.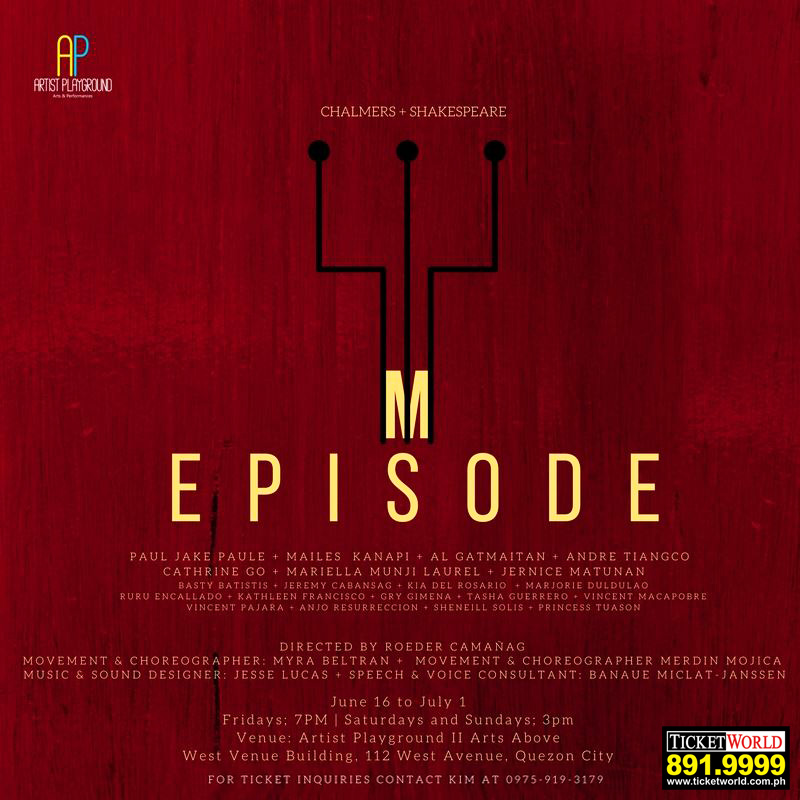 Synopsis
Once there were three people thrown together by ambition, the pursuit of happiness, and passion both youthfulness and maturity share. A decade or so later, they meet again. What was done is now recalled, what was promised is now collected, and what was taken away is now reclaimed.
Directed by Roeder Camanag, 'M EPISODE' will take audiences to an in-depth view of Macbeth's world and witness every episode that formed his psyche in two acts.
Act I: James Chalmers' "PRELUDE TO MACBETH" introduces us to Lorna Stewart, Macbeth, Thane of Glamis, and Duncan, King of Scotland for the first time.
Act II: William Shakespeare's "MACBETH" returns to us the three characters, Macbeth now about to be Thane of Cawdor, and Lorna Stewart, now Lady Macbeth. The Past now spurs a huge cloud of malice, malignancy, and murderous plots. All in the name of the golden round.
Cast
Prelude to Macbeth – Paul Jake Paule (Macbeth), Jernice Matunan (Lorna), Mariella Munji Laurel (Lorna), Mitoy Sta. Ana and Andre Tiangco (Duncan), Juan Carlo Martin Pacheco and Vincent Pajara (Callum), Tasha Guerrero, Marjorie Duldulao, Princess Tuason, Kia Del Rosario, Jeremy Cabansag & Kathleen Francisco (Spirits 1,2,3);
Macbeth – Paul Jake Paule (Macbeth), Mailes Kanapi and Cathrine Go (Lady Macbeth), Anjo Resurreccion (Banquo), Mitoy Sta. Ana and Andre Tiangco (King Duncan), Al Gatmaitan (Macduff), Vincent Pajara (Malcolm), Dan Sheneill Solis (Fleance), Juan Carlo Martin Pacheco (Ross), Basty Batistis ( Porter), Gry Gimena (Lennox) , Marjorie Duldulao and Tasha Guerrero (Lady Macduff), Tasha Guerrero, Princess Tuason, Kia Del Rosario, Jeremy Cabansag, Marjorie Duldulao & Kathleen Francisco (Three Witches),
The play shall run on June 16 until July 1, 2017 with 7 pm shows on Friday and 3pm show every Saturday and Sunday.
Artistic Team
Roeder Camañag (Director); Myra Beltran (Choreographer); Jesse Lucas(Music By); Banaue Miclat-Janssen (Speech and Voice Consultant); Reynoso Mercado (Production Designer); Anthony Salvador (Lights Designer); Paul Jake Paule (Lay-out Designer); Jaynus Olaivar (Photographer); and Alvin Espiritu (Dance Captain).
About Macbeth
William Shakespeare's MACBETH is more than 400 years old and the play has been adapted for the movies before, most notably by Orson Welles and Roman Polanski. (Akira Kurosawa's "Throne of Blood" is loosely based on the play.) Other famous interpretations include Sir Laurence Olivier and Vivien Leigh in a much-lauded 1955 production; and Ian McKellen and Judi Dench in a staging in 1976 by the Royal Shakespeare Company that was filmed for television.
On Broadway, actors who have played the Scottish usurper include Patrick Stewart, Kelsey Grammer, Christopher Plummer and Michael Redgrave.
In 2013, Ethan Hawke headlined a production at the Lincoln Center's Vivian Beaumont Theatre. He followed Alan Cumming's experimental "Macbeth" who depicted the title character as a mental patient who enacted most of the roles in the play. In the UK, Kenneth Branagh starred for the first time at the Manchester Festival. The production, which Branagh co-directed, was also shown in US cinemas. James McAvoy (who, like Cumming, is Scottish) also appeared in a West End production. A 2015 movie version of "Macbeth" featured Michael Fassbender and Marion Cotillard.
You can buy tickets here.
For more information about what's happening in the Manila theater scene, please view our Theater Calendar.
Comments