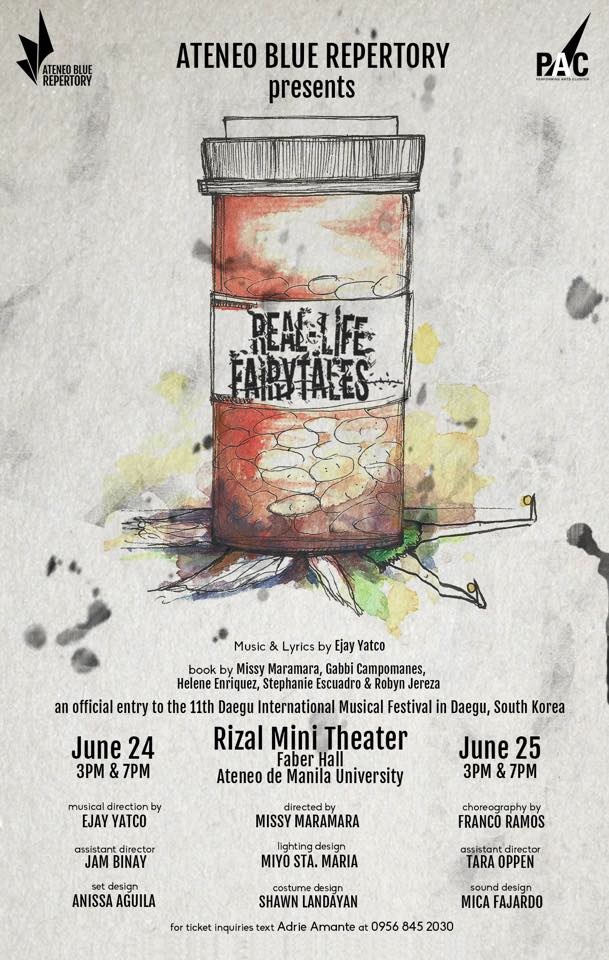 Ateneo blueREP restages Real-life Fairytales
After a successful run as Ateneo Blue Repertory's 25th Season Premiere, blueREP will once again stage the original play, ​"Real-Life Fairytales​", for its 26th Season Production. ​Real-Life Fairytales is a series of six unique vignettes about how fantastical real life can be, or alternately, how fantasy isn't so different from real life. Contemporary issues such as mental health, body image, and drug use are examined through the lens of the magical and unusual.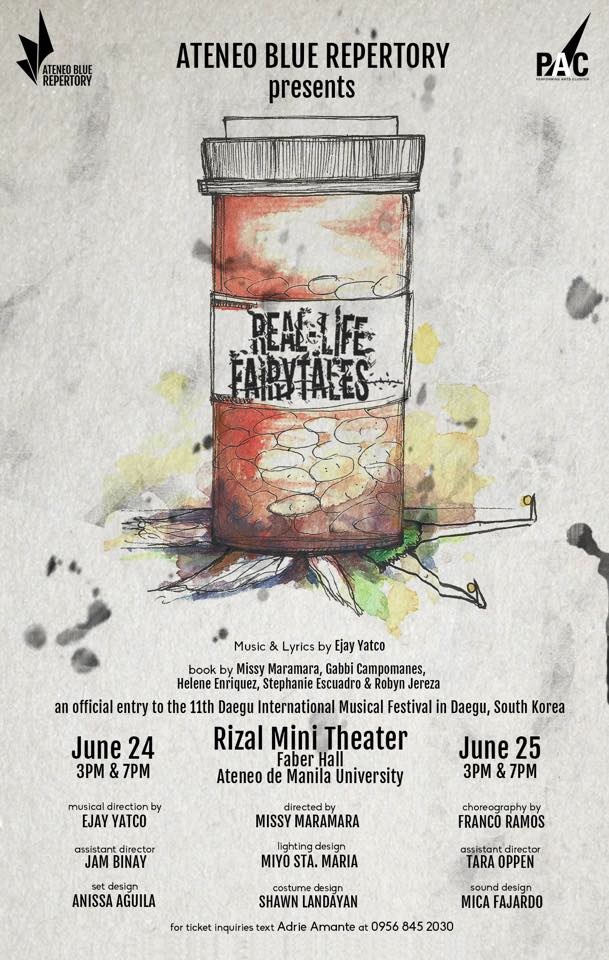 About the Composer and Musical Director
This musical scene-cycle is written and musically directed by a homegrown blueREP talent, ​Ejay Yatco; who is a composer, musical director and pianist. In 2013, he represented the Philippines in the World Championship of the Performing Arts where he made it to the top 3 and took home a gold and three silver medals. He was also nominated twice for ​Best Musical Directio​n and once for ​Best Music at the BroadwayWorld.com Awards. Lastly, he composed and arranged music for well-known companies such as City of Dreams, PNB, Resort's World, Bonanza Foods, Pepsodent, Pepsi, SM, Arlington and IBPAP.
About the Director
Alongside Ejay Yatco, ​Real-Life Fairytales is directed by ​Missy Maramara who is a renowned instructor in the Theater Arts Program of the Ateneo's Department of Fine Arts. She holds an MFA in Drama (Performance) from the University of Arkansas (Fayetteville), through the International Fulbright Scholarship program. Since her return to the Ateneo in 2014, she has directed several plays: blueREP's "​Urinetown​", Upstart Productions' "​Gruesome Playground Injuries​", Ateneo Fine Arts' "​Iphigenia and Other Daughters​", "​Authorial Intent​" and "​The Sound of a Voice​". Aside from directing, she has also served the theater community through performing in several productions. The most recent are Ateneo Fine Arts' "​Purgatorio​", Dulaang UP's "​The Dressing Room​", Ikarus' "​It's April What Are We Doing Here​", and New York United Solo Festival's "​Clytemnestra​".
About the Choreographer
Real-Life Fairytales is choreographed by ​Franco Ramos who recently graduated on full academic scholarship (ENTRACA) from De La Salle – College of Saint Benilde under the school's AB – Technical Theater Program. He is entering one of his first solo ventures into musical theater choreography with Real Life Fairytales. He previously choreographed for ​Here & Thereafter​, a ​Party Worth Crashing production ​featuring the songs of Kerrigan and Lowdermilk. He also previously co-choreographed for Ateneo Blue Repertory's Shared Spaces alongside Mica Fajardo.
International Tour
Experience the extraordinary world that these talented individuals have envisioned. Join them and the Ateneo Blue Repertory this June once more before they take off to Korea to compete in the final round of the the 11th Daegu International Musical Festival. ​Real-Life Fairytales will bring urgency, honesty, and even just a little bit of magic to our own reality.
Show Details
Real-Life Fairytales will run from ​June 24-25, 2017 at the ​Rizal Mini Theater, Faber Hall, Ateneo de Manila University and tickets will cost Php 350 and students have a special price of P300. You may contact Lorenzo Villacorta at 09175662940 for inquiries and reservations.
For more information about what's happening in the Manila theater scene, please view our Theater Calendar.
Erratum: An earlier version of this article had the title Ateneo blueREP restages Ejay Yatco's Real-life Fairytales. We have made the necessary correction.
Comments