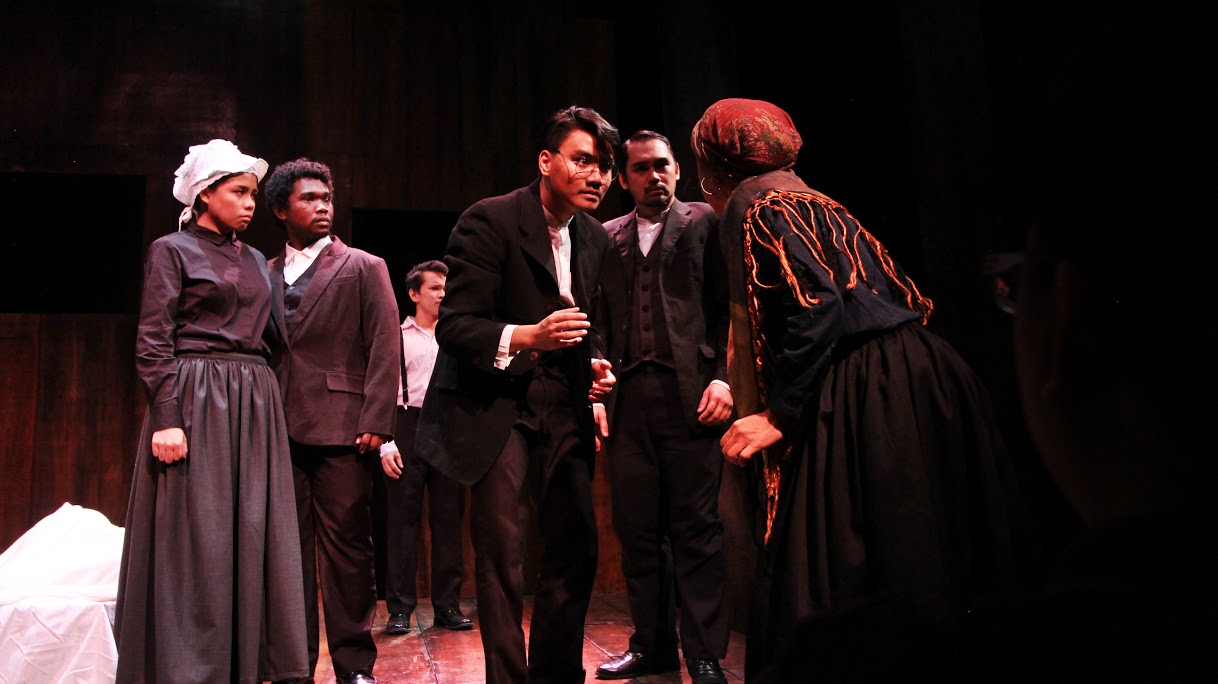 'Ang Pag-uusig' Returns with New Alternate Casting this October
'Ang Pag-Uusig', Tanghalang Pilipino's adaptation of Arthur Miller's 'The Crucible', is back for a rerun next month. Translated by Jerry Respeto and directed by Dennis Marasigan, the production featuring Tanghalang Pilipino's Actor's Company won 6 awards in the recently held Philstage Gawad Buhay Awards including Outstanding Stage Direction for a Play and Outstanding Ensemble Performance for a Play.
Set in 1692, teenage girls are discovered "trying to conjure spirits," drawing fear and widespread hysteria from the villagers of Salem, Massachusetts. Staying true to the company's tagline of "Utak, Puso, Bayan" (Mind, Heart, Country), 'Ang Pag-Uusig' is a provocative and timely play that is relevant to the issues our country is currently facing.
Director Dennis Marasigan says, "According to [Arthur Miller], one can tell whether a country has just come out of or about to fall under a dictatorship because a production of The Crucible serves as a reminder or a warning."
He adds, "Nevertheless, it is not the despots that Miller focuses on in the play, but how a community composed of people with the same beliefs, who know each other and are friends, neighbors and relations, can be slowly destroyed and set apart through accusations that are truly unbelievable, but which remained and became widespread due to apathy at first and then fear afterwards. Many lives had to be sacrificed before the majority had the courage to oppose and put an end to the persecution and killings."
REVIEW: "Ang Pag-uusig" proves the transcendent relevance of Arthur Miller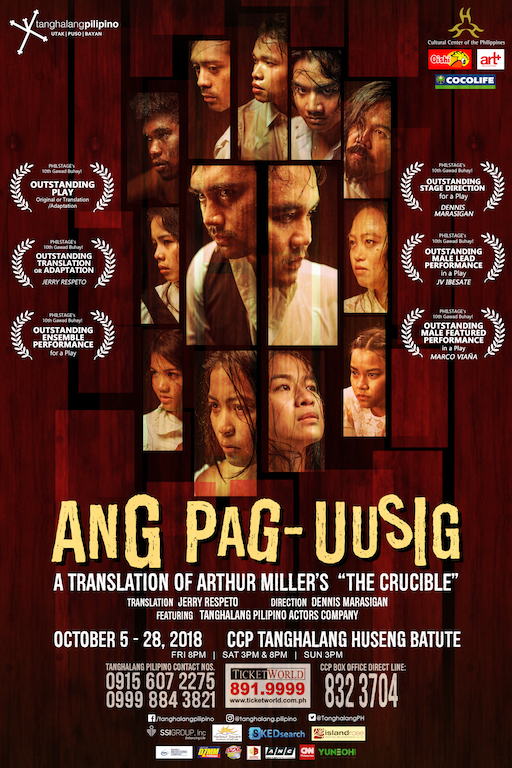 The biggest difference with the upcoming rerun are the shifts in casting. Antonette Go, who played smart and vindictive girl Abigail Williams, will now be alternating with Lhorvie Nuevo. Williams convinces the other girls to falsely implicate their neighbors of witchcraft. She also becomes intimately involved with John Proctor while serving as his household's servant.
JV Ibesate, who originally played John Proctor (where he won the Philstage Gawad Buhay Award for Best Male Lead Performance in a Play), will now be alternating with Marco Viaña. John Proctor is a farmer who, in a moment of weakness, had a brief sexual affair with Abigail Williams.
Viaña, who originally played Rev. Samuel Parris (where he won the Philstage Gawad Buhay Award for Male Featured Performance in a Play), will now be alternating with Jonathan Tadioan. Parris is the minister of Salem's church and uncle to Abigail Williams. He is paranoid that someone is plotting against him to ruin his good name.
Joshua Tayco, who played Rev. John Hale, will now be alternating with Aldo Vencilao. Hale is a scientist and philosopher who confirms the diagnosis of witchcraft for the court. Although coming to a conclusion that the accused are innocent, he advises them to confess to save their lives.
Rhodora Dayao, who originally played John Proctor's wife Elizabeth Proctor, will now be alternating with Monique Nellas. They also alternate for the role of Tituba, a slave from Barbados who performed magic rituals for the girls in the woods.
Monique Nellas and Ybes Bagadiong, and Doray Dayao and Daniel Gregorio, alternately play the bitter couple Ann and Thomas Putnam. Putnam seeks to gain the community's respect by increasing his wealth and influence. His wife Ann fuels hysteria with her belief that the death of her babies had a supernatural cause.
Lhorvie Nuevo, who originally played Mary Warren, will now be alternating with Eunice Pacia. Warren is a timid servant girl who is influenced to join in the accusations. Nuevo also plays Rebecca Nurse, who is admired for her religiousness and good sense.
Jonathan Tadioan, who originally played Deputy Gov. Danforth, will now be alternating with JV Ibesate. Danforth sits as chief judge in the witch trials and believes he is doing right. Judge Hathorne is played by Daniel Gregorio and Victor Deseo (who also portrays the court clerk Ezekiel Cheever).
Aldo Vencilao, who originally played brave and moral farmer Giles Corey, will now be alternating with Ybes Bagadiong. Eunice Pacia, who originally played Mercy Lewis, will now be alternating with Aggy Mago. Lewis is the confidant of Abigail and a servant in the Putnam household.
Other members of the creative team include Ohm David (Set Designer), James Reyes (Costume Designer), TJ Ramos (Sound Designer), and Ronald Jerome Deniega (Stage Manager). Marasigan also serves as lighting designer.
The production will run from October 5 to 28 at the Tanghalang Huseng Batute (CCP Studio Theater). Due to mature subject matter, some scenes and languages are unsuitable for young audiences. 'Ang Pag-Uusig' is rated PG-13.
You can buy tickets HERE.
Comments