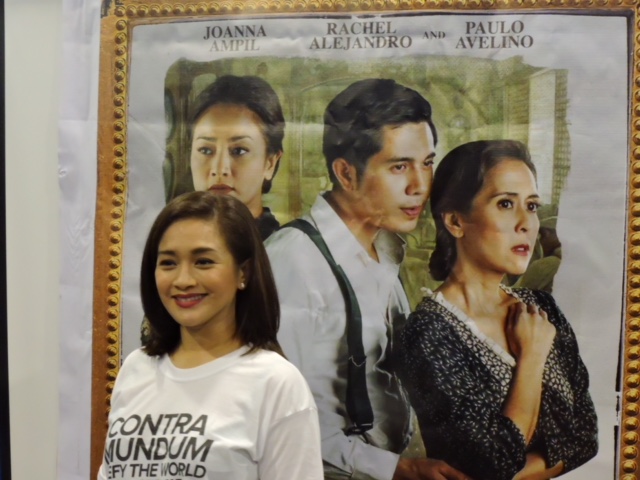 Ang Larawan: The Movie that Could
There has been a rollercoaster of emotions at this year's MMFF, especially for Best Picture Winner, 'Ang Larawan.' The journey has been far from easy for first-time film producers GR Rodis and Celeste Legaspi, owners of Culturtain Musicat Productions Inc., but everything seemed to pay off in the end.
From getting rave reviews at the Tokyo International Film Festival (TIFF), to winning the MMFF's most coveted award, the movie musical has also won Best Production Design for Gino Gonzales, Best Musical Score for Ryan Cayabyab, and Best Actress for Joanna Ampil.
The film started getting a lot of attention when it did not get selected for the first round of MMFF entries last June. The producers had to submit it again for the second round of selections, and had only been deemed eligible on November 17, far later than its competitors who had begun their marketing efforts at a much earlier time.
And the drama did not stop. Only a day after it opened on December 25, the film lost a significant number of cinemas the very next day due to a lack of viewership. But the accolades it garnered at the MMFF awarding ceremony last December 27, as well as its steadfast audience, created a surge in demand. "It all worked out," said producer GR Rodis. "We're still looking for additional theaters. Right now we're at 56. First we opened with 53, then the next day we were 26, and then 23, and then 33, and then 56. So hoping pa rin kami for more theaters." She said that there has been ongoing pressure from Filipinos in the provinces to let their cinemas show the film.
Rodis also credits the film's longevity to the millennials. "Millennials saved us! They trended us on Twitter. Maganda iyung nangyari kasi sila talaga, 'Hindi! Hindi kami papayag!' They were saying on Twitter, '3 times ko na napanood papanoorin ko pa rin'!"
"It's the people really who are keeping us in the theaters. When they found out we were being pulled out they saw it 2, 3, 4 times! Parang that's their contribution daw. Talagang nakakataba ng puso."
Lead actress Joanna Ampil, who is known for her work in theater locally (West Side Story, The Sound of Music, South Pacific in Concert, Chuva Choo Choo, The Bridges of Madison County, Rebel) and abroad (Miss Saigon, Les Miserables, Jesus Christ Superstar, Cats), won one of the country's most prestigious awards in her first foray into film.
Rodis and Rachel Alejandro, Ampil's co-star and one of the film's producers, said that Ampil was the only perfect match for the role. "Candida is not an easy role to sing," said Alejandro. "She needs to have a beautiful voice which the audience wouldn't mind listening to for 2 hours. And it's a very difficult role to act." They both said that they also needed someone who was very, very experienced, and someone who was at the right age, and Joanna Ampil was the only one who fit all the criteria.
Rodis recalls that she first mentioned the role to Ampil in 2008. She talked about it to her again in 2012, where she gave her the CD and the libretto. By 2014, things began materializing, and rehearsals began in September 2014. The film has been known for its extensive pre-production (rehearsals) and post-production (editing, re-shooting) work, each lasting for more than a year. The actual shooting dates only took 15 days. Ampil actually tried to quit twice during their rehearsals because she felt inadequate for the part but kept on thanks to the encouragement from the cast and creative team. "So yeah, it was a long process", said Ampil. "I wasn't sure whether I could do the part."
How did she feel after winning? "Siyempre masayang-masaya," she shares. "Katabi ko iyung mommy ko, iyung daddy ko, iyung boyfriend ko, so lahat ng importanteng tao, iyung cast ng Larawan, to share that moment with them was very special. And alam kong malaking parangal iyung MMFF kaya ako umiyak. I was planning not to but I couldn't help it. It was overwhelming. It was the last award pa so I knew it was quite important. I'm happy because lahat ng hard work namin nagpay-off. Iyung samaan ng loob, lahat ng suffering, nawala lahat."
She added, "It means a lot to me. It really does, being recognized especially in my own country. It's really something. Abroad, yeah of course it's nice too, but I know how critical Filipinos can be, and I know how talented people here are so it's great competition. So to be recognized in your own country with a lot of talented people, it's something else."
Ampil needs to go back to her world tour of Cats in January. What does she plan to do after the tour? "Pag may offer naman nandito ako talaga. So sana mas maraming offers this time around after what just happened. I'm always up for a challenge. Philippines is priority."
Alejandro adds that she hopes the success of the film will also have an effect on our theater industry. "One of the things that I hope Larawan does is that because it's a musical, that it will also promote theater in the sense that, 'Wow! Meron pala tayong ganito.' because the people who are watching this are not necessarily the people who go to the theaters."
Comments