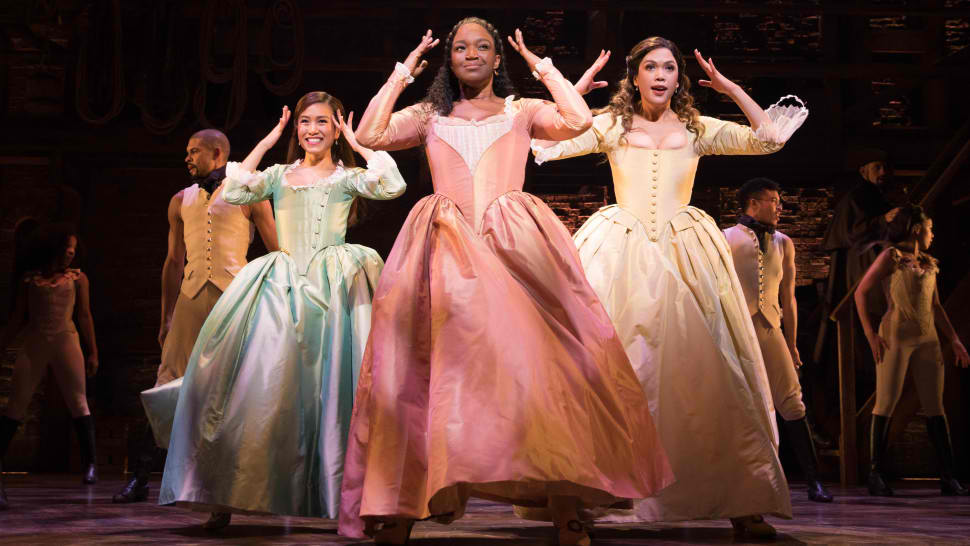 Hamilton West End with Rachelle Ann Go and Christine Allado Get Rave Reviews!
Broadway sensation Hamilton has just officially opened in the West End and the reviews are in!
Hamilton is a musical about the life of American Founding Father Alexander Hamilton, with music, lyrics and book by Lin-Manuel Miranda. Filipino home-grown talents Rachelle Ann Go (Elizabeth Schuyler) and Christine Allado (Peggy Schuyler/Maria Reynolds) have landed the highly coveted roles of playing Elizabeth Schuyler and Peggy Schuyler/ Maria Reynolds respectively.
The musical began West End previews on December 6 and has just officially opened as of this writing (December 21) at the Victoria Palace Theatre.
Here's what London's top critics had to say:
"(…) Rachelle Ann Go lends Hamilton's wife the poignancy of the neglected and Rachel John is impressive as his adoring sister-in-law."
– MICHAEL BILLINGTON, THE GUARDIAN
"It is a cold-hearted audience member not left devastated by her number Satisfied, or the performance by Rachelle Ann Go as Hamilton's wife Eliza." – LAURA HARDING, INDEPENDENT
"Rachelle Ann Go has a lovely vocal purity as Hamilton's demure and earnest wife Eliza, and Rebecca John brings wit and spark to her passionate sister Angelica." – HENRY HITCHINGS, LONDON EVENING STANDARD
"And – what joy – it's not just about the guys, as Miranda gives plenty of space to the politically aware Schuyler sisters. Rachelle Ann Go lends gorgeously rich voice to Hamilton's long-suffering wife Eliza, who somehow finds the dignity and power denied to women, and Christine Allado is excellent as gawky Peggy and sultry Maria Reynolds." -MARIANKA SWAIN, BROADWAYWORLD
"The show ends with the virtuous tale of Eliza, Hamilton's widow, who lived 50 years after Hamilton and continued his work. She is played candidly and spiritedly by Rachelle Ann Go, who, pointing out into the newly-rebuilt Victoria Palace Theatre auditorium, longs to be by Hamilton's side." – ADAM BLOODWORTH, METRO
"Rachelle Ann Go – playing Hamilton's long suffering wife Eliza – has the audience in floods of tears with heartbreaking showstopper 'Burn'… Christine Allado sizzles in the dual role of Peggy Schuyler and Hamilton's sexy mistress Maria Reynolds." – MIKEY SMITH, MIRROR
"One stunning, bittersweet coup de theatre involves the two women in Hamilton's life, as first we experience his meeting with future wife Eliza (the Filipino star of the recent Miss Saigon revival, Rachelle Ann Go) through her R&B love song 'Helpless,' before Miranda rewinds and replays the same meeting, now through the eyes of Eliza's sister and Hamilton's true soulmate Angelica (Rachel John), in her rap-driven, but also heartbreakingly sung 'Satisfied'… And while Miranda's reimagining of the formation of his country has reasserted the importance of immigrants to the U.S. national identity, the musical's U.K. casting carries its own political value. To see such diversity on the West End stage right now is as satisfying as having a working-class British-Pakistani — Donald Trump adversary Sadiq Khan — as London's mayor. The revolution has landed in London, and is unlikely to be leaving any time soon." – DEMETRIOS MATHEOU, THE HOLLYWOOD REPORTER
"If anything – and I'm truly sorry to say this – Lin-Manuel Miranda's musical about Alexander Hamilton, the first secretary of the US treasury, is actually better than the hype suggests… Like an expertly sequenced mixtape, 'Hamilton' never settles on one tempo for too long. The introduction of the Schuyler sisters – Hamilton's future wife Eliza (Rachelle Ann Go) and his soulmate Angelica (Rachel John) – lobs a bit of sparky, '90s-style R&B into the mix, and cedes the bloke-tastic narrative to its female characters (briefly)… the great symbolic power of 'Hamilton' lies in its bold placement of immigrants, minorities and their culture at the very centre of the American narrative: it says, this story is ours too. – ANDRZEJ LUKOWSKI, TIMEOUT LONDON
Comments