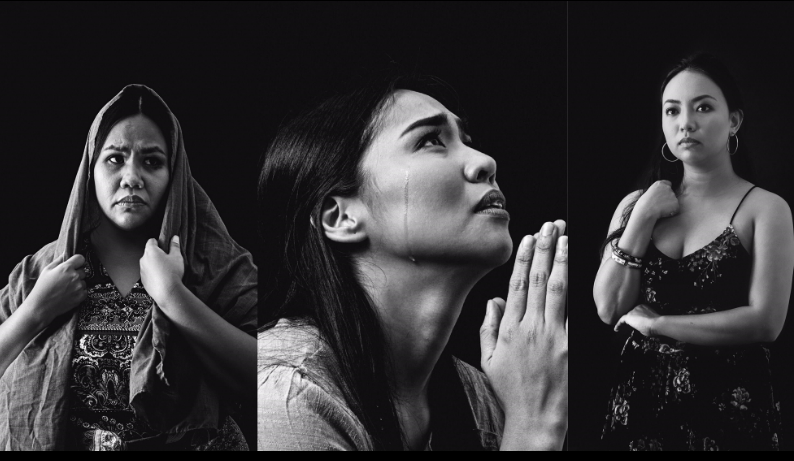 'Himala' stripped down, naked, and intimate
No makeup. No lapel microphones. No choreography. Nothing but a piano to accompany raw vocal power. Nothing but the most essential cast on an intimate stage. And nothing but the most distilled dialogue to let the silence speak louder than words.
Himala—the timeless tale written by the legendary Ricky Lee in 1976 during the Marcos dictatorship, immortalised on screen by the late film director Ishmael Bernal in 1982, and brought onstage as a musical with music by Vincent de Jesus in 2003—returns. This time, Himala promises to be bolder and more brazen.
https://www.facebook.com/SuperstarNoraAunor/photos/a.10153070571767483.1073741826.122806607482/10154807861057483/?type=3
The story that has garnered international acclaim such as the Bronze Hugo Awards of the Chicago Film Festival and CNN APSA Viewers Choice Award Best Asian-Pacific Movie of All Time comes to life from February 10 to March 4, 2018 as the Sandbox Collective and 9 Works Theatrical come together to stage Himala: Isang Musikal, transporting the audiences at the Power MAC Center Spotlight, Circuit Makati to Cupang, the godforsaken town beset by drought after turning away a leper years ago.
A stellar cast is led by the iconic women of Himala: Aicelle Santos plays the role made famous by Nora Aunor—Elsa, the barrio lass whose claims to have had a vision of the Virgin Mary during an eclipse that has imbued her with a healing touch leads devotees into mass hysteria exploited by both townspeople and outsiders eager to capitalise on blind faith. Kakki Teodoro plays Nimia, Elsa's childhood playmate who becomes her opposite later in life as she becomes the barrio's much-scorned yet very much in-demand prostitute and cabaret owner. Neomi Gonzales plays Chayong, another one of Elsa's childhood friends who becomes her enabler and apostle. Bituin Escalante plays Saling, Elsa's mother.
RELATED: First look- 'Himala' Cast Performs a Medley from the Iconic Musical
Joining the original creative team of writer Ricky Lee and librettist Vince DeJesus is young director and set designer Ed Lacson Jr. as well musical arranger Jed Balsamo, lighting designer Barbie Tan-Tiongco, and costume designer Carlo Pagunaling.
Growing closer
Lacson reveals that he has purposely gone against the grain of making any re-staging bigger and grander, opting instead the opposite: stripping down the production to its barest essentials.
Asked by Theater Fans Manila whether he referenced or purposely avoided being influenced by the previous stagings of the musical, Lacson explains, "The same with any material, you go back to the source. I didn't go to the musical; I went to the film. I've had so many viewings of the film and again the book helped too."
The movie Himala stands out for its quiet acting. Many of the most riveting and emphatic scenes have sparse if any dialogue, allowing for tour de force performances from actors such as Nora Aunor and Spanky Manikan. Filmmaker Ishmael Bernal's vision also demanded authenticity: shot entirely among the stark and desolate sand dunes of Ilocos, he cast locals with real visceral diseases for Elsa to heal, avoiding any prosthetics and makeup.
Ricky Lee recalls, "At the auditions, Ishmael Bernal said, 'I wanna see the disease.' He didn't allow any makeup except powder."
With this in mind, Lacson's decision to eschew a big stage, elaborate sets, backstage wizardry, lush musical accompaniment, choreography, microphones, and even makeup is fidelity to Bernal's intent.
"It's a simpler, really distilled version. In this particular case, we opted to not do any choreography. I know it's a big risk for a musical, to not have any dance. That's how stripped down it is. At the same time, I retained certain elements like the piano, which for me was the most powerful thing when I first saw it. I was so surprised how the musical was made whole with just piano and the human voice."
Timely and timeless
Written and filmed during the plunderous and murderous Marcos dictatorship, it seems timely that Himala returns to the stage as the Philippines is at the cusp of returning to yet another era of fascist hysteria and cult of personality.
Ricky Lee attests, "When I wrote it in 1976, it was martial law. I just got out of prison after one year in Fort Bonifacio, so my mood was to question everybody, from god, the government, to the educational system. This was the truth of the film."
Himala's most iconic scene is Elsa, amid her throng of devotees, belying her claims of healing the sick and immaculate conception, proclaiming, ""Walang himala! Ang himala ay nasa puso ng tao, nasa puso nating lahat! Tayo ang gumagawa ng mga himala! Tayo ang gumagawa ng mga sumpa at ng mga diyos." ["There are no miracles! Miracles are in people's hearts, in all our hearts! We are the ones who make miracles! We are the ones who make curses, and gods."]
For his part, Lacson explains, "Art by nature is political. And I don't think it's a religious movie. It's still relevant, yes, but I don't think I need to have an agenda in telling the story, and I think the politics will come from whoever watches it."
"For me, it was just a Filipino way of telling this story. It's so Filipino, the milieu, the sensibility, the decision making. It couldn't happen anywhere else, the situations, everything has to happen in the Philippines."
You can buy tickets HERE.
Comments