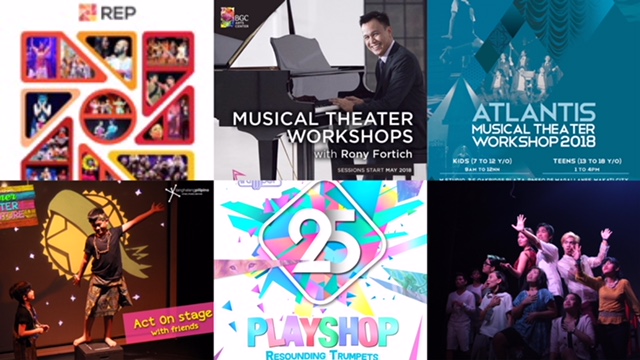 6 Theater Workshops in Manila This Summer
The curtains slowly open. Lights bathe the proscenium as you squirm out of excitement in your own seat. Orchestra begins to blare. The ensemble breaks into song. Overwhelmed, your feelings take the shape of a voice in your head, saying:
I should be up there.
If you were able to relate to this on a spiritual level (or know someone who does!), there is nothing more perfect for you than a theater workshop! But which one, you ask?
To bring you a step closer to your very own monologue or tap solo, here are six theater workshops in the metro for you to choose from:
1. ATLANTIS Musical Theater Workshops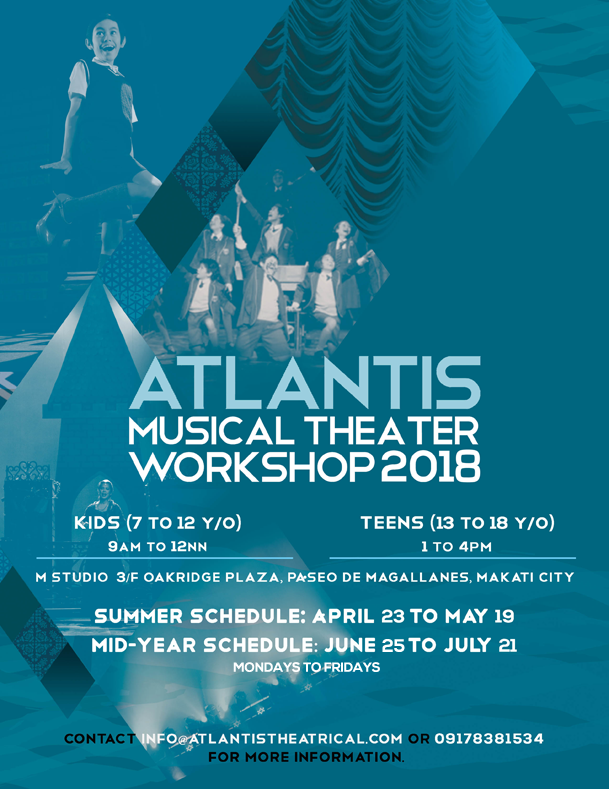 Experience musical theater like you have never experienced it before in the Atlantis Musical Theater Workshops for Kids (7–12) and Teens (13–18). This month-long program will take you through the rudiments of acting, singing, and dancing for musical theater. All classes will be conducted by Atlantis actors, choreographers, and musical directors, so you will have the unique experience of learning from and working with the country's top theater professionals.
When? Summer Classes from April 23 to May 19 and Mid-year Classes from June 25 to July 21 – Mondays to Fridays
Where? M Studio, 3/F Oakridge Plaza, Paseo de Magallanes, Makati City with recitals at the Carlos P. Romulo Auditorium, RCBC Plaza, Makati City
For inquiries and slot reservation, please email info@atlantistheatrical.com or contact (0917) 838 1534. You can also follow ATLANTIS on facebook.com/ATEGasia or visit www.atlantistheatrical.com for up-to-date information.
2. BGC Arts Center's Musical Theater Workshops with Rony Fortich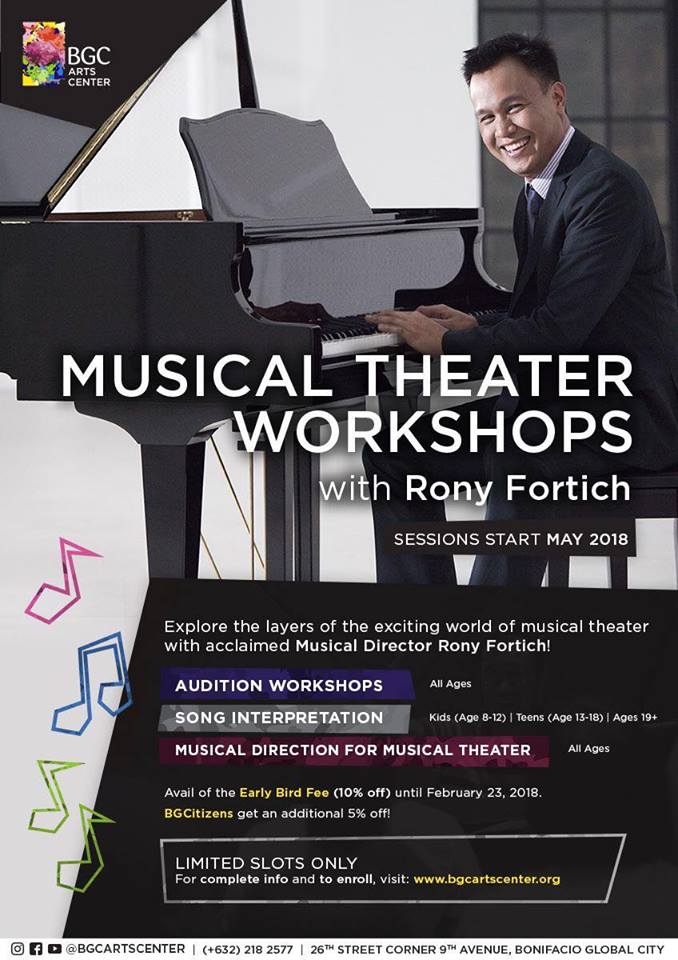 Explore for yourself the layers of the exciting world of musical theater with acclaimed Musical Director, Rony Fortich. In-depth workshops are available for aspiring musical directors, performers and theater enthusiasts! There are three types of musical theater workshops to choose from: Song Interpretation workshops, Audition workshops, and Musical Direction workshops!
When? Song Interpretation Workshops for Kids Ages 8-12 (P13,000) from May 2 to May 18 ; Song Interpretation Workshops for Teens Ages 13-18 (P12,000) from May 1 to May 17; Song Interpretation Workshops Ages 19+ (P8,000) from May 7 to May 18; Audition Workshops for All Ages (P6,000) on May 1, 3 and 8 and on May 8, 15 and 17; Musical Direction for Musical Theater Workshops for All Ages (P15,000) on May 2 to May 11
Where? BGC Arts Center, 26th corner 9th Avenue, BGC, Taguig
For more details, please visit https://www.bgcartscenter.org/whats-on/143/musical-theater-workshops or email programs@artsatbgc.org.
3. PETA's Summer Program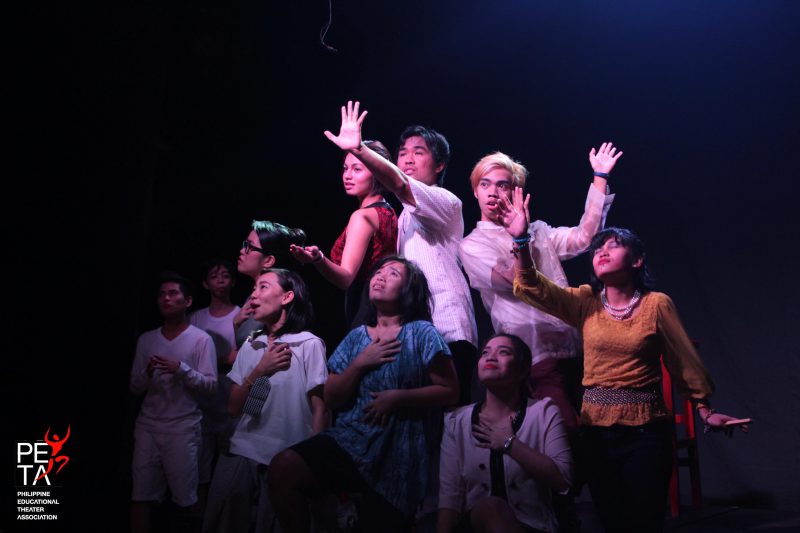 The Philippine Educational Theater Association (PETA) opens eight intensive theater arts courses for its annual summer workshop, ranging from basic to advanced, tapping into your limitless creative potential, allowing you to fully express themselves and shine under the limelight of a legitimate stage. Taught by some of the country's most outstanding thespians and theater practitioners, PETA attracts a lot of applicants every year because of its unique, comprehensive and student-centered programs.
There are a lot of courses to choose from too! From Integrated Theater Arts to Musical Theater to Acting, you might just become the theater star you've always wanted to be!
When? April 9 to June 10
Where? PETA Theater Center, No. 5 Eymard Drive, New Manila, Quezon City
Interested enrollees may drop by the PETA Theater Center at between Tuesdays to Saturdays or contact PETA at (02) 725 6244 or 0905-3696003. Interested applicants can also schedule an interview schedule via www.bit.ly/PETAWorkshops. For more information visit www.petatheater.com.
4. REP Workshop for the Performing Arts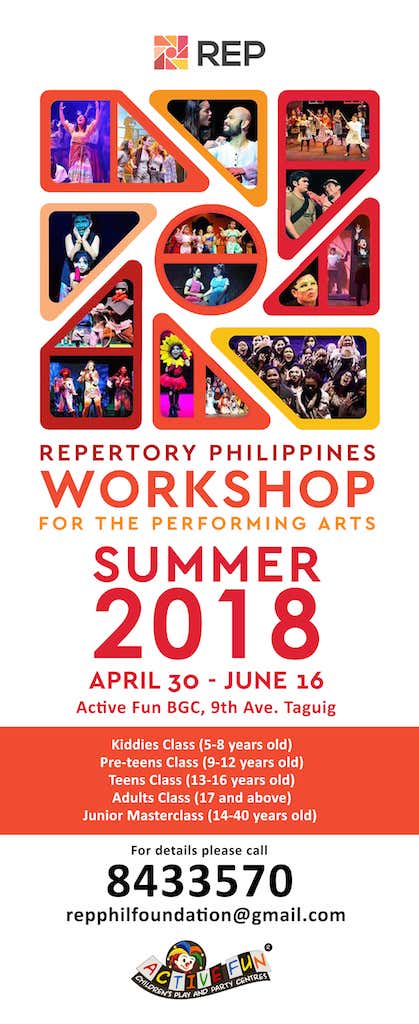 Act, sing, and dance your heart out when you join the Repertory Philippines, or REP 2018 Workshop for the Performing Arts. Learn from the best artists in the industry and discover how being on stage gives you the experience of a lifetime. Children will be able to get a holistic and interactive training in REP's Kiddie Classes which are open for children aged 5 to 8 years old. Kids aged 9 to 12 years old can join the Pre-Teens Class, while 13 to 16-year old students can enroll in the Teens Class.
Adults can join in the fun too! Tap into your creative side in the Adults Class, open for people aged 17 and up. REP's Junior Masterclass, handled by veteran actor and director Joel Trinidad, is also open to those with theater experience who are looking into pursuing a career in the theater arts!
When? First batch from April 30 to June 16; second set from June 4 to July 20
Where? Active Fun, 9th Street and High Street, Bonifacio Global City, Taguig
For inquiries, you may call REP at 843-3570. If you are interested in applying, you can download and print the form from www.repertoryphilippines.ph and send it in to REP by fax (555 0082) or email (repphilfoundation@gmail.com).
5. Tanghalang Pilipino Summer Workshop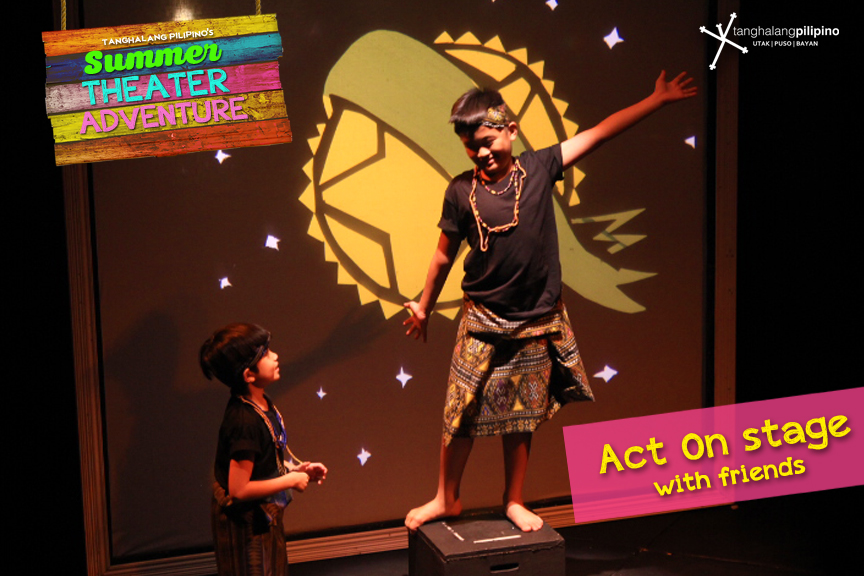 This summer, Tanghalang Pilipino offers Children's Integrated Arts Experience, a creative dramatics workshop for children using games, storytelling/shadow play techniques, movement, music and masks as tools of expression. At the end of this workshop, students are expected to recognize and understand the different tools/instruments of expression, culminating with a showcase production!
There will be two venues to be facilitated by members of the Tanghalang Pilipino Actors Company. The Greenhills Workshop will be facilitated by Aldo Glenn Vencilao and Eunice Gabrielle Pacia while the Victoria Workshop will be facilitated by JV Ibesate and Lhorvie Nuevo. The workshop fee for 12 two-hour sessions is P12,000.
When? First batch from April 10 to April 27; second batch from May 8 to May 25; third batch from May 29 to June 15
Where? Victoria GMA Kamuning – 6/F Victoria Sports Complex, Victoria Tower Building, 799 EDSA Southbound, South Triangle, Quezon City (beside GMA Kamuning MRT Station); Greenhills – F&B-5 Arts Plaza, Greenhills Theatre Mall, San Juan (beside Music Museum)
For more information, please call Tanghalang Pilipino at 09998843821 or e-mail tanghalangpilipinomarketing@gmail.com.
6. Trumpets Playshop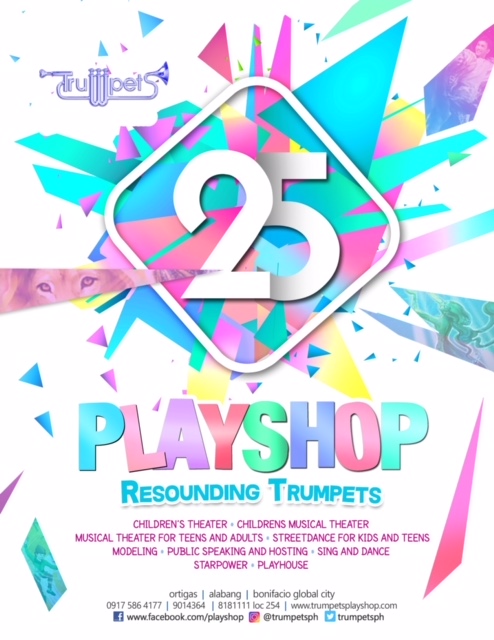 Since its humble beginnings in 1993, Playshop has proven to be a home that kids, teens, and grown-ups return to every summer to discover and explore their multiple talents in the performing arts such as acting, singing, dancing, hosting and modeling. And since then, it has grown and provided a wholesome, productive and enjoyable experience for its students for more than two solid decades.
This year, Playshop will be #ResoundingTrumpets, as it breathes life back into TRUMPETS Inc., with its upcoming workshops: PLAYSHOP PERFORMANCE for theater and musical theater, PLAYHOUSE for advanced playshoppers, PLAYSHOP CREW for hip-hop and streetdance, and PLAYSHOP POWER for modeling and public speaking & hosting. Two new classes on Sing & Dance and Mobile Photography are also open plus two more PLAYSHOP PREMIUM masterclasses—acting with renowned Theater Director, Jaime Del Mundo and audition techniques with Mr. Audie Gemora.
When? Classes start April 16
Where? The Shangri-La Plaza Mall, Kidz City at SM Aura and at the Alabang Town Center
For faster transactions, you may enroll at https://goo.gl/mcXHDF. For inquiries, you may call 901-4364 , 818-1111 loc 254 or 0917-586- 4177.
Comments