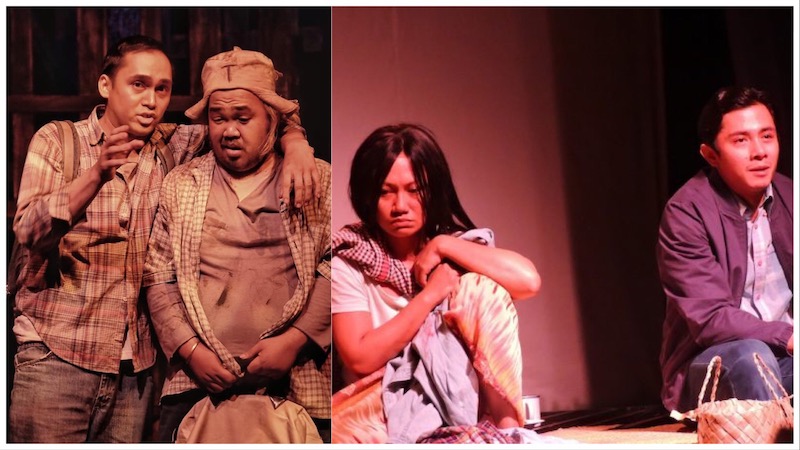 5 Filipino Shows in Other Dialects
Because the Filipino language should include more grammar and lexicon from the regions but — alas.
The idea that language can be 'endangered' at first seems like a wild one.
Unlike animals, there's no one to hunt down the languages to pillage it for spoils. There's no way to hang the Álta Kabulowán language over the mantel or fashion bits of Kinarol-an vernacular into jewelry. Instead, it dies with disuse. In the same way a patch of forest floor might be replaced by an industry, so too can someone switch over to the language of the majority for economic gain. 
Whether you consider them as strictly languages or dialects – you do you at this point, it's a lot to get into – the fact remains that of the 175 languages of the Philippines, about 50 of them are in danger. Some big languages are part of this list, with something as familiar as Kapampangan at risk of dying along with more obscure ones. Some of these have as few as 11, maybe less now, people speaking them.
The point is, we need to get into the business of saving some of these. While it's hard to believe any one person using an endangered language can make a difference (cough bamboo straw debates anyone cough), maybe with enough people – like, let's say an entire company of people working on a play – we can get somewhere. 
"Somewhere" being the stage, of course. Below are five decidedly Filipino plays that veer away, even just a bit, from Tagalog: 
1. Katsuri
There's a lot to say about Tanghalang Pilipino's Hiligaynon adaptation of "Of Mice and Men." Hiligaynon or Ilonggo being one of the main languages in Western Visayas and SOCCSKSARGEN, the latter – if you're in the middle of confusing it for a Dutch town without the capitalization too – is the new name for Central Mindanao.
The main thing to note is that Katsuri is set in present day Bacolod and uses Hiligaynon phrases to anchor the play to its setting. That's not the only effort it expends for this goal though. It twists the original story as needed to fit research on the setting and its unique sensibilities. It's a practice of artistic freedom that arguably makes the adaptation feel more grounded and personal.
2. Ang Mga Puyong 
Ryan Machado's Ang Mga Puyong is a quintessential coming-of-age story. There's the gradual trudging toward the loss of innocence as well burgeoning and uncertain feelings of attraction to deal with in the span of an afternoon. To cap it off, the two boys who lead the drama have a literal appointment with puberty at the end of the day, both scheduled for their own circumcision. 
All this is set in Romblon and the play made use of Tagalog-Visayan language throughout. In particular, Romblon uses a type of Visayan (along with Asi and Onhan) called Romblomanon. If you look at the grammar of Romblomanon, there's enough similarities between it and Tagalog to make the "mutual intelligibility" argument between 'languages' and 'dialects' a lot more confusing.
3. Buwan at Baril sa Eb Major
Speaking of "mutual intelligibility" – or the idea that people share the same language, but different dialects, if they can understand each other without extra effort – linguistics is further complicated in those rare moments when meaning can transcend languages. Judging from reviews, this is exactly what happened when, in one of the vignettes of Buwan at Baril, the tragedy experienced by a woman is clear despite the fluent Itawis she communicates with. Itawis is the name for a group of people living in Cagayan Valley as well as the language they use.
4. Games People Play
Glenn Sevilla Mas' exploration into adolescent, well, exploration in the euphemistic sense is a story about three childhood friends finding solace and realization in their games and each other. Like Katsuri, it features Ilonggo phrases but the original script by Mas included the Kinaray-a of his hometown, Antique. The change was probably for greater intelligibility. While speakers of Kinaray-a are more likely to understand Hiligaynon, to the point that they can consider it a second language, the reverse is not always the case.
5. Gugmang Giatay
This one's a bit of a cheat as Gugmang Giatay isn't strictly a play so much as it is a jukebox musical featuring classic songs from Bisayan Rock. In between a muddy love story and campy Cebuano humor are songs like Liar Evil and HAHAHAHasula – which sounds like it could be an upbeat pop song, but was not. 
There are a few more plays and languages that fit into this category. A few from Virgin Labfests includes Ang Sugilanon Ng Kabiguan Ni Epefania, Ang Bata sa Drum and Chipline in Tagalog-Visayan.
Comments