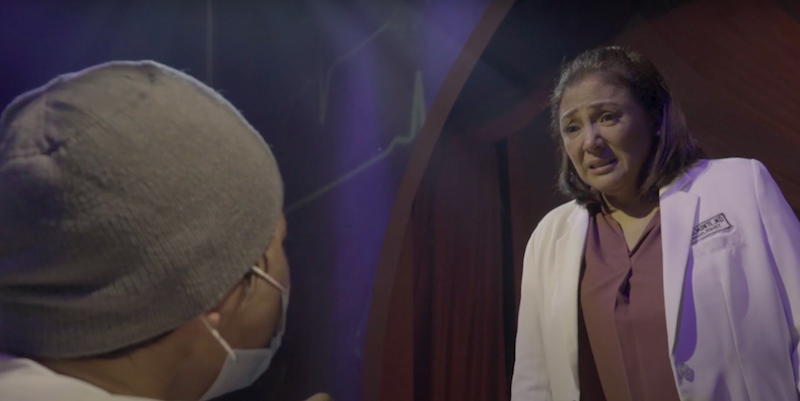 WATCH: 'Under My Skin' Play Stream releases Trailer
PETA's Under My Skin, the anthology drama on HIV written by Rody Vera, has just released its official trailer. It is set to stream online starting this November.
The production was PETA's last live performance at the PETA Theater Center before theaters had to shut down in March 2020. The online production of Under My Skin was specifically shot for streaming just last January 2021 in a special closed-door filming of the play.
The number of HIV infections in the Philippines continue to surge, and PETA hopes that the play will be able to draw the public's attention to the issue. Executive Director of PETA, Beng Cabangon, says that according to the DOH report, the rate of new infections doubled, from 10% between 2019 to 2020, to 21% from 2020 to 2021. Alarmingly, 47% of new infections belong to the 15-24 year old age category. As of August 2021, there have been 33 Filipinos that have been diagnosed with HIV everyday. 
"[It] is an example of necessary theater because during its live performances, it was able to provide not just the play, which was inspired by real stories of real HIV narratives, but it was also able to provide a safe space for conversations attested in our talkbacks," shares director Melvin Lee. "In the talkbacks, we were able to bring together audiences with differing opinions and beliefs with regard to the issue. We had individuals coming out with their status, religious people having conversations with the LGBTQ+ community, parents learning from the play, and young people getting demystified by the myths and misconceptions about HIV."
He adds that when the play's commercial run was cut short, the company felt the need to pursue the conversation. With the aid of additional collaborators like Neil Daza as the show's Director of Photography, they were able to pivot and transform the play into a cinematic experience.
"We shot the play in sequence, but kasi we had 3 cameras. So, iyung dalawa, may pang-closeup, at saka iyung isa para sa isa pang anggulo, tapos iyung pang-atlong kamera ay para makita iyung buong stage." He hopes that it will give the play different lenses and points of view to help enhance the viewers' appreciation of the scenes and the characters.
"In live performances, you see the unfolding of a scene right in front of you, but you are coming from one position in the theater. Now that it is on video, you get closer to the scenes and actors because of all the types of shots.

READ: How to Stream 'Under My Skin' Online
The show follows a number of characters– Jonathan, Greg, Syd, and Mario whose relationships are tested when Jonathan gets infected; Dino, an HIV-positive teen whose status is discovered through a contraction of tuberculosis; Mary Rose, a mother who unknowingly passed down the virus to her son after getting it from her husband; a gay beauty parlor employee experiencing work-related discrimination, and more. Their stories of love, pain, and acceptance are revealed through Dr. Almonte, who is studying the spread of the devastating virus. 
The online streaming cast features Cherry Pie Picache, Eko Baquial, Gio Gahol, Mike Liwag, Jarred Jaicten, Kitsi Pagaspas, Dylan Ray Talon, Dudz Teraña, She Maala, Bene Manaois, Erold Enriquez, Jason Barcial, Joseph Madriaga, Rach Gimpes, Reggie Ondevilla, Roy Dahildahil, Gerard Dy, and Ekis Gimenez.
The show will be streamed from November 26-28, November 30-December 5, 2021. To buy tickets for November 28 (Sunday), you can send us a message on Facebook, Instagram, or Twitter. Video on Demand tickets are P250, and Livestream tickets are P180. It will be available to view worldwide and will be accompanied with English subtitles.
You can watch some scenes from the play in the official trailer below.
Comments