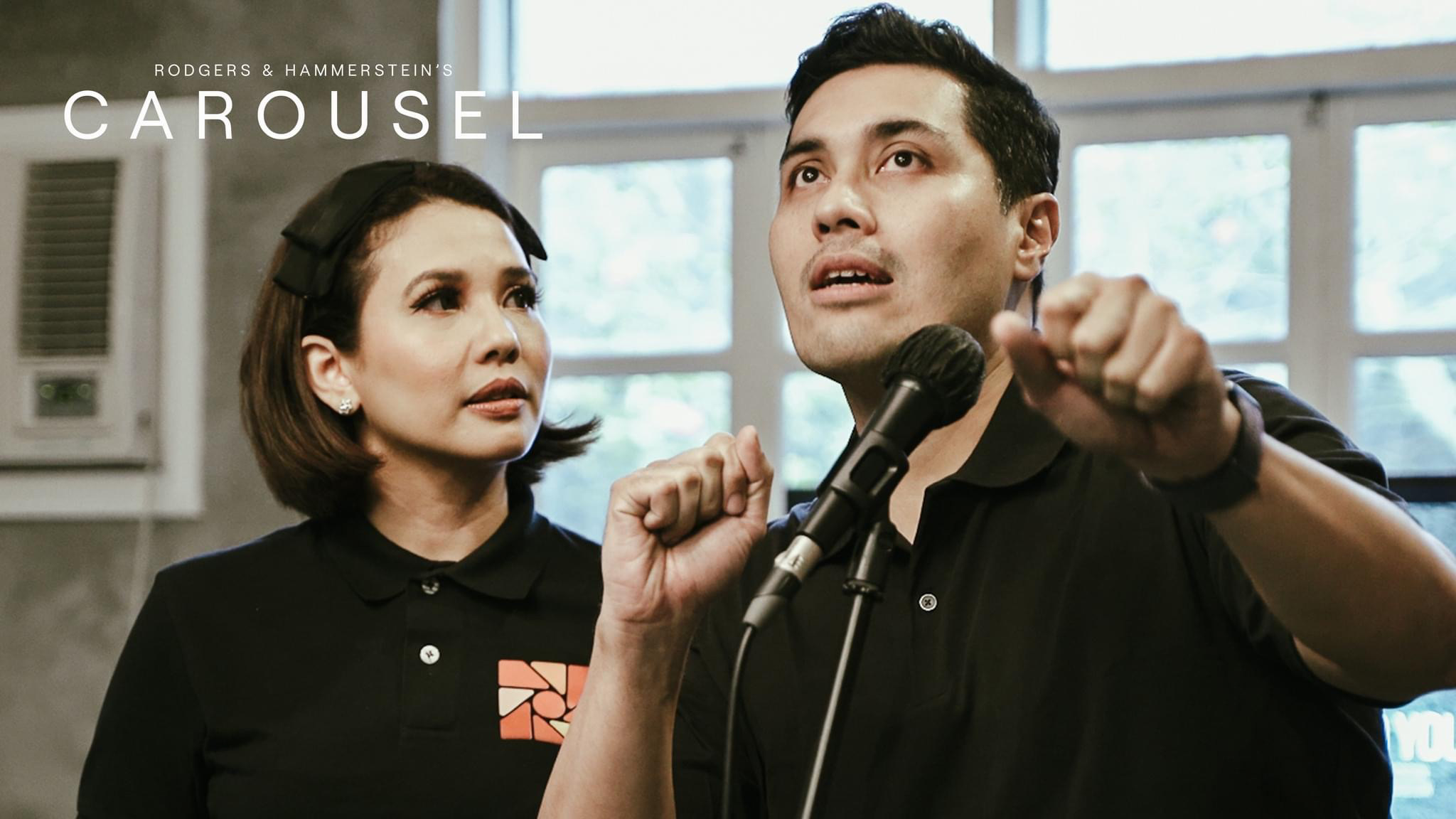 WATCH: REP's 'Carousel' Musical Performances Starring Gian Magdangal, Karylle
REP is returning to the stage with a post-modern, contemporary take on Rodgers and Hammerstein's Carousel at the new CCP Black Box Theater starting this November 26, 2022.

The show was originally slated to run last May 2020 at the Onstage Theater of Greenbelt 1, starring Gian Magdangal as Billy Bigelow and Nikki Gil as Julie Jordan. Even then, with Toff de Venecia at the helm (his directorial debut with REP), de Venecia already had the same artistic vision in mind. 
"If you've seen previous stagings of this show, there's always this harkening towards romanticism and grandiosity, which glosses over all of these things that we can no longer ignore at this point," says De Venecia. The musical, which opened on Broadway in 1945, is usually met with raised eyebrows when it comes to how it tackles gender roles and domestic abuse. "I'm most excited to being able to comment on this classical Rodgers and Hammerstein 20th century musical and sort of come from a 21st century, post-modern perspective."
He further adds, "I like to find the social justice component to any text, whether it's a play or a musical, and that was a way forward into the 2020 Carousel that we were preparing for."

Karylle Tatlonghari will now be playing Julie Jordan opposite Magdangal, both making their acting debuts with REP. Joining them is a 14-strong cast: Mikkie Bradshaw-Volante (Carrie Pipperidge), Lorenz Martinez (Mr. Enoch Snow), Mia Bolaños (Nettie), Noel Rayos (Jigger Craigin), Roxy Aldiosa (Mrs. Mullin), Red Nuestro (Bascombe), Gia Gequinto (Louise), Julio Laforteza (dancer), and Cara Barredo, Steven Hotchkiss, Paula Paguio, and Roby Malubay as members of the ensemble. Kyla Rivera-Soong, who is the show's Assistant Director, is cast as the female swing and Czar Decena is cast as the male swing.
The show also finds itself in a new venue, from a proscenium theater to a black box theater, thanks to a venue grant by the CCP.
"This is a musical that you would normally see in a proscenium stage, with set pieces and flies and costumes and choreography– all of these ingredients that create this alchemy of a romantic Carousel," shares de Venecia. "All of those bells and whistles, gone. We're returning to the text and the space and infusing it with intention. We take inspiration from Brecht and this empty space and trusting that if you infuse something with intention and energy, something will happen."
"What I'm excited about with limitations is that it always gives rise to possibilities and I'm always most excited working in a black box," adds De Venecia. "I always go back to [National Artist for Theater Design] Salvador Bernal, when he said poverty of resources does not mean poverty of the mind. We can still very much tell this story without all those bells and whistles and maybe this is a new vision for Philippine theater which we're excited to sort of explore."

The pandemic experience will not escape the production. "Seeing the experiences of a lot of people from our industry, and those who shifted industries all together, or turned to Kumu, or put up a food business, or passed away even, we're bringing all of that into the show," says De Venecia. "It's a post-modern take on a classical piece of material, so you're going to see all these post-modern, post-pandemic experiences somehow being layered to the text."
"We feel like it's necessary to be able to bring all of that into the show as sort of like a tribute to the 2.5 years that passed and we cannot deny that experience coming into the show."
Along with its other deconstructed elements, the production will also be using a 2-piano setup, which will be played live by musical director Ejay Yatco and Joed Balsamo.
De Venecia says that to his knowledge, this will be the first production of Carousel in the world that will be working with the 2-piano orchestration that's provided for by the licensor. "I think most productions have always opted for a live orchestra or a recorded minus one, so we're very excited with Ejay Yatco's take on the music."

Yatco shares that the music is traditionally played by a 24-30 piece orchestra. "Imagine all of those 24 instruments being inserted into 2 pianos," says Yatco. "It's quite difficult, which is why I had to get Joed Balsamo, who is one of the best pianists in the industry I know, to be the second pianist."
"It's a Carousel that we know, but it's also a Carousel that we don't, and how maybe that can present a vision for theater in terms of how it's going to be created post-pandemic," says De Venecia. "'We were shut down for 2.5 years. You don't go back to your thing with business as usual."
Also in the artistic and production teams are Stephen Viñas (choreographer), Charles Yee (set designer), Jodinand Aguillon (costume designer), Barbie Tantiongco (lighting designer), Glendfford Malimban (sound designer), Goldie Soon (production manager), Maxine Ramos (stage manager), Patricia Gregorio (assistant stage manager), and Jamie Wilson (technical and safety director).
Carousel follows the story of Billy Bigelow, a swaggering and carefree carnival barker, who falls in love with and marries Julie Jordan, a sweet yet naïve millworker. After learning Julie is pregnant, a desperate Billy is forced to participate in a robbery that ends in a tragedy. He is then given a second chance to make things right. 
You can watch Karylle Tatlonghari and Gian Magdangal sing 'If I Loved You' and Mikke Bradshaw-Volante and Lorenz Martinez sing 'When the Children are Asleep' in the video below. 
The show will run from November 26- December 18 at the new CCP Black Box Theater. You can buy tickets from Ticketworld.
Comments