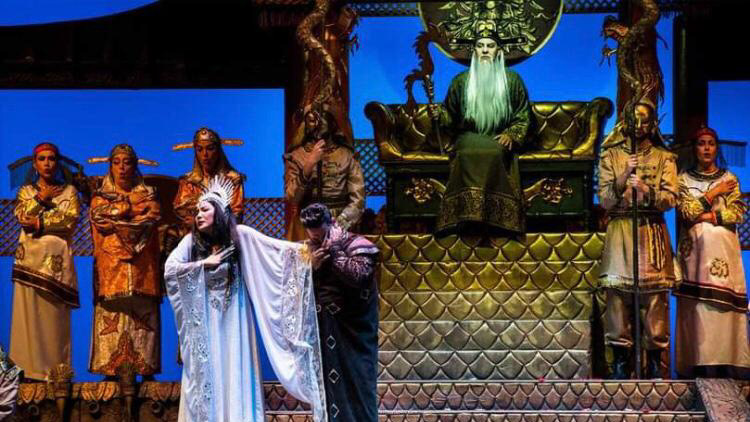 Puccini's 'Turandot' Opera to be Staged at the CCP this December
Puccini's opera, Turandot, will be staged for 2 shows only– a gala night on December 9, 8pm and a gala matinee on December 11, 3pm at the CCP Main Theater.
Italian Director Maestro Vincenzo Grisostomi Travaglini, who also directed Donizetti's Lucia di Lammermoor at the CCP in 2020, will arrive early November to direct. He will be joined by Prince Sisowath Ravivaddhana Monipong as assistant director and Giovanni Pirandello as lighting designer.
Three Korean artists lead the cast namely tenor James Lee as Calaf, soprano Lilla Lee as Princess Turandot and bass Jinsu Lee as Timur, the exiled Tartar king.
Soprano Rachelle Gerodias sings the role of Liu, Byeong In Park takes the part of Ping the Grand Chancellor with tenor Ivan Nery as Pong, the Grand Intendant. Also in the cast is tenor Nomher Nival as Emperor Altoum and baritone Greg de Leon as Mandarino.
Maestro Valentino Favoino will lead the Philippine Philharmonic Orchestra along with distinguished choral ensembles of the Viva Voce Voice Lab. Members of the opera dance ensembles will come from the ranks of Alice Reyes Dance Philippines.
Turandot in Manila was made possible with joint tie up with the Cultural Center of the Philippines, the Embassy of Italy, Filipinas Opera Society Foundation, Inc. and Rustan's Group of Companies.
The two-day opera gala is sponsored by LCS Group of Companies, San Miguel Corporation, Sta. Elena Construction and Development Corporation, BPI, Danny Dolor and Hilton Manila.
Zenaida "Nedy" Tantoco, one of the producers representing Rustan's Group of Companies, said she decided to tie up with the CCP in time for the celebration of the 60th year of the Philippine- Italian Association (PIA). "Presenting Turandot by Puccini would be an appropriate way to further promote Italian arts and culture in the Philippines and in the process raise funds for PIA," she pointed out.
She added Italian Ambassador Marco Clemente also encouraged her to produce and mount Turandot. "It is just timely that we are commemorating 75 years of diplomatic relations between Italy and the Philippines. The ambassador said he would be happy to co-sponsor two nights of the opera," Tantoco added.
You can get tickets from Ticketworld or from the CCP Box Office.
Comments