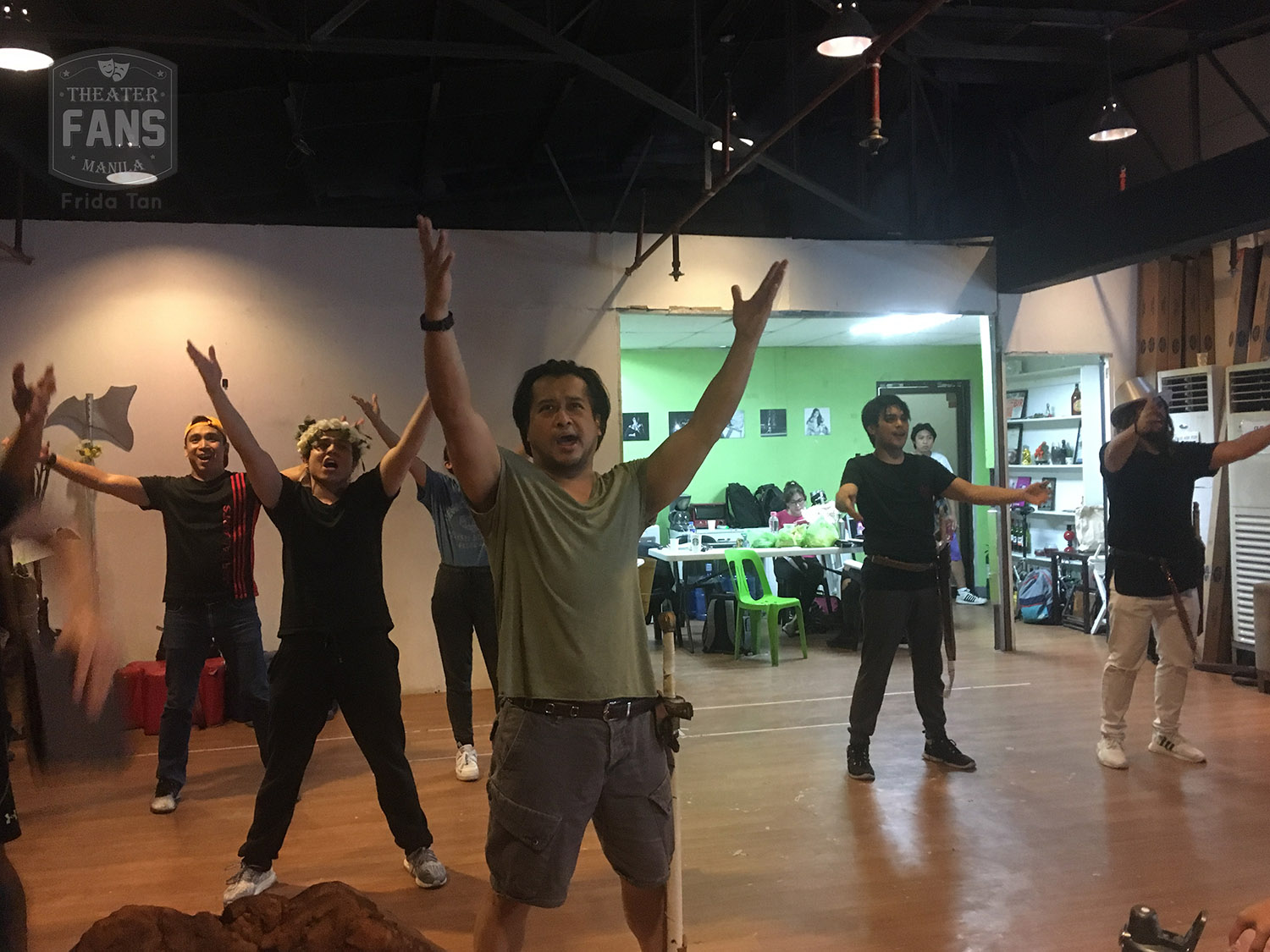 WATCH: Rehearsals from 'Monty Python's Spamalot' by Upstart Productions
Upstart Productions is re-staging Monty Python's Spamalot for a limited 2-week run from April 13-22 at the Globe Auditorium of the Maybank Performing Arts Theater. Its initial run ran from July 28-August 12 last year at the Carlos P. Romulo Auditorium to critical acclaim.
A winner of multiple awards worldwide including the 2005 Tony Award for Best Musical, the show was adapted by Eric Idle from the 1975 comedy film 'Monty Python and the Holy Grail.'
Upstart's hilarious cast features Rachel Alejandro and Carla Guevara-Laforteza alternating as Lady of the Lake, Noel Rayos, Dean Rosen, Reb Atadero, Bibo Reyes, George Schulze, Chino Veguillas, Roxy Aldiosa, Rachel Coates, Domi Espejo, Rhenwyn Gabalonzo, and Lorenz Martinez as King Arthur.
We sat down with Monty Python's Spamalot co-directors Joel Trinidad and Nicky Trivino as well as some of the cast members to ask them about their experience with the show.
Why did you choose to stage this musical?
Joel Trinidad: I've been a big fan of Monty Python for most of my life. My dad had the LP's pa. I bought all the movies on DVD. I've watched all their movies multiple times. Just a huge fan. I bought the complete box set of the 'Monty Python's Flying Circus' TV series. I saw the show years ago on Broadway, and I loved it, and I wasn't even producing shows yet at the time. When I started Upstart, I found out that the rights were available and that the show had never been performed professionally in the Philippines. For a show that's 13 years old, I lucked out and I found the rights. I generally produce shows that I enjoy myself.
With the show's inherently British humor, what do you think makes this show resonate with Filipino audiences?
Nicky Trivino: Actually when we did the run the first time, that was one of the things that we were discussing about, how to make it more Filipino. But then when we were scanning through the script, there's really no difference with humor when it comes to British humor and Filipino humor because they're both very dry and it's a lot of sarcasm involved. A lot of silliness. And it was also easy to bring out the comedy and make it Filipino because the cast is Filipino. So even if they're like half-British or half-something else (laughs), they're still Filipino. They grew up here. They know the sensibilities of Filipino humor. It's a lot of collaboration in terms of what they think is funny, what we think is funny, and finding something that unites everything.
Trinidad:  I think it's also interesting to note that we didn't make any extra effort to make it more Filipino. The material is just funny, period. If you have a sense of humor, you'll find it funny. It's really about what is universal. Because it's so silly that if a child can find it funny, and many children have watched this show, and loved it, then that's sort of the equalizer.
Everyone who's seen this show has been so impressed by this cast. How did you go about the casting?
Trivino: Probably half of them, we found through the audition that we had last year. But most of them we've worked with already so we knew what they were capable of. Then we thought, okay let's see if they fit any roles. It was actually harder for us to figure out who's playing what part because any one of them could have played any part. So it was really finding the right combination. And I think the biggest surprise is Dean Rosen because no one's ever heard of him. But after this, everyone keeps asking, 'Who's that guy? Is he new?' So it was really figuring out who plays what and I think the only person we knew who he was going to play was Loy [Lorenz Martinez] because he's the only one we could think of who could play King Arthur. And then everyone else was like, okay who plays what?
Trinidad: As audiences see when they watch the show, this is the perfect cast. We totally lucked out with this cast because everybody is so good. They're all very talented. Talent is easy in this country, but they're also funny, like funny on their own. They're very, very collaborative, and we like to collaborate. Our policy as directors is, 'Don't ask permission'. Do it. Show me what you want to do. Don't give me what I'm asking for. Do something, create something on your own, and if we like it, we'll keep it. If we don't, we'll tell you to stop. Don't ask permission. And these people are endlessly inventive and creative and they all just throw themselves into it. And that's why it's such a dream cast.
Did the comedy come naturally to everyone in the cast?
Reb Atadero: I think with something like this, Joel initially knew that we were, for lack of a better term, gago. So he knew right away that this person is crazy enough to do something like this. So I guess it's not that we found it right away. It's really more of, okay let's try it this way, let's try it that way, and then let's see what works. And I think we're all crazy enough to just keep trying new things. Until now, we're on our second run, and we're still trying new things in rehearsals. It's always fun.
Bibo Reyes: It also helps that Joel told us right from the get-go to not ask for permission. Just do stuff and he'll tell us if he likes it or not. He probably regrets that decision at this point. (laughs)
Atadero: Yeah, he would always say it's easier to ask for forgiveness than permission.
George Schulze : A lot of it comes from Nikki and Joel's trust; the freedom to say and do what we feel is instinctually correct. And normally it works out because of the relationship that we have.
Dean Rosen: Yeah 'cause we try things. We do it unannounced. Most of the stuff that we try just sort of comes out. And that's why it's been a really fun process to rehearse 'cause it's not really rehearsing. (laughs) It's like every rehearsal is stand-up/improv.
Schulze: The rehearsal process here is a really bad example of what a rehearsal process is in a normal theater show. It's like if you look at this and go, 'Oh that's how rehearsals…' No, it's not. This is a special case.
Reyes: I'm sure this has also been a very unique experience for the company as a whole compared to other stagings of Spamalot in other countries because I'm sure in more Western contexts, it's played a bit more tamed than the way we're doing it. But since we're here and the sensibilities are a bit more different, everything's just a little bit bigger, everything has a lot more gigil.
Schulze: Slapstick of British humor and slapstick of Pinoy humor really, really blend together pretty well.
You can watch excerpts from their rehearsals below!
You can buy tickets HERE.
Comments