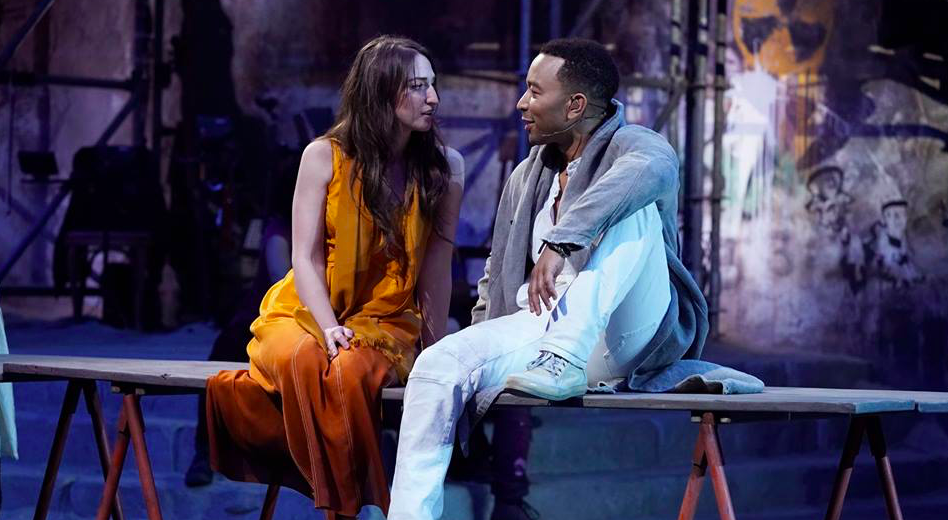 WATCH: 'Jesus Christ Superstar Live in Concert' Videos
The team behind NBC's live production of Jesus Christ Superstar has just released videos from the telecast, and they're heavenly.
The Easter presentation of Andrew Lloyd Weber and Tim Rice's opera was staged as a live concert at the Marcy Armory in Williamsburg, Brooklyn last night. Detailing the last week of Jesus' life, the musical started out as a concept album in 1970 before being adapted into a Broadway musical the next year, and a movie in 1973. There have been numerous productions since, including an arena tour starting at London's O2 in 2012. NBC's staging starred Grammy winner John Legend as Jesus Christ, Tony-nominated singer-songwriter Sara Bareilles (Waitress) as Mary Magdalene, and Brandon Victor Dixon (Hamilton) as Judas Iscariot.
Probably the signature number and definitely one of the most demanding ones from the show is "Gethsemane", depicting Jesus's agony before his impending death. Watch John Legend deliver his heartfelt rendition below:

Sara Bareilles drew cheers for the emotional "I Don't Know How To Love Him", as her character  contemplates the profound effects that Jesus has on her.
We can file this one under "It's Complicated." #JesusChristSuperstar pic.twitter.com/GWLf4nAEDI

— Jesus Christ Superstar (@JCSTheMusical) April 2, 2018
Bareilles also shared the stage with Legend and Dixon in "Everything's Alright", where Mary Magdalene tries to intervene in the escalating conflict between Jesus and Judas.
Alice Cooper's shock rocker sensibilities were a perfect fit for the slightly unbalanced King of Galilee as he taunted Jesus in "King Herod's Song" and pranced around on stage like he was in one of his raucous concerts.
Early reviews for the show are generally positive, and fans have taken to social media to share their glowing assessments, and in particular to praise the performances by Bareilles and Dixon. Jesus Christ Superstar Live in Concert is the latest live offering from NBC, whose previous productions include Grease: Live and Hairspray Live in 2016, and A Christmas Story Live last year.
You can watch more videos on Jesus Christ Superstar's Facebook page.
Comments