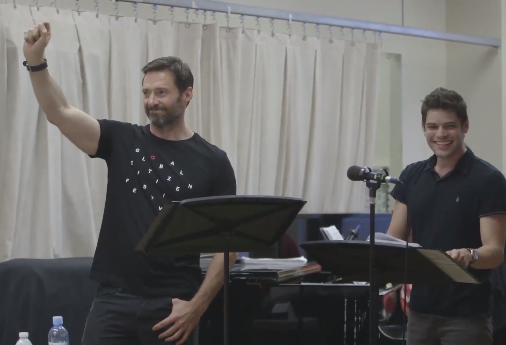 WATCH: Hugh Jackman, Jeremy Jordan and more Sing The Greatest Showman's "From Now On!"
In this exhilarating behind-the-scenes video, director Michael Gracey and Hugh Jackman talk about how they got 'The Greatest Showman' green-lit.
Gracey begins by saying, "We had to get everyone into New York City to hear a read-through, where we'd read-through the script and sing it. We needed the Fox Executives, we needed Hugh, we needed the producers, and it took 8 months to get everyone in the room." Unfortunately, once they managed to get everyone together, Jackman had just gotten skin cancer removed from his nose and was not allowed to sing by his doctor. He succeeded in acting out all the scenes instead while the rest of the company sang, but couldn't contain himself any longer when they started singing the film's 11-o'clock number.
The film stars Hugh Jackman, Zac Efron, and Zendaya, along with Michelle Williams and Keala Settle, who was recently seen on Broadway in the musical 'Waitress'. Oscar and Tony-winning songwriters Benj Pasek and Justin Paul, known as Pasek and Paul (Dear Evan Hansen, La La Land), wrote the songs for the film, with a screenplay by Jenny Bicks and Bill Condon, and direction by Michael Gracey. 'The Greatest Showman' is inspired by the story of impresario P.T. Barnum and how he established the circus that became known as the Ringling Bros. and Barnum & Bailey Circus. A live commercial of the film was aired live only a few days ago, a first for television history.
'The Greatest Showman' will be shown in local theaters on Jan. 31, 2018.
Watch Hugh Jackman, Keala Settle, Jeremy Jordan, Cynthia Erivo, and more sing this rousing number from the highly-anticipated movie musical in the video below!
Comments