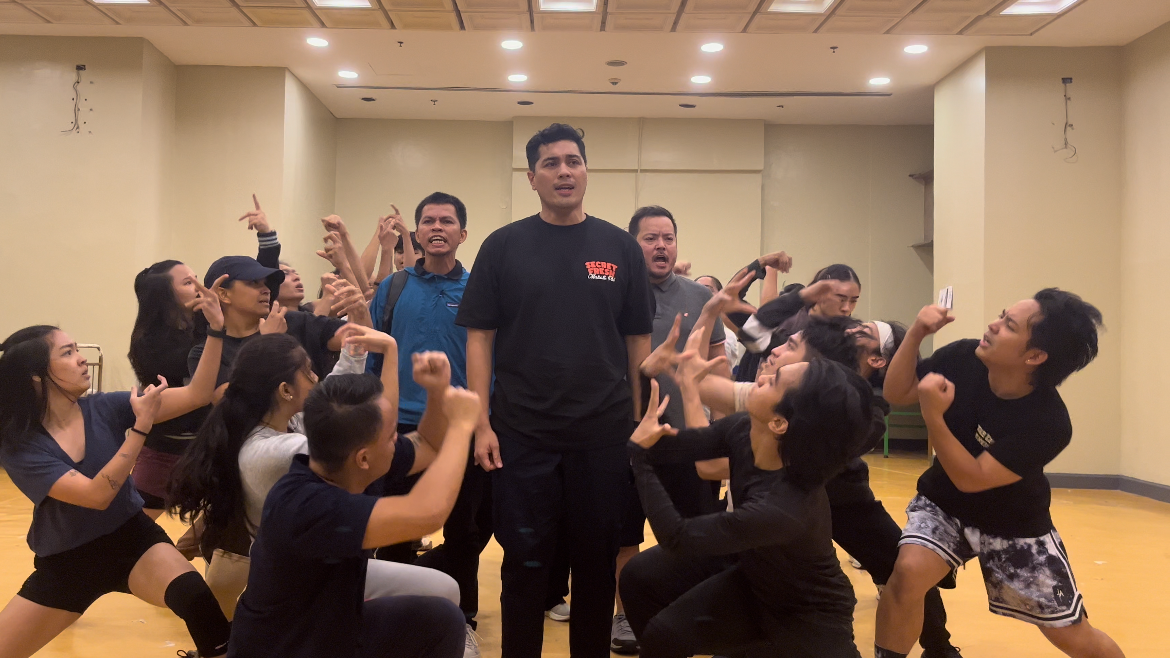 WATCH: 'Ang Huling El Bimbo' Cast Performs 'Alapaap', 'Waiting for the Bus', and 'Cha Dely Medley'
Full House Theater Company's Ang Huling El Bimbo (AHEB) is coming back for another run this year starting April 21 at the Newport Performing Arts Theater of Newport World Resorts.

Having had 3 live runs in the past, which first opened in July 2018, the production also streamed online at the height of the pandemic in May 2020. Full House Theater Company's Co-Artistic Director Menchu Lauchengco-Yulo says that coming out of the pandemic, they've decided to give theater a real kickstart by staging Ang Huling El Bimbo again. "…theater is back and we are live and hopefully tuloy tuloy na iyan as we continue to produce to the best of our abilities Pinoy original musicals."

She says that AHEB has brought in a lot of new audiences for Philippine theater because of its relatability. "There is a Joy in the audience, there is a Hector in the audience, there is an Emman in the audience, there is a Tiya Dely in the audience, so we have been able to bring in people who have never seen a theater presentation before and hopefully we create a whole new generation of theater-goers by giving them material that they can latch on to, that they can connect with, that doesn't feel foreign to them, and it's real to them. For me that is that beauty of AHEB and this little gem of a show that we have created."
Is there anything new that audiences can expect to see? Director Dexter M. Santos shares, "At the end of the day, we really want to keep the identity of the show but also nag-mamature, kapag na-rerestage nag-mamature din in terms of choices and you see that we have a new cast. So we really cannot copy, we really cannot pattern. I think the beauty of theater is that no two performances are the same."
He says that there are also a few tweaks and added texts to fit the personalities and sensibilities of the new cast, but there is no big overhaul. "It's a matter of improving and enhancing the production."

Only a handful of principal cast members have returned for the upcoming run– Gab Pangilinan as Young Joy, Topper Fabregas as Young Anthony, Gian Magdangal as Adult Hector, Sheila Francisco as Tiya Dely, and Jamie Wilson as Arturo Banlaoi. Paw Castillo, who was previously a member of the ensemble in the 2019 run, returns to play Young Emman. New cast members who have been given featured roles include Nino Alejandro as Adult Anthony, Bullet Dumas as Adult Emman, Anthony Rosaldo as Young Hector, and Katrine Sunga as Adult Joy.
Apart from current co-choreographers Stephen Viñas and Fritz Esase and returning cast members Natasha Cabrera, Jules Dela Paz, Red Nuestro, and Jasper Jimenez, the ensemble is also composed of a predominantly new cast – Anna Francesca Quimno, Miah Canton, Teetin Villanueva, Julia Santiago, Kalaylah Villanueva, Cara Barredo, Liway Perez, Abi Sulit, and Mica Fajardo as members of the female ensemble, and Mark Anthony Grantos, Gie Onida, Jordan Andrews, Joshua Bajado, Francis Gatmaytan, Rofe Villarino, Eduardson Evangelio, Emmerson Evangelio, Rapah Manalo, and Jep Go as members of the male ensemble.
Another big change that audiences can expect is the choreography. Santos, who took the helm of the choreography during the past 3 runs, has passed the baton to previous associate choreographers and now co-choreographers Stephen Viñas and Fritz Esase. Both have since tweaked most of the numbers and have changed the choreography by 90%. "For this new batch of cast, we were able to utilize their skills and their strengths," says Viñas.

In terms of sound, musical director Myke Salomon has also changed a number of harmonies in the show. When asked about the possibility of a new cast album with the 2023 cast, Salomon says, "Probably, possibly. If we are given the chance to record again, because the last one was just some songs from the musical, and it's still the 2018 version. So hopefully we can update. It's up to Full House."
Set to the music of 90's band The Eraserheads, the story follows three friends who have drifted apart in adulthood until fate reunites them to confront their haunted past. The show is written by Dingdong Novenario, with musical direction and musical arrangements by Myke Salomon, additional scenes and dialogue by Floy Quintos, set design by Gino Gonzales, lighting design by Monino Duque, projection design by GA Fallarme, sound design by Rards Corpus, costume design by Marlon Rivera, and choreography by Stephen Viñas and Fritz Esase. It is directed by Dexter M. Santos.

The show opens on April 21, 2023 at the Newport Performing Arts Theater of Newport World Resorts. You can buy tickets from Ticketworld.

You can watch excerpts from the show in the video below.

Comments