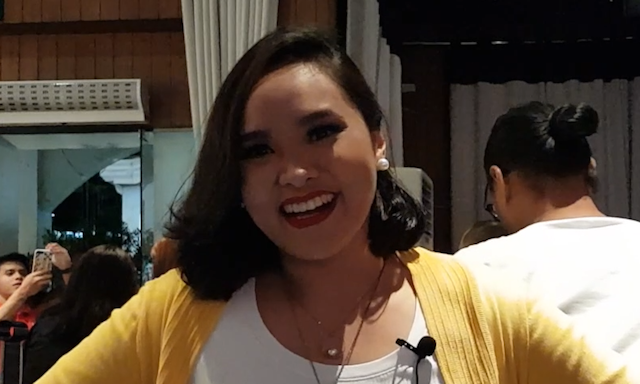 WATCH: A Quick Minute with Cris Go
Cris Go will be part of Ballet Philippines' upcoming production of Rama Hari as part of the Ryan Cayabyab Singers. Go was last seen on the theater stage as Roxane in Mula sa Buwan.
Rama Hari will run from March 20-29 at the CCP Main Theater. Get to know a little more about her in our Quick Minute feature. You can watch the condensed and edited video below.
I'm a big fan of…
Artists, in theater, in writing, in visual arts. Artists are very unique.
Hardest thing about being in theater?

For me, kasi it was my first time in Mula sa Buwan. There are certain protocols, and now, I got through it and I'm super happy.
Biggest play or musical influence?
Mula sa Buwan, the one before our run. It really made me want to be there!
If you weren't in theater, what would you be doing?
I'd be doing my hobby, which is writing songs, or classical singing.
First production you remember seeing?
An opera, it was La Boheme in CCP.
What got you into theater?
I was with a company before, and there was plenty of theater influences. It gave me plenty of outlets to perform. I noticed that even in classical singing, there's plenty of theater involved. You don't just stand and sing with a piano. It's more than just being a soprano with a pretty voice.
Best advice you've ever been given.
[From] Pat Valera. Audacity, be audacious. You have to have the verve and the courage to really get yourself out there, to make yourself vulnerable, and to show your truth.
First stage kiss.
Alam mo sadly, wala pa. (laughs) Come on guys, gusto ko ng stage kiss.
What's your ultimate dream role?
Christine from Phantom of the Opera. 
What was the last show that made you cry?
Dekada '70. Every scene doon umiiyak na ako.
Hardest scene or song you've ever performed.
Ang Sabi Nila [from Mula sa Buwan]. Apart from it being a heart-wrenching song, you have so much of yourself that you pour out in that song.
Comments