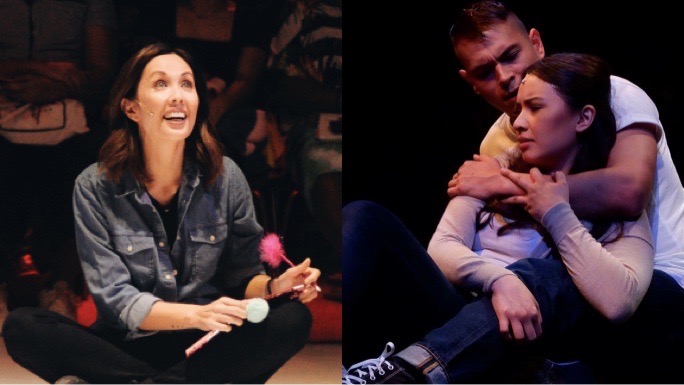 Sandbox Fest 2020 sparks crucial conversations about mental health and climate change
This March, Duncan Macmillan's Lungs and Every Brilliant Thing will be returning to the stage through a shared space and shared advocacy – expanding and normalizing the conversation on mental health and climate change. Both plays enjoyed critically-acclaimed and sold-out runs in 2018 (Lungs) and 2019 (Every Brilliant Thing). Through this re-run, called "Sandbox Fest 2020," the Sandbox Collective re-affirms their commitment to delivering theater about relevant issues that resonate with the audience.
"These particular shows have been chosen because they have connected with a lot of people." says Caisa Borromeo, assistant director of Lungs. "There are so many people who don't know how to communicate or how to talk about what they are going through in life everyday. And we're not aware that there are so many of us. It's so nice to be able to connect with people, to be able to talk to people, to be able to create a space where people feel safe and open about being able to talk about it because they're like, they see that, okay, someone is doing something about communicating, to make us feel that it's okay to address these issues and stories."
The schedule for both plays is as follows: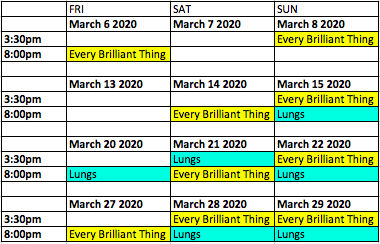 'Brilliant' return
Every Brilliant Thing is told through the perspective of an individual who faces her mother's depression by beginning to write a list of things that make life worth living, such as ice cream and being allowed to watch TV. 
Sandbox's managing artistic director and co-executive producer Toff de Venecia added, "With Every Brilliant Thing, we were happy to have done our share in shedding light on the subject of mental health that continues to grip the country today. Now with natural disasters occurring left and right, and significant doubt materializing in the age of anxiety, perhaps Lungs has gained a horrific new timeliness as well."
Jenny Jamora will return to direct the rerun, with Teresa Herrera and Kakki Teodoro alternating for the role.
"I really look forward to doing the show," Teodoro said, "It's such a beautiful piece. It's even more relevant this year. We will be doing this with a whole new perspective. […] Not just personally but globally, we've been through so much,"

"The run last year affected so many people and it was really personal," Herrera added, "People were asking for advice. This is a topic that needs to be discussed and taken the stigma out of. It's not always gonna be brilliant but life gets better, that's the message of the show." 
"The show is interactive, that's where the magic happens, when you interact with the audience. I feel like it's wonderful that these are not performers, they're not actors, we don't pre-pick people. […] You really see the humanity of how we can be kind and help one another through a crisis."
"As the show allows the audience to shape their particular evening's (or matinee's) show via different points of audience participation, so every member of the audience is called to be part of our nation's mental health conversation." says Jamora.
Modern love
Lungs is about a couple who engages with questions about babies, love, sex, betrayal, and change in one unbroken conversation that spans decades. Andrei Pamintuan, who will return to direct, said, "I want audiences to take away how intense, complicated and beautiful relationships can be."
Joining Pamintuan is Caisa Borromeo as assistant director, Jodinand Aguillon will be production designer, and Miguel Panganiban will be lighting designer. Returning also are stars Jake Cuenca and Sab Jose.
"I'm excited to go back to the script again, reading it again, opening the script again […] there are so many things that I was struck by personally when I was acting it the first time around, because it's such a relatable script." says Cuenca.

Cuenca, who is a frequent screen actor, also expressed his appreciation for his first experience on stage. "The transition from film and TV to stage takes a lot of guts. But I strongly encourage all aspiring and present actors to take the time to do theater because it's very much empowering. TV is a writer's medium, film is a director's medium, but theater is an actor's medium."
De Venecia also talked about the importance of choosing pieces that will mean something to the people watching and that can also help initiate important discussions about difficult issues. "I think it's just our North Star, and our guiding light," say De Venecia. "Whether they're commercial work or off-Broadway or fringe work, we're always going to find the social component to it because we believe also in using the theater as a forum to discuss ideas, to discuss issues, to raise awareness."
Sandbox Fest 2020 will run at the Zobel de Ayala Recital Hall, 2/F Maybank Performing Arts Theater, 9th Avenue cor. 26th Street, BGC, Taguig City from March 6 until 29, 2020.
Comments