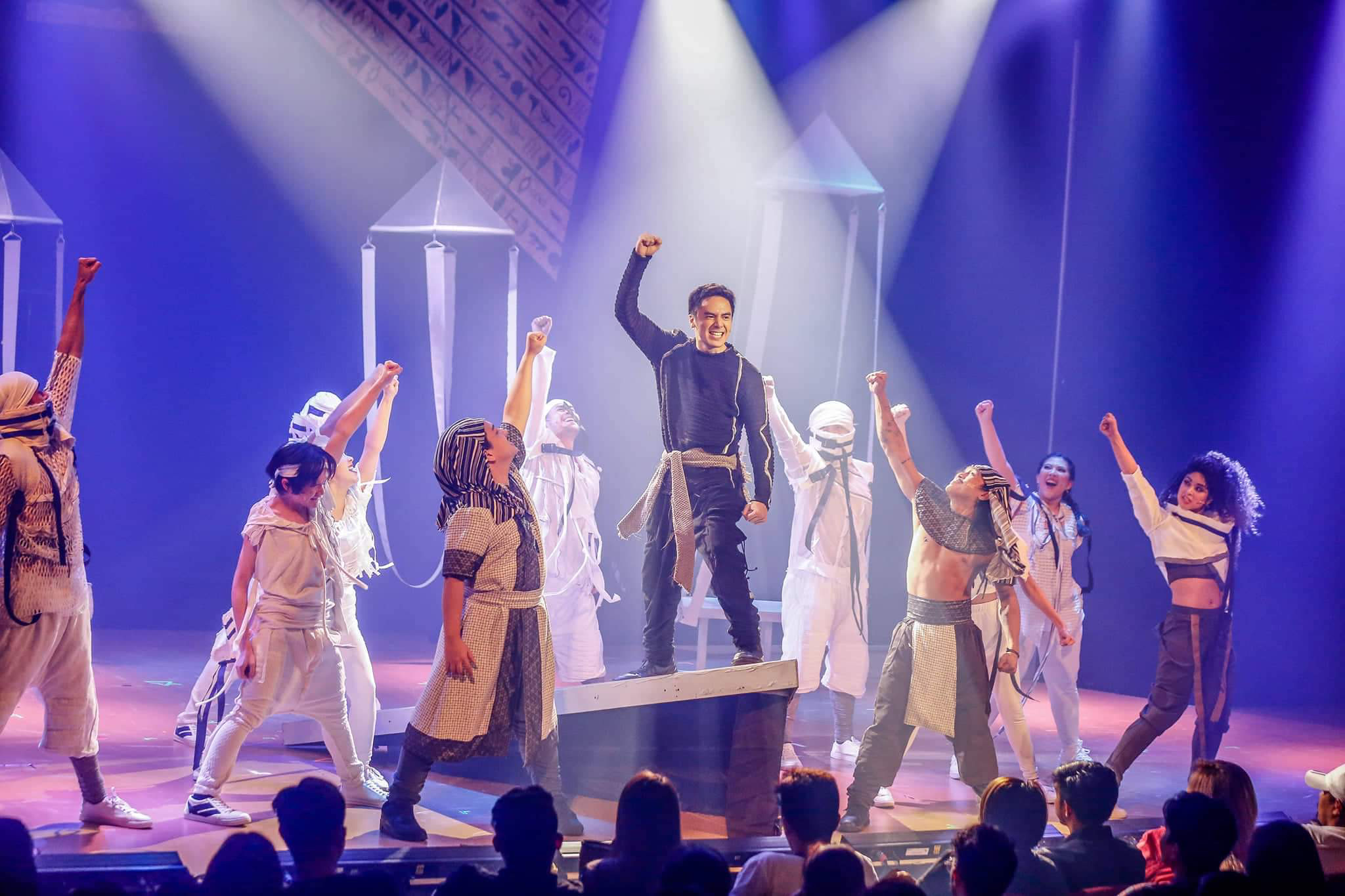 REVIEW: "Joseph the Dreamer" is a kaleidoscope of music and movement
"Joseph the Dreamer" is an energetic journey through dreams and dance, silhouette and song, all elements coming together to tell an age-old tale of faith and redemption.
Light pierces through the dark stage and shines on the sleeping figure of a young man, lost in his dreams. A narrator introduces the audience to the hero, and welcomes them into his epic journey as "Joseph the Dreamer" begins. What follows is a colorful celebration filled with singing, dancing, drama, and even a bit of comedy.
The eponymous hero of "Joseph the Dreamer" is a young Hebrew blessed with the gift of interpreting dreams, who is the favorite son of his father, Jacob. When his jealous brothers sell him off as a slave in Egypt, he undergoes a harrowing journey that tests his faith in God that ultimately leads him to reconciliation and redemption.
There is something in this show for everyone, whether for those religious audience members who want to see a celebration of faith, or for audiences who simply enjoy a beautifully-executed musical. This show is musical theater at its best, from the charismatic performances, the modern arrangements of old songs, the imaginative choreography, the colorful costumes, and the surreal dream sequences. Director Paolo Valenciano and associate director Nelsito Gomez have reinvigorated an age-old tale with a contemporary sensibility. The result is a wonderful combination of all these elements to tell a classic tale of faith and redemption. 
Being a character-driven piece, much of the show's success depends on its Joseph. And Sam Concepcion delivers and then some. His turn as Joseph is multi-layered and he is able to expertly portray the growth of the character from his charm, confidence, naïveté at the beginning, to disappointment, despair, fear during his ordeals, and ultimately, his compassion, humility, and faith. And while he has always been an excellent singer, his achievement here is made all the more impressive because he needs to sing while dancing elaborate numbers. In fact, his dancing skills are also showcased in this production and Sam is a revelation, particularly during "He Opens a Window" where he performs an emotionally-charged interpretative dance to complement Bituin Escalante's rendition of the song. His energy never falters throughout the show and that's what makes it such an effective production.
Audie Gemora brings the expected gravitas to his role as the patriarch Jacob but also infuses his performance with moments of heartwarming humor, his sternness with his older sons contrasted against his tenderness when interacting with Joseph or reminiscing about his wife, Rachel. His reaction upon learning that his favorite son might be dead is truly heart-wrenching, which makes his eventual reunion with Joseph all the more beautiful. But a highlight of his performance is the moment where he acknowledges his own failings as a father that may have contributed to his older sons' jealousy and discontent.
All of Joseph's brothers played their roles well enough, showing collective jealousy, remorse, and then joy at their eventual reunion. They performed their songs and dances creditably though none of them stood out in particular during the show. Much like the dwarves in The Hobbit trilogy, there was very little time in the story to establish distinctive personalities for each brother so their performance is memorable only as a group.
This production decided to give more prominent roles to the female characters and it showed with the three main female leads. Kayla Rivera was charming and engaging as Asenath, first serving as a narrator of the story, skillfully belting out key musical moments, and then later on, playing Joseph's wife.
Bituin Escalante as Rachel only appeared for a few flashback scenes but when she made her big musical number, "He Opens A Window," she had the whole theater in her thrall. This was a pivotal moment in the story that only gained more power and significance through Escalante's distinctive voice. 
Alys Serdenia steals the scene as Mrs. Potiphar in a particularly memorable musical number that is equal parts Dreamgirls and Chicago, where she displays her impressive singing and dancing skills in an attempt to seduce the hapless Joseph. 
Carlo Orosa as the Pharaoh was a delightful scene-stealer as he played his part with a mixture of flamboyance and authority that, in less skillful hands, would have come across as ridiculous but with him, it worked. It also helped that he wore a costume that can best be described as "shining, shimmering, splendid."
The cast's performance as a whole was truly admirable and affecting. They really captured the complex dynamics of a large family and the internal conflicts that sometimes arise therein. Given how familiar this story is to so many people, it is a testament to the actors' portrayals that the wholly-expected reconciliation scene between Joseph and his brothers still managed to elicit emotional responses from the audience, even moving some to tears.
Another impressive feature of Dreamer was the lighting design, particularly during the dream sequences that are so integral to the story. The way lighting designer Dong Calingacion creatively used silhouettes and shadows, ultraviolet lighting and neon colors, gave each sequence a truly dream-like quality that was in line with the themes of the show.
The overall production design (Mio Infante) was likewise remarkable, particularly for the scenes in Egypt, with the walls of the stage decorated with hieroglyphs. There was an interesting contrast between the opulence of the prosperous nation against the drab background of the agricultural Canaan. Every aspect of the story was given showed with meticulous detail and that was what was so admirable about this production.
Music and movement are among the highlights of Dreamer with the modernized arrangements of the classic songs and the energetic choreography of each number. All the singing and dancing were essential parts of the production, always complementing the story but never distracting from it. Musical director Myke Salomon experimented with different genres of music, integrating the original 80s songs with influences from hip hop, R&B, and gospel music. The effect is a very modern sound that will appeal to the younger generations while maintaining the hopeful, soulful messages of the original pieces.
Choreographer MJ Arda likewise integrated diverse genres into each dance number, notably hiphop, contemporary dance, and sometimes even Bollywood-style moves. This creative fusion gave the talented ensemble opportunities to strut their stuff and to show the range of their abilities while making every musical number dynamic and invigorating, adding more color and life to the stage. The finale was a particularly upbeat number with an infectious energy that invited the audience to join the festivities.
"Joseph the Dreamer" is a triumph – a joyful, jubilant journey that invites audiences to break into song and dance to celebrate the wonders of a world where families are reunited and hope is restored.

Tickets:

 Php 1,000.00 - Php 2,500.00 


Show Dates:

 Feb 21 '20, Feb 22 '20, Feb 23 '20, Feb 28 '20, Feb 29 '20, Mar 1 '20, Mar 7 '20 


Venue:

 Maybank Performing Arts Theater, BGC Arts Center, 26th St. cor. 9th Ave., Bonifacio Global City


Running Time: 

 Approx. 2 hours and 10 minutes (includes a 15 minute intermission)


Credits:

 Paolo Valenciano (Director), Nelsito Gomez (Associate Director), Myke Salomon (Musical Director), Mio Infante (Production Designer), MJ Arda (Choreographer), Rards Corpus (Sound Designer), Dong Calingacion (Lighting Designer), Myrene Santos (Hair and Makeup Creator)


Cast:

 Sam Concepcion, Audie Gemora, Kayla Rivera, Bituin Escalante, Carlo Orosa, Aldo Vencilao, Alys Serdenia, RJ Dela Fuente, Matthew Barbers, Carlos Canlas, Neo Rivera, Paul Valdez, Jim Ferrer, Renz Bernardo, Drei Tan, Paul Fausto, Ade Valenzona, Guido Gatmaytan, Mitzie Lao, Jom Logdat, Coleen Paz, Samantha Liao, Kathleen Francisco, Eli Luis, Elai Estrella, Lani Ligot


Company:

 Trumpets
Comments