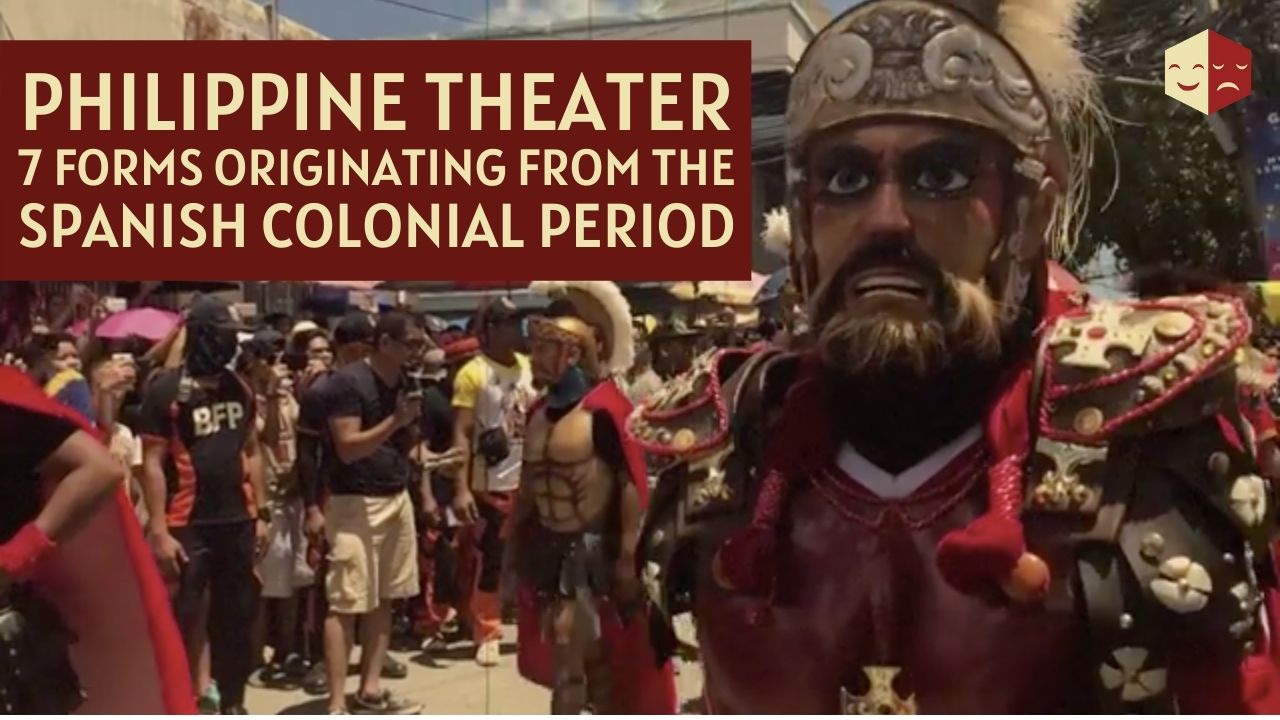 WATCH: 7 Forms of Philippine Theater During the Spanish Colonial Period
Here's a not-so-fun fact for you: in the three whopping centuries the Spaniards were on Philippine shores, they used theater forms like the sinakulo and the komedya to spread Catholic dogma and keep Filipinos under Spanish rule. Fortunately, things took a turn for the secular during the 19th century, and Filipinos eventually started creating and staging plays that reflect our culture better, with some even written and staged to speak truth to power.
But before protest plays and American-inspired modern styles, we're going to take a look at the storied history of theater in the Philippines during colonial times when the Spanish colonial period birthed here so many different forms of theater, it's enough for its own video!
You're watching TFM's Theater 101. I'm Nicole and this is 7 Forms of Theater in the Philippines During the Spanish Colonial Period.
In this video, we talk about theater forms that arose during the Spanish rule. Some major forms like the sinakulo, sarswela, and moro y cristianos were already covered in a previous video. This time, we'll focus on forms Filipinos would've likely seen or staged during major Catholic holidays like Christmas and Lent, or during a town's local piyesta.
1. Komedya De Santo.
If you grew up Catholic, then you know that Christians love their saints. Pick a place, activity, or thing and there might be a patron saint for that. Back when the Spaniards were occupying the motherland, they celebrated these saints by staging their stories, the miracles they brought on, or anecdotes from their lives. These shows sometimes also tell the story of Christ. They called these shows a 'komedya de santo'.
These shows are usually based on a hagiography, or the written life of a saint. They're usually written in octosyllabic (meaning 8 syllables) or dodecasyllabic (meaning 12 syllables) quatrains. They're lively productions that feature batalla or choreographed fights, and magia, or magical effects. If you wanted to watch a komedya de santo, you would've had to wait for the saint's feast day, such as the popular Comedia De San Miguel that is still performed during the Diyandi Festival in Iligan every end of September.
2. Drama.
In the Spanish context, 'drama' is a play in prose that features little to no music. Some forms of drama during that time would have a song or two to break up long stretches of dialogue. These 
plays are usually about current issues of the time, but of course depicting values and morals the Spaniards would approve of.
The drama had three general types: the "drama simboliko" that is usually commentary on political or social norms, the "drama romantiko" which are stories of–you guessed it—romance or even love for family, and the "drama comico" which are humorous plays staged to make people laugh.
3. Panunuluyan.
Since the Spaniards were all about Catholicism, the mother of all Christian holidays had its fair share of theater forms during the Spanish period, called 'playlets' often performed around Christmas festivities.
One example of a Christmas playlet is the 'panunuluyan'. It's a dramatization of Mary and Joseph's experience in Bethlehem trying to find a place to stay for the night. Usually staged during Christmas Eve, it features two floats with the images of Mary and Joseph, accompanied by singers and a band. The procession would actually stop by three houses where they sing their plea to stay the night. The panunuluyan ends at the church and the midnight mass begins.
In 1979, the Philippine Educational Theater Association, staged a play inspired by the panunuluyan titled, "Ang Panunuluyan ng Birhen Maria at San Jose sa Cubao, Ayala, Plaza Miranda, At Iba Pang Lugar sa Loob at Labas ng Metro Manila."
4. Pastores.
Another Christmas playlet is the 'pastores', which literally means "shepherds". It's a short play showing the journey of Bethlehem's shepherds towards the infant Jesus when he was born. The way the pastores is staged depends on the region, but usually presented as part of the town's communal Christmas Eve event, or a few days before Christmas. 
In Bicol, for example, their pastores typically features 12 female shepherds who go door to door singing Spanish 'villancicos', or carols, including "Pastores a Belen", which was supposedly composed by Jose Rizal. In Visayas, the pastores is performed by children. Cagayan also has its own version of the pastores, called the infantes, which features girls, boys, and even giants representing the Three Kings! 
5. Salubong.
Lent is also a major Catholic holiday, and the journey of Christ's passion and resurrection naturally gave birth to many different types of theater forms that began during the Spanish period. One of the most well-known is the salubong which originated from via crucis, or a procession that commemorates the fourteen stations of the cross.
The salubong is a dramatization of how the Sorrowful Mother meets the Risen Christ on Easter Sunday. It's an elaborate event, where two floats on opposite ends of the town begin their procession at the crack of dawn until they eventually meet. 
This theater form has taken different shapes through the centuries. During the 20th century, theater companies in Metro Manila presented salubong to amplifying social causes, such as the 1984 Salubong sa Maynila, and the Kalbaryo ng Maralitang Tagalungsod, performed on the streets of Manila from 1988 to 1992.
6. Siete Palabras.
It's possible you've seen a 'siete palabras' in your local Church or even on television during Holy Week, specifically on Good Friday. This theater form depicts the last three hours of the life of Jesus when he says his Seven Last Words, or his 'siete palabras'.
It's usually more of a ritual than a performance, beginning with liturgy and homilies about these seven last words, delivered by a priest from 12 noon to 3 PM. Afterwards, a presentation of Christ's death, and how Nicodemus and Joseph of Arimathea removed the body of Jesus from the cross. This presentation even stretches to a 'wake' for the image of Jesus, where constituents can pay their respects, and a procession that symbolizes the body's burial called the "santo entierro" ensues.
7. Moriones.
Marinduque is well-known for its Moriones Festival, which culminates in the reenactment of the Roman soldier Longinus, known for piercing the side of Christ's body but witnesses a miracle which convinces him of the divinity of Jesus. The moriones presentation also shows how Pilate orders Longinus to keep quiet about what he witnessed. Defying orders, he spreads the word about Jesus and was beheaded for it.
With distinct costumes featuring a maskara, or mask, and turbante, or headgear, the moriones remains popular in Marinduque. Did you know that men who want to be part of moriones, or become a moryon, had to take a vow and atone for their scenes? They also keep their identity secret, singing or speaking in unrecognizable tones to remain anonymous.
There you have it! These are seven forms of theater you would've been able to watch if you lived in the Philippines during the Spanish colonial period. And you know what? This video doesn't even cover all of them! Did any of these sound fascinating? Do you wish you were a theater fan during the Spanish rule? 
Over on TFM, we like giving you more of what you want. So hit that subscribe button and don't miss any theater-related content in and about the Philippines.
Got your own Philippine theater fun facts to share? Or maybe you've got an idea for a theater-related video yourself? Leave a comment and let us know what you want to see next!
Comments