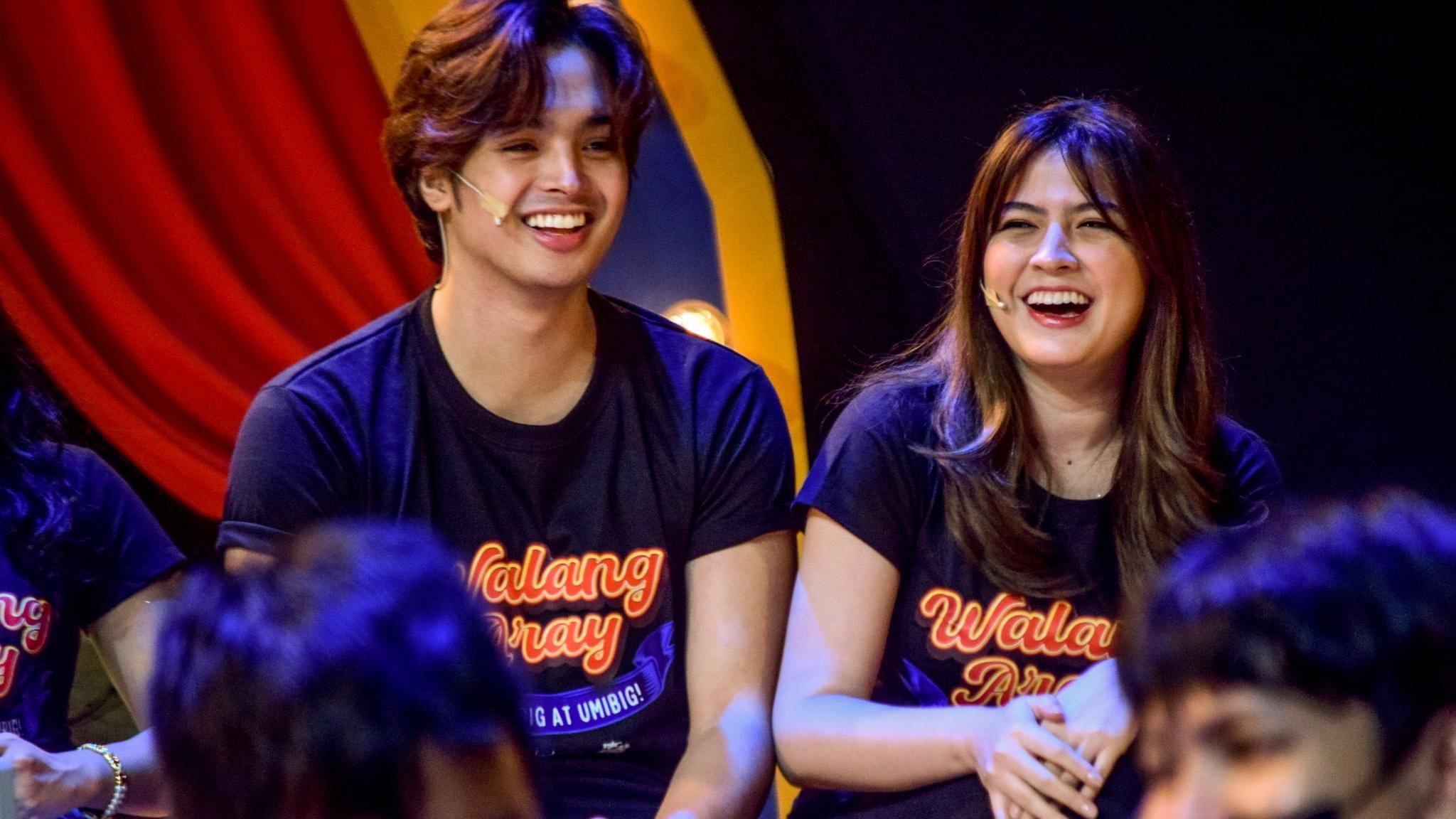 'Walang Aray' Musical Stars KD Estrada and Alexa Ilacad Share Their Stage Experience
One of the most awaited things about PETA's upcoming run of its new musical Walang Aray is the casting of Star Magic pair KD Estrada and Alexa Ilacad, popularly known as KDLex, as leads Tenyong and Julia, in what would be their theatrical stage debuts.
During the media preview held last November 28, the couple talked to the press about their experience with the show, what it feels like to be acting on stage, and the things they have learned during the entire process.
What was the biggest challenge that you had to overcome in terms of acting on screen to acting on stage?

KD: The biggest challenge po dito, wala pong take 2. Wala pong cut. Kapag nagkamali ka sa stage, wala, derederetso lang iyan. They can't stop it. So that's one of the biggest challenges here.

And especially sa akin po, I was born and raised speaking in English kahit dito po ako pinalaki. So that was one of the biggest struggles for me, kahit na nasa taping ako. Hindi po ako magaling magTagalog. Hindi ko makabisado iyung mga lines ko kasi ang hirap. Sobrang haba. May slang ako. Kahit ngayon, may slang pa rin. I'm really practicing speaking Tagalog everyday, kahit sa mga parents ko. Tinatagalog ko na sila.

Just being on stage and you cannot make mistakes. Singing din. Singing is a big struggle. I love singing, but theater singing is different. I am an R&B singer. I don't really have much diction when I sing. When I sing it's very nasal, but here, kailangan buo talaga. I'm working on it and I'm excited for next year.
What was your first reaction when you found out that you were going to star in a musical?

Alexa: When we were in New York last August, we watched musicals, thanks to [Star Magic head] direk Lauren [Dyogi]. He introduced us to musicals, and while we were watching, we were so inspired, so amazed. So we said, "Aaww, parang ang saya. It looks really hard but I think we would like to try." And then we were offered Walang Aray. I just wanted to say no, not because I didn't want to do it, but because I was terrified. I still am, terrified. HORRIFIED. Because I'm not used to this. It's totally different from acting on screen. Like [KD] said, we have take two's. We don't have to memorize a hundred pages. We only have to memorize the scene that's going to be taken. We don't sing live and there's prompters if we need to. This is, ibang klase. Ibang klase, so I had no faith in myself. I was just fully doubting. "I can't do that. I can't. I'm gonna mess up. Mapapahiya ako. Hindi ko kaya." But everyone from Star Magic, they really, I don't know, believed in me. They really believed in me na, "Hindi, kaya mo iyan. Kaya mo iyan." And then, I prayed. I asked God for a sign, because I wanna do this, but I'm too scared to say yes because it's a big responsibility. So sabi ko kay Lord, "Lord, please give me a sign para makasagot na ako ng confirmation that I will join." Then I saw an Instagram post saying na, "If the only thing stopping you is fear, why won't you get to know it." So I said, "Okay, I think this is the sign. It's time to challenge myself."

The songs are not my genre as well and nanginginig talaga ako kung kumakanta ngayon because I'm scared. But more than scared, I've been enjoying everything, working with these amazing people, who inspire me everyday I am on stage or watching on those chairs. So sabi ko, "This is the best decision I think I made this year." I'm so happy at wala na akong ibang bukang-bibig sa bahay o sa lahat, sa labas, kundi ito. It has consumed my life in the best way, so I love it.

What is the biggest lesson that you've learned from your character?
Alexa: For me as Julia, I think it was evident in the whole story how love conquers all, may it be para sa bayan, para sa pamilya, o para sa pagmamahal mo sa significant other mo, and that if you both have, or if we all have that common goal, you can all achieve success if you all work together and if you share in that love for that certain thing.
KD: Sa akin naman, what I learned from Tenyong, is if there's a will, there's a way. Talking about the story, in the second act, they were put under impossible circumstances on how to get back home sa bayan nila, and he had to get back to Julia. But sila Tenyong and the other Katipuneros, they found a way to conquer that.
Can you share what happened on your first day working with PETA?

KD: Sobrang saya, especially the first day. They were so warm and welcoming sa amin. And we really, really felt their love. They're all my ate's and kuya's. I mean, they're all my peers. (laughs) They're all my peers. I'm sorry. (laughs)
Alexa: So my first day, I remember, I was scared to sing the songs again kasi sabi ko, I kept complaining, "Ang taas po. Hindi ko po kaya. Please change it." I kept complaining, and then after the first day, I went home. Sabi ni mommy, "O kumusta? Kaya mo ba? Pwede ka pang humindi." Sabi ko, "I LOVE IT. I love it so much." Even if I didn't do anything, just watching them. It was so much fun. I loved it.

And ngayon kapag wala ng practice, I get sad. I got sick recently and everyday I was texting my manager, "I'm so sad I'm not there. I feel so bad I'm not there." It's great. I love it. I think we have benefited so much, honestly, from being here. The learnings, hindi mapapantayan ng ibang experience.
What have you discovered about yourselves throughout this process?

KD: How much I want to do this. How much I really want to be a theater actor.

Alexa: Rather than discover,  it's more of a realization of how I have to stop letting fear take over my life and take away opportunities from me just because I'm afraid. So this is a big challenge, and a big challenge accepted.

Kailan dapat tumindig pagdating sa pag-ibig?

Alexa: Kailan? Lagi. Kung walang naaapakan na ibang tao? Love should be celebrated. It should be spread everywhere, not like COVID. So, always. Laging tumindig para sa pag-ibig mo.

KD: I always stand up for the people that I love. My parents, my friends, Alexa, I always stand up for them when something is trying to get in their way. Basta ako naman, I'm ready to go to war for them.
You can watch KD Estrada and Alexa Ilacad's special appearance at the preview performance's curtain call below.
Written by Rody Vera (book) and Vince Lim (music and additional lyrics), and directed by Ian Segarra,
Walang Aray
will run from February 17 to May 14, 2023 at the PETA Theater Center. Find out how to get tickets by visiting PETA's
Facebook page
.
Comments