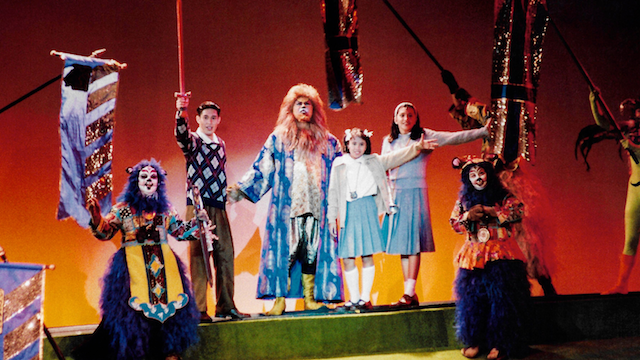 'The Lion, The Witch and The Wardrobe' Orchestral Concert Version Set for 2023
Trumpets Inc's The Lion, The Witch and The Wardrobe (LWW), which premiered at the Meralco Theater in August 15 1997, with subsequent runs in 1998 and 2002, is returning in the first quarter of 2023 with a sung-through orchestral concert version.
When asked why they chose for the show to return in this format, Trumpets' Artistic Director, Audie Gemora, says, "Since it's premiere in 1997 and in its subsequent runs, LWW used play back tracks arranged by Mon Faustino. Trumpets President Butch Jimenez had it orchestrated because there have been inquiries to stage the Trumpets musical abroad. He wanted to commemorate LWW's 25th Anniversary by debuting the orchestral version."
Written by Luna Griño-Inocian and Jaime Del Mundo (book and lyrics), with music by Lito Villareal, Trumpets' The Lion, The Witch and The Wardrobe is a musical adaptation of C. S. Lewis' novel with the same name. This particular rendering is one of only three versions authorized by the C. S. Lewis Estate and is the only one created by Asians. Del Mundo, which directed the prior runs, will return to direct the concert.
The original 1997 cast featured Audie Gemora / Junix Inocian as Aslan, Junix Inocian / Steve Cadd as Professor Kirk, Sheila Francisco / Lynn Sherman as Jadis the White Witch, Tanya Manalang / Camille Cabrera as Lucy, Dianne Dela Fuente / Sheila Lina as Susan, Joaquin Valdes as Edmund, Jonard Yanzon / Topper Fabregas as Peter, Carlo Orosa as Mr. Tumnus, Robie Zialcita as Mr. Beaver, Enchang Kaimo as Mrs. Beaver, and Roselyn Perez as Mrs. Mcready.
Also in the original creative team were Mon Faustino (Musical Arrangements and Scoring), Mio Infante (Production Design), Mark Lewis Higgins (Costume Design), Agnes Locsin (Choreography), RS Francisco (Make-up Design), and Martin Esteva (Lighting Design).
The cast and the creative team for the 2023 concert version, as well as the venue, final dates and ticketing information, have yet to be announced.
Comments